Anti-Trans Legislation Could Exacerbate Gun Violence Against Trans People | Opinion
The two of us live very different lives, and we experience the world in entirely unique ways. But we share a common understanding that everyone has the right to live in safety. Lawmakers around the country are actively working to make life more difficult and more dangerous for transgender and gender nonconforming people, with some states advancing anti-LGBTQ+ legislation while simultaneously dismantling their gun safety laws. Weak gun laws converging with anti-trans legislation could ultimately create an environment ripe for hate-fueled gun violence.
In an average year, more than 10,300 hate crimes in the U.S. involve a firearm. During the period between 2017 and 2021, guns were the most frequently used weapon in the murder of trans people—the majority of which were of Black trans women. Anti-trans legislation and weak gun laws not only enable hate-fueled violence, they can also create mental health crises that put LGBTQ+ people at increased risk of suicide at a time where some state agencies are working to make suicide prevention resources less accessible to LGBTQ+ youth.
We live in a country where extremists have near-unfettered access to deadly weapons—a country where hate-fueled gun violence is enabled by our politicians. And because of this, we live in a country where members of the LGBTQ+ community, particularly trans and gender nonconforming people, have to live in fear every single day.
This session, a tidal wave of more than 200 discriminatory bills have been introduced, and some recently passed, in statehouses nationwide—including in Iowa, South Dakota, Florida and several other states. These bills target all LGBTQ+ people, but take particular aim at transgender youth and their families through bans on trans youth participating in sports and bills that seek to deny transgender people best-practice medical care. There are also dangerous new censorship and surveillance bills like Florida's "Don't Say Gay" bill and directives from executives in Texas for state agencies to remove transgender children from the care of their supportive parents.
These discriminatory policies are grounded in prejudice and misinformation. They validate hateful ideology and perpetuate beliefs that anyone who differs from the mainstream is a threat. They are part of a coordinated national campaign targeting LGBTQ+ youth, and they don't exist in a vacuum. Set against our country's raging gun violence epidemic and a concerted movement to loosen existing firearm laws, these policies are a recipe for hate-motivated gun violence against LGBTQ+ people—especially trans and gender nonconforming people in the United States.
The past few years have seen a jump in gun sales alongside record homicide rates in cities, unprecedented levels of gun violence on school grounds, increased incidences of road rage and much more. This devastating trend has found its way to the trans community. Last year was the deadliest year on record for trans and gender nonconforming people, with 56 reported homicides—this is likely an underestimate, given that many deaths go unreported, and victims are often misgendered.
Now more than ever, states should be focused on passing desperately needed common sense gun safety laws that will help protect our neighbors, including the LGBTQ+ community. Instead, some legislators across the country are working to remove laws fundamental to public safety, even in the face of opposition from local leaders, community members and law enforcement. Several states, including Alabama, Georgia, Florida, South Carolina, Indiana and Ohio—states that are also attempting to pass anti-trans laws—have passed or are attempting to advance permitless carry bills that would lower the bar for who gets to carry guns in public, a policy known to increase gun violence and put more guns in the hands of people with dangerous histories. Many states are also considering passing or expanding Shoot First or "Stand Your Ground" laws that essentially make murder legal by allowing people to use deadly force as a first instinct rather than a last resort, even when they could have safely walked away.
Instead of passing laws that are shown to increase violence and gun deaths, lawmakers should be working to disarm hate and create policies that will save lives—like in New Mexico, New York, Washington and Oregon, where lawmakers have successfully allocated millions in funding for community-based violence interruption work. And in Virginia, where lawmakers rejected efforts to roll back gun safety, and Maryland, where they are advancing a bill to prohibit ghost guns. Locally, school districts across the country have enacted notification policies that will help educate parents and caregivers about the importance of secure firearm storage. Though there's still a long way to go, the progress we've seen this year is promising.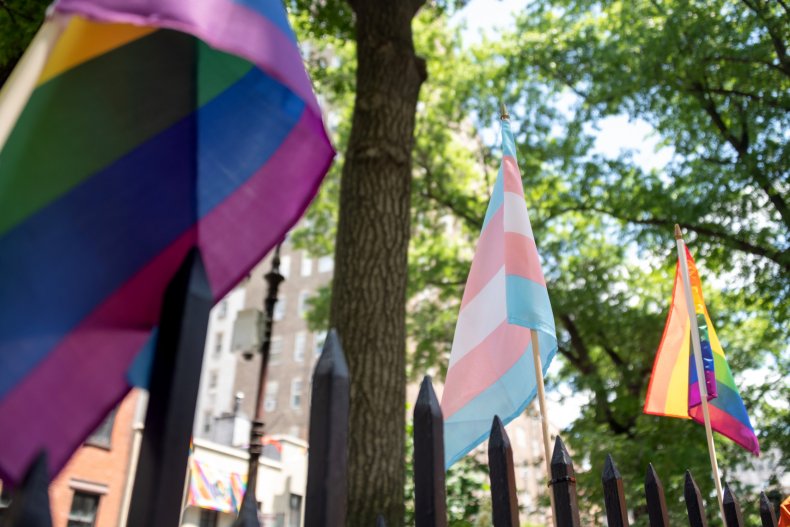 Trans people have the right to exist in peace. Trans people have the right to be safe in their communities. Trans people have the right to live free from the fear of gun violence. Transphobia and weak gun laws are parallel epidemics, and they have to be treated as such. There can be no comprehensive solution to gun violence without a full-throated denunciation and dismantling of the anti-trans movement currently materializing in state legislatures. Any threat to the safety of our trans and gender nonconforming neighbors should be taken as an affront to us all. We won't stop working to make our communities safe—for everyone.
Vivian Topping is a trans activist and organizer who focuses on state legislative battles. She lives in Washington, D.C.
Jade O'Connor is a virtual field officer with Students Demand Action in California and a member of the Students Demand Action LGBTQ+ Affinity Group.
The views expressed in this article are the writers' own.