Map of U.S. Shows How Anti-Trans Legislation Could Impact Across States
An activist's map tracking the risk of anti-transgender legislation across the country has gone viral on social media.
A number of Republican-led states have passed bills this year targeting trans young people, including measures that block access to gender-affirming health care, restrict participation in sports and prohibit classroom discussion of gender identity.
"I've been tracking anti-transgender legislation for 3 years," Erin Reed wrote alongside the color-coded map, in a July 18 tweet that has been shared more than 12,000 times.
"I often get asked in DMs, 'I live in x state, should I flee/transition/come out?' So I've decided to make a risk assessment for future anti-trans legislation."
Reed's map divides U.S. states into five categories, ranging from those with the "worst active anti-trans laws" to the "safest states with protections."
Alabama, Arkansas, Florida, Oklahoma, Tennessee and Texas are the states with the worst anti-trans laws or enforcement, according to Reed's map.
They are also "showing major signs at increasing those laws with the next legislative cycle," she wrote in a tweet.
States in the next category are deemed a "high risk," with Reed explaining that the "momentum for extreme anti-trans legislation is there within one election cycle."
These states are: Arizona, Idaho, Indiana, Kentucky, Louisiana, Missouri, Montana, Ohio, South Carolina, South Dakota and West Virginia.
States considered a "moderate risk" include the remaining Republican-led states such as Mississippi, Georgia and Iowa, along with some swing states like Pennsylvania. "These states have considered anti-trans legislation. A right shift in legislatures combined with rising anti-trans sentiment could turn things quickly," Reed wrote.
The states that have been deemed "low risk" are Delaware, Maine, Maryland, Michigan, Minnesota, Nevada, New Hampshire, New Jersey, New Mexico and Rhode Island.
"These states have passed on strong protections for trans people. They are low risk for anti-trans laws, but still have some risk," Reed wrote.
The states safest from anti-transgender laws are California, Colorado, Connecticut, Hawaii, Illinois, Massachusetts, New York, Oregon, Vermont and Washington, according to Reed's map, along with Washington, D.C.
"These states have the strongest protections and defeated anti-trans bills handily," she wrote.
In another tweet, Reed noted that there were some states she is unsure about.
"Mississippi could be higher risk than I anticipate. New Jersey and Rhode Island could be lower risk. Still, this is my best assessment from watching anti-trans legislation for 3 years now. Hopefully this helps," she wrote.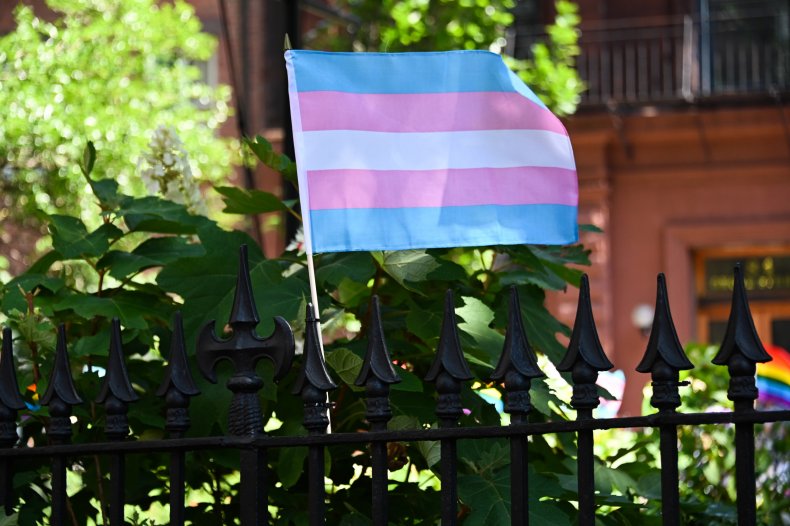 Reed told Newsweek that she has "stunned" by the response to her map on social media.
"The response makes it clear that it was very needed for this community," she said. "People are scared—they see anti-trans legislation everywhere around them. A little bit of knowledge can help give this community some power to make decisions."
Reed said she has also been contacted by academics and those who handle access to hormone replacement therapy resources.
"Some people who handle access to HRT resources have informed me that this will help them make decisions on areas to prioritize. I'm glad that I can help in this way," she said. "The atmosphere is scary but it's important that we see clearly what our risk level is throughout the country. This can help mitigate that fear and drive us to action."
More than 300 anti-LGBTQ bills were introduced by state lawmakers in 2022, including more than 137 that targeted transgender people—a record-setting number, according to the advocacy group Human Rights Campaign.
The organization described 2021 as the worst year on record for anti-LGBTQ legislation, with 25 bills enacted including 13 that targeted transgender youth.
Arizona, Iowa, Tennessee and Oklahoma saw the most anti-transgender bills filed in the 2022 legislative session, according to campaign group Freedom for All Americans.
Last month, President Joe Biden issued an executive order to counter what his administration said were discriminatory legislative attacks on the LGBTQ community by Republican-controlled states.
"Many of them specifically target transgender children and their parents by banning access to medical care and support at school," the White House said.
Update 7/20/22, 12:05 p.m. ET: This article was updated to include comments from Erin Reed.