Anti-Transgender Activists Are Suiting Up for What They Believe Is Their Battle Royal | Opinion
While transgender people's visibility in American politics and culture may be relatively new, we are far from new to the medical and scientific mainstream. Our identities, including those that are neither male nor female, are validated across the academic world, and transition-related health care is recognized throughout the medical mainstream as safe, effective and necessary.
Recently, however, a cast of reactionaries, fundamentalist zealots and conversion therapy hucksters rejected this consensus in the opposition to Aimee Stephens, a Michigan woman at the center of a landmark Supreme Court case. In 2013, Stephens was fired from her job at a funeral home after she came out as transgender and began presenting as a woman at work. In briefs submitted to the nine justices, activists and organizations on the fringes of American life are attempting to make a case about trans employment into a case about trans existence.
The authors of the briefs filed in August include at least 14 organizations designated by the Southern Poverty Law Center as hate groups. It's not unprecedented for such forces to drive a Supreme Court case—"racial scientists" flocked to Brown v. Board of Education in a similar manner—but the disinformation on display is an alarming form of stage setting for what anti-transgender activists believe is their battle royal.
Such propaganda is overshadowed in the case by the support of the nation's leading medical and mental health associations, including the American Medical Association and the American College of Physicians, as well as women's rights organizations, business leaders and close to 200 members of Congress. The briefs from the associations representing the medical field at large summarize the consensus based on decades of research and practice: Gender identity is a "deeply felt, inherent sense" of self, they write, that "cannot be altered voluntarily."
The actual legal issue at hand is whether anti-trans bias is barred by Title VII's prohibition of sex discrimination, as lower courts have ruled for decades. But beneath that question is a fierce debate over whether transgender people should be full and equal members of society.
Throughout each of the opposition briefs is a dangerous rejection of the mainstream medical and scientific consensus. One filed by an early promoter of conversion therapy alleges the affirming medical care that saved my life and millions of others only fosters a "delusion," directly comparing it to encouraging an anorexic to pursue weight loss. Another calls the well-documented suicide risk faced by transgender people "overinflated," ignoring warnings from the Centers for Disease Control and Prevention.
Brief authors include fringe organizations that appropriate the language of feminism to fight for anti-trans policies opposed by most American women. Such groups are often eager to serve as human shields for the anti-trans initiatives of the Heritage Foundation and the Family Research Council, including one author of the brief funded by the group representing the employer in this case.
In one such error-ridden brief to the court, the authors write, "Simply, Aimee Stephens is a man." They claim her desire "to wear a skirt while at work" is an "ideology" and characterize her legal reasoning as doing "violence that the Respondents seek to do to the definition of 'sex' under civil rights laws."
"The entire concept of 'gender identity' is a dangerous one," they allege, accusing transgender people of enabling the forms of sexual violence for which we are most at risk.
A sharp-eyed reader may wonder what any of this has to do with employment law or sex discrimination. But in order for these activists to argue against the right of transgender people to live and labor as who we are, they must first prove we do not, or should not, exist at all.
A similar existential discussion is unfolding in a far more tragic case in a Texas criminal court, where a Dallas man has been charged with murdering Muhlaysia Booker, a transgender woman shot and killed in May. The defense has asked the judge to refer to Booker using her given name and masculine pronouns because, as they write, viewing her as a man may make their client more sympathetic to a jury. Doing otherwise, they told the judge, "is prejudicial against our client, who is male."
While losing a job is not losing one's life, almost none of the briefs filed in favor of Stephens' former employer show her the basic courtesy of using feminine pronouns, including the one filed by the Trump administration and another from several dozen Republicans in Congress.
While disrespectful on its face, the move reveals the fragility of their legal arguments. The desire to exclude people like Stephens from broad swaths of the economy is rooted in a refusal to honor our basic humanity and accord us the same respect and civility shown to others.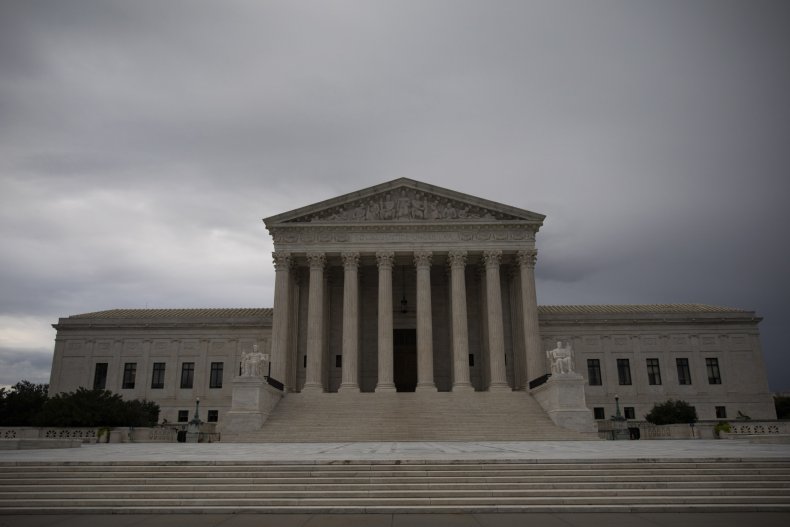 Much of the discrimination transgender people face, be it Stephens' firing or Booker's killing, is rooted in this complete rejection of our existence. We endure constant suspicion and are often forced to prove ourselves to doctors, teachers, police officers, TSA agents, romantic partners, family members and judges. If we meet expectations for our gender too well, we are called frauds. If we fail and fall outside the strict roles and rules that govern everyone's appearance and manner, we risk losing our jobs, our families or our lives.
Such barriers have kept us from public life for far too long, and being forced to justify your own life with every step you take is an exhausting practice.
The argument that Aimee Stephens is not a successful woman but a "delusional" "man" with no right to equal opportunity shows the persistent need of some to simply squash what they don't understand. They are convinced they can disprove what each of us knows: that we are exactly who we say we are. While much is at stake in Stephens' case, transgender people are nothing if not survivors.
Gillian Branstetter is the media relations manager at the National Center for Transgender Equality.
The views expressed in this article are the writer's own.