Anti-Trump Gen Z Republicans Are Mobilizing to Save the 'Dying' GOP
Up until two weeks ago, Sam Garber and Ryan Doucette were scrutinized by their peers at the National Teen Age Republicans (TARS). The duo from the Massachusetts chapter of the youth wing for the Republican Party made it clear they would not be supporting President Donald Trump in the November election.
"We didn't identify with his vision for the party and the future," said 19-year-old Garber, who chaired the TARS chapter in his home state last year.
Recently, another teen leader from Georgia, who Garber described as a "hard-right, Tea Party," joined the outcasts in voicing his opinion about Trump.
"He said it. Similar guy from South Carolina then said it. And then a guy from Mississippi came out and said it," Garber said. "What that started to show me is that we are literally at a turning point right now."
Gen Z'ers, born after 1996, have, by surprise, taken over the country's political stage.
Last month, thousands of teens organized through TikTok in efforts to thwart Trump's first campaign rally since the beginning of the coronavirus pandemic. Teens across the nation reserved tickets to the Tulsa, Oklahoma rally ahead of time with no plans to attend. The president walked out to a crowd much smaller than anticipated by his campaign.
Since, Gen Z'ers have proved their generation to be a credible threat to the president's reelection. But this is not the first time that young people have influenced Trump's success.
When he first ran for the White House in 2016, images of young men in Make America Great Again (MAGA) hats proliferated the news cycle. The GOP argued that the polls, which showed Trump trailing behind former Secretary of State Hillary Clinton, failed to account for these first-time voters who wanted Trump in office.
Although Clinton won the millennial vote, young Democrat turnout fell from what it was in the previous election. Fifty-five percent of voters aged 18 to 29 voted for Clinton in comparison to the 60 percent who voted for then-President Barack Obama in 2012, according to the Center for Information and Research on Civic Learning and Engagement (CIRCLE).
This year, as the oldest of Gen Z'ers become eligible voters, teens demanding a revolution have become the poster child of the progressive left. But there are a number of young voters who strongly identify as Republicans.
Among this group are teens like Garber and 17-year-old Doucette. The two, alongside 20-year-old Mike Brodo and 21-year-old John Olds, see a different vision for the Republican Party.
On Sunday night, the four Massachusetts teens launched their youth-led Republican organization, Gen Z GOP. In hopes of carving out a space for other teens who feel disillusioned by the current leadership of the Republican Party, the organization wants to "provide a palatable alternative to the American Left."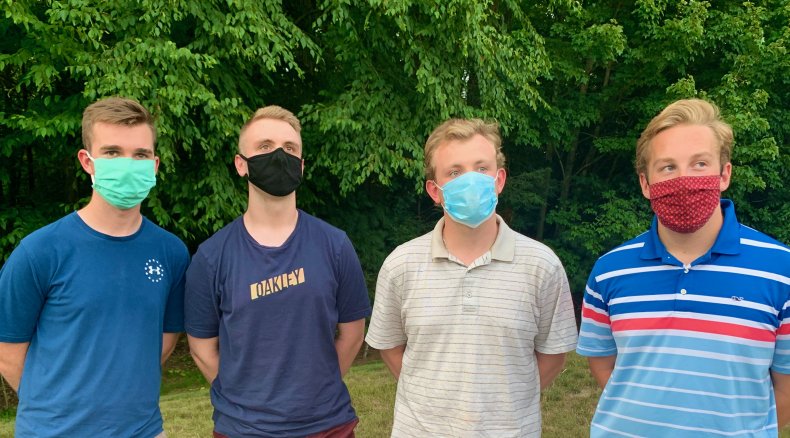 The young men don't believe that their generation is as liberal as pop culture has depicted them to be. They argue that the reason teens have become so politically polarized as the "radical Left" or as Trump supporters is due to the fact that there are no alternatives available.
"I think the only reason people gravitate to the Green New Deal or Medicare for All is because the GOP has failed to provide alternative solutions that actually address problems we care about," explained Brodo. "If I'm faced with choosing between a policy solution I don't like but actually addresses [the issue], I'm going to lean towards that instead of something that just ignores it."
Last fall, masses of young people across the globe took to the streets and organized student walkouts to demand their governments take climate action. This youth movement became the largest global protest in the fight against climate change.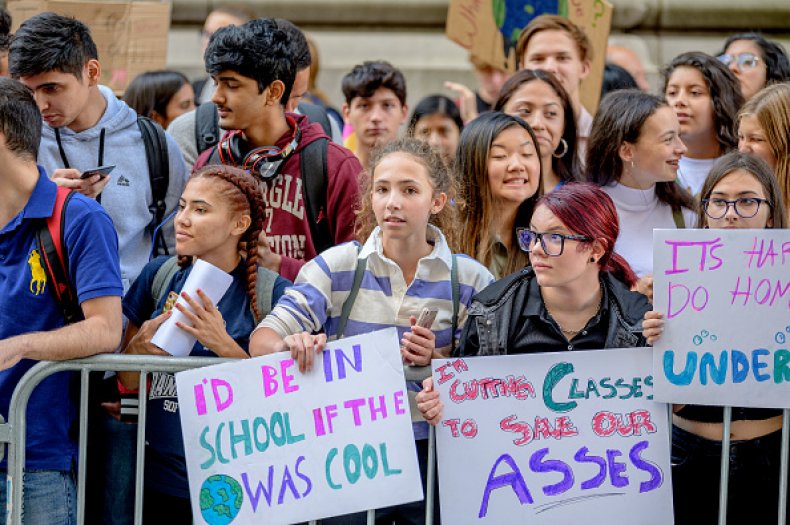 Brodo, who will be a junior at Georgetown University this fall, says climate change is one issue that powerful party figures have avoided addressing, partly because they will not live long enough to see its impact.
The failure of the party to address Gen Z issues is where the organization thinks they can close the gap for their party.
"The GOP, right now, is so enamored with Trumpism that there's not a lot of space for our voice," Brodo said.
"The majority of Gen Z Republicans believe that climate change is real and that we need to address it," added Garber. "But if you look at the Republican Party, we can't even all get on the same page as to if climate change is even an issue, not to mention how to address it."
The teens think that the Republican Party has come to equate to Trumpism.
"The bigger issue here is that the party right now is not a Republican Party. It's a Trump Party. It's not about conservative principles. It's about whether you're with the president or not," Garber said.
Gen Z GOP said that preventing a second term for Trump is a precondition for their vision of the Republican Party's future.
In the 2020 presidential election, one in 10 eligible voters will be Gen Z'ers, according to the Pew Research Center. Roughly 24 million teens will cast their ballot for the first time.
But, the views of Republican Gen Z'ers and their older counterparts lack consistency.
For example, more than half of Gen Z Republicans think the government should do more, compared to 30 percent of Gen X'ers. That number continues to shrink among older generations.
Olds, a senior at George Washington University, where he previously chaired the school's College Republicans chapter, feels "politically homeless." He said Trump's presidency has challenged his loyalty to the party.
"In 2016, when the party nominated President Trump, I felt that he didn't represent me. He didn't represent that party that I had come to know and love, be involved in and gained so many friends and connections in," he said. "At the same time, I found that the principles I held close to my heart shouldn't be abandoned and they weren't worth giving up on."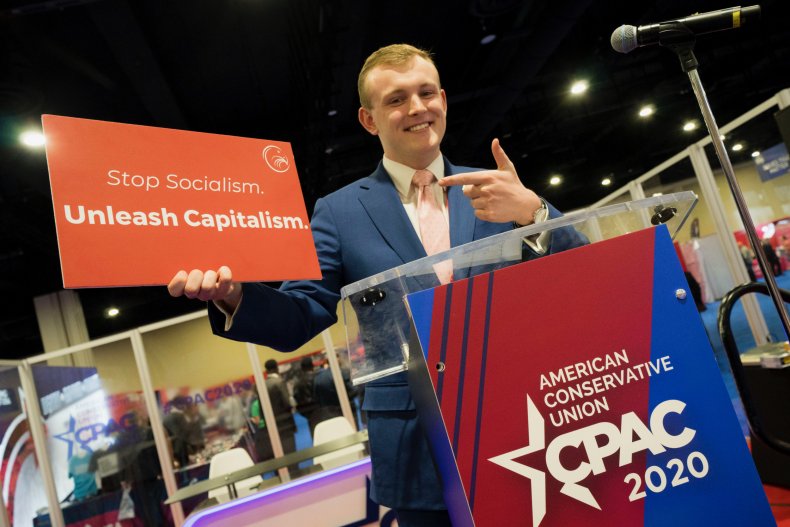 The four teens also think that Gen Z'ers have come to a stronger consensus over social issues, such as race, and want to see the Republican Party address those topics.
"If we just accept that people of color are profiled by the police, if we just admitted that fact, we would have more credibility to present our solutions for racial justice," Olds said. "We would have more credibility to present our solutions to police reform that aren't abolishing the police, defunding the police, demonizing the police or vilifying them."
"There's a way to be compassionate that we, as a party, have not been able to figure out," said Olds. "We haven't cracked that code yet, but we will get there. This is part of our mission and we plan on featuring a number of diverse voices through this project."
They acknowledged that the four of them are a spitting image of what privilege looks like.
"We're four white males from Massachusetts," Garber noted.
"That's a perfect testament to exactly what's wrong with the GOP and its current iteration. We don't attract anybody other than, for the large part, white people," Garber said. "In order for the party to survive going forward and really be in the best interest of the country, we need to be made up of an accurate representation of what the country is. We need a Republican Party going forward that's people of all races, all creeds, all colors, all ethnic background, all sexual orientations."
Gen Z GOP is hoping to diversify the current "toxic" political discourse through their podcast.
The teens said that because the majority of Gen Z'ers consume their news through social media, young voters' sole exposure to politics looks like Tucker Carlson, Sean Hannity and Charlie Kirk -- figures they think gaslight Americans into questioning reality.
"In our organization's view, the Republican Party is dying and in dire need of rebuilding and that's what we want to do for it," Garber said.
The first episode of their podcast was released Monday.