Anti-Trump GOP Group Blasts 5 Republican Senators for 2016 SCOTUS Stance Ahead of Amy Coney Barrett Confirmation Vote
Ahead of Amy Coney Barrett's Supreme Court confirmation vote, Republicans for the Rule of Law, an anti-Trump GOP group, blasted five Republican senators for flip-flopping on their 2016 position on confirming Barack Obama nominee Merrick Garland.
The ads—targeting Senator Ted Cruz, Senator Chuck Grassley, Senator Marco Rubio, Senator Ron Johnson and Senator Rob Portman—highlight the senators' comments from 2016 when they said Supreme Court justices should not be confirmed during an election year.
These remarks come in stark opposition to the current efforts to fill the late Justice Ruth Bader Ginsberg's vacancy before November 3.
"It would be bad to move forward in the middle of a hotly contested presidential campaign," Grassley says in a clip from 2016 featured in the ad.
A senior member and former chairman of the Senate Judiciary Committee, Grassley has argued that confirming Barrett is different from the case of Garland, Obama's 2016 Supreme Court nominee, because Republicans now control both the White House and the Senate, unlike the divided government of four years ago.
The ad attacking Cruz shows the Texas senator saying, "There is a long tradition that you don't do this in an election year."
Cruz, a member of the Senate Judiciary Committee, has helped lead the Republican effort to confirm a justice ahead of Election Day. He not only defended and praised Barrett during her confirmation hearings, but also has made multiple media appearances in her favor.
Cruz has argued that there must be nine justices on the bench on Election Day, which would require a speedy replacement for Ginsburg's seat.
"The reason we need a fully functioning court is to have nine justices who can resolve any dispute and ensure that the law and Constitution are followed," regarding any cases the Supreme Court might hear related to the presidential election he told NPR last month.
Although, he said "There is certainly long historical precedent for a Supreme Court with fewer justices," when there were only eight justices in 2016.
A spokesperson for Cruz defended his change of heart, saying that "the circumstances surrounding the Scalia vacancy are vastly different than the Ginsburg vacancy" because the Senate is now controlled by Republicans.
"Further, as Senator Cruz has said, we're very close to what is expected to be highly contested election. An equally divided court could make this presidential election drag on for weeks and months and well into next year," the spokesperson said. "That is an intolerable situation for the county. We need a Supreme Court that will be able to settle election disputes and give a definitive answer for the country."
Other ads from the campaign feature Rubio saying, "In the last year of a president's term, there should not be a Supreme Court nominee" and Portman saying, "This nominee is better to have this occur after we are past this presidential election."
In the ad aimed at Johnson, the Ohio senator is shown asking, "Eight months before the election, why not let the American people decide the direction of the Supreme Court?"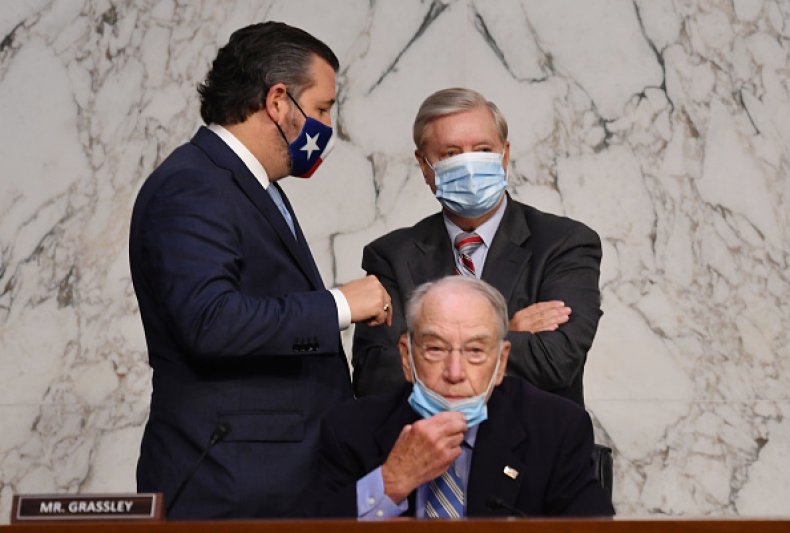 The ad campaign is meant to be a call-to-action for the senators' constituents who have not received any coronavirus relief aid since the end of July due to Congress' failure to pass a stimulus bill.
"We're reminding these senators that they took an oath — not to do what's best for their reelection or the party's chances of holding onto power, but to do what's best for the country," RRL spokesperson Sarah Longwell said in a press release.
"By so shamelessly reversing themselves from four years ago, they force us to ask: Do they have the country's best interests at heart now? Did they then? It's one or the other," Longwell added.
These five senators are not the only lawmakers to change their minds on whether Supreme Court justices should be confirmed in an election year.
Both Republican and Democrat figures have gone back on their 2016 remarks, including President Donald Trump, Senate Majority Leader Mitch McConnell, Republican Senator Lindsey Graham, Senate Minority Leader Chuck Schumer and Democrat Senator Tim Kaine.
The panel is set to vote on Barrett's nomination this week, with a full Senate vote expected before the end of the month.
Newsweek reached out to Grassley, Johnson, Portman and Rubio for comment but did not hear back before publication.
This story was updated with comments from Senator Ted Cruz's spokesperson.