Anti-Trump Protesters Pretend to Eat Bloodied Heart of President, Burn American Flag
Protesters opposing President Donald Trump on Sunday were filmed burning an American flag and pretending to eat a bloodied heart of the president.
Twitter user Al The Great wrote as a caption to the video, "Antifa burn the US flag and eat a heart symbolic of the President during an anti-democrat violence protest in #Boston #Massachusetts on 10.18.20."
In the video, one protester can be seen walking through the smoke from a burning American flag as he is surrounded by fellow protesters. He then takes what appears to be a bloody heart, rips it open and pours it on his face, as those around him clap and yell.
"I'm on fire! I'm on fire," he can be heard yelling.
Several other protesters are heard mockingly yelling "Make America Great Again" and "f*** the nazis" as they jump over the burning American flag.
Newsweek reached out to the White House for comment but did not receive a response in time for publication.
The video came amid conflicting political protests in Boston's Copley Square on Sunday afternoon.
According to Boston.com, one event was organized by "Super Happy Fun America," which referred to its protest as a "Peaceful Protest Against Democrat Violent." On its Facebook page, it called on "Democrats to fully renounce the violent actions of their supporters."
The group added on its Facebook page: "We will peacefully demonstrate with speeches and patriotic banners in order to send a message that our group will not be intimidated into silence by the leftist mob. The Antifa / BLM sycophants in the media will no doubt lie about Super Happy Fun America and lionize the violent extremists on the left. But freedom loving patriotic Americans know the truth."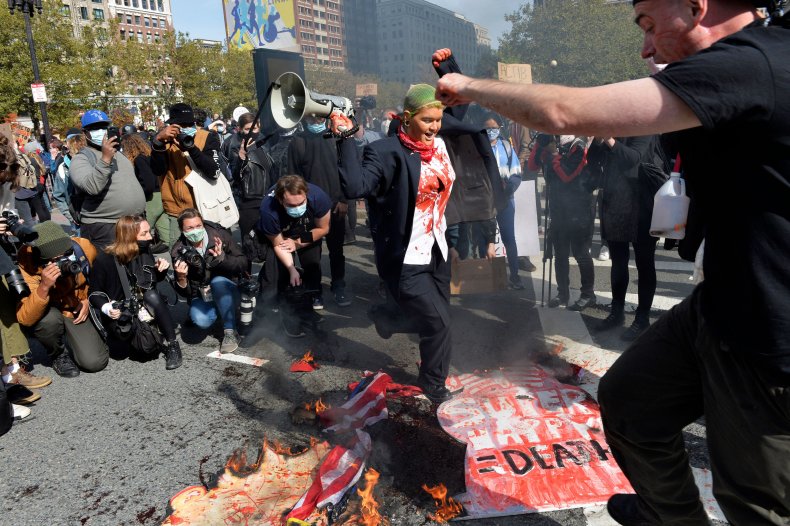 In response to the protest from Super Happy Fun America, counterprotesters also held a rally in Copley Square.
In a post on Instagram Saturday, the Freedom Fighters Coalition wrote, "We refuse to allow racists/fascists into our city to spew hatred. Good, necessary trouble tomorrow."
Another local group, Solidarity Against Hate – Boston, announced a "Kick Fascists Out of Boston" protest at the same time. It wrote that Super Happy Fun America "has decided to call a rally denouncing 'democrat violence,' a tired retread of the failed 'march against far-left violence' at City Hall in 2018. Fascism is no match for a united people. The people of Boston have proven time and again they see through SHFA's lies, and that they will come out against fascism, racism, and the Trump agenda regardless of threats from the right."
According to WCVB News in Boston, at least two anti-Trump protesters were arrested after scuffles with Boston police officers. Photos posted across Twitter show officers situated between the different protests.