'Unite and Fight Back:' Anti-Trump Protests Continue Throughout the U.S.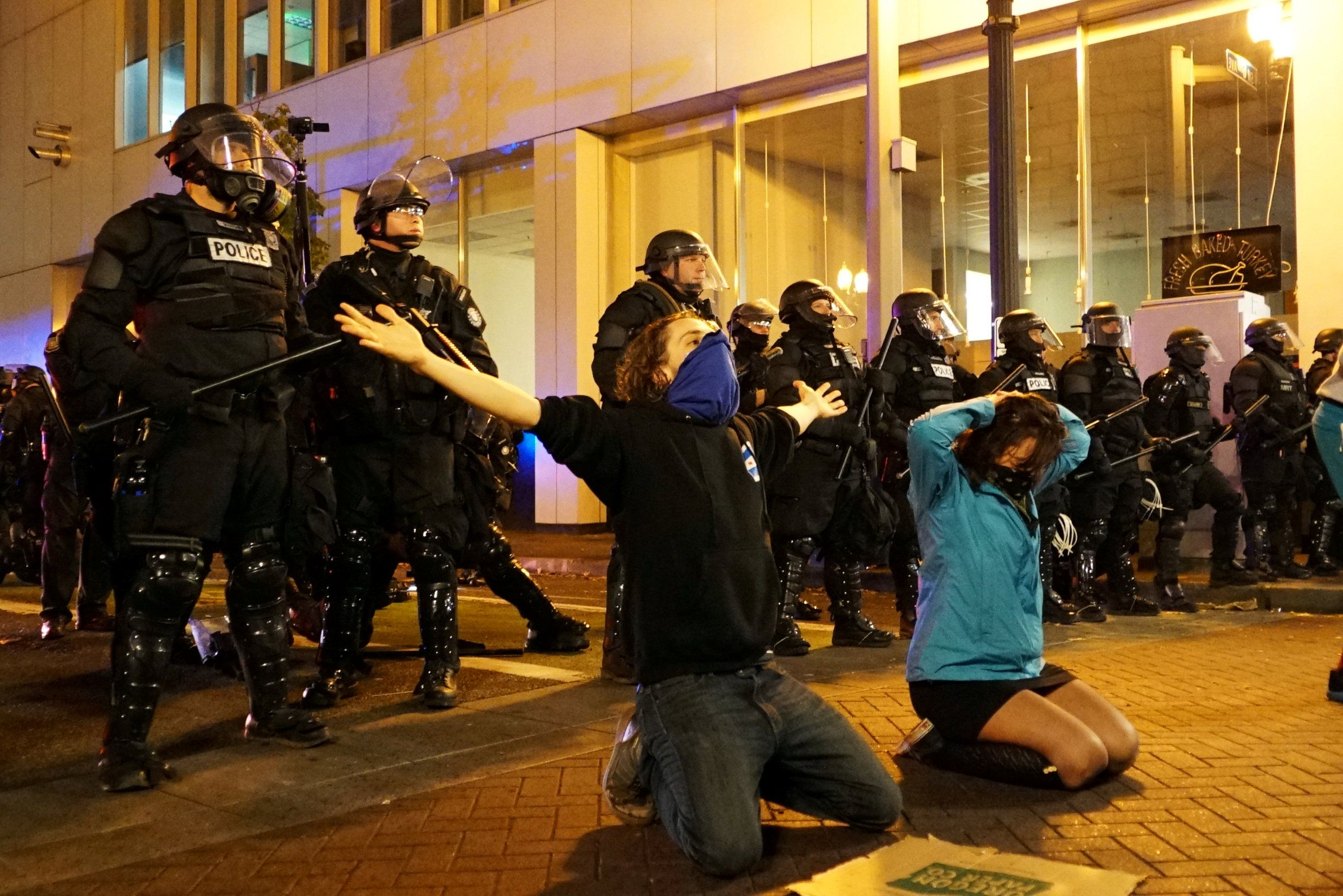 Demonstrators planned to gather again on Saturday in cities across the United States to protest against President-elect Donald Trump, who they say will threaten their civil and human rights, a day after a protester was shot in Portland, Oregon.
Rallies were scheduled throughout the day in New York, Los Angeles and Chicago, where organizers said they hoped to continue the momentum after several nights of demonstrations triggered by the real-estate mogul's surprise win in Tuesday's presidential election.
"We must unite despite our differences to stop HATE from ruling the land," organizers in New York wrote in a Facebook post announcing a rally at noon local time in Union Square and then a march to Trump Tower, the president-elect's skyscraper home on Fifth Avenue in midtown Manhattan.
Hours before the demonstrations were set to begin, a protester in Portland was shot as he took part in a march across the Morrison Bridge. He is expected to live, but the suspect remains at large, police said.
Since Trump's victory, demonstrators in several cities have decried the Republican's campaign promises to restrict immigration and register Muslims, as well as allegations that the former reality-TV star sexually abused women.
"It is our time as a movement to unite and fight back against Donald Trump and what he wants to do to this country," organizers said on Facebook in announcing a rally in MacArthur Park in Los Angeles on Saturday.
As of early on Saturday morning, some 100,000 people had indicated on Facebook that they were planning to attend or were interested in the anti-Trump rallies in New York, Chicago and Los Angeles, where organizers told protesters that violence and vandalism will not be tolerated.
The demonstrations so far have been largely peaceful, although in Portland protesters have smashed store windows, sprayed graffiti and damaged cars as they clashed with police who used tear gas and rubber bullets to disperse crowds.
Dozens of protesters have been arrested and a handful of police injured during the protests in Portland and other cities.
The demonstrations since the election have been impromptu affairs, quickly organized by young Americans with a diverse array of backgrounds and agendas.
But as activists look to the next four years with Trump in the White House while his party controls both houses of Congress, some are preparing for what they hope will be the nation's most enduring demonstrations since the Occupy Wall Street movement.
Republican National Committee Chairman Reince Priebus said on Friday that protesters have to accept the election results.
Trump initially denounced the protests and said they were "incited" by the media, but then reversed course on Friday and praised the demonstrators' "passion for our great country.
"We will all come together and be proud!" Trump said on Twitter.