Anti-Trump Republican Group to Run Ad in Michigan and on Fox News Promoting Vote-by-Mail
An anti-Trump group composed of Republicans is taking direct aim at the president over false claims about voting by mail by dishing out tens of thousands of dollars to promote the voting method.
A 30-second ad by Republicans for the Rule of Law that advocates for increased vote-by-mail efforts this November amid fears of a coronavirus resurgence will run Thursday. But the timing is no coincidence.
The $50,000 ad-purchase that is set to run in Michigan and nationally on Fox News, as well as digital ads online, is a direct rebuke to Trump—it will come during his trip to a Ford Motor Co. manufacturing plant in the Mitten State that is making ventilators.
The ad also comes amid unsubstantiated claims made by Trump on Wednesday. He threatened on Twitter to "hold up funding to Michigan" over the false claim that state leaders were "illegally" distributing absentee ballots—rather than absentee ballot applications—to each of its nearly eight million residents. Trump asserted that voting by mail is a "Voter Fraud path!"
"President Trump 'thinks' he has the power to deny federal funds to states that want to allow their citizens to vote by mail," Republicans for the Rule of Law Spokesman Chris Truax said in a statement. "Of course, he also 'thinks' it might be a good idea to inject Clorox, so it is often unwise to mistake Trump's ideas for realistic policies."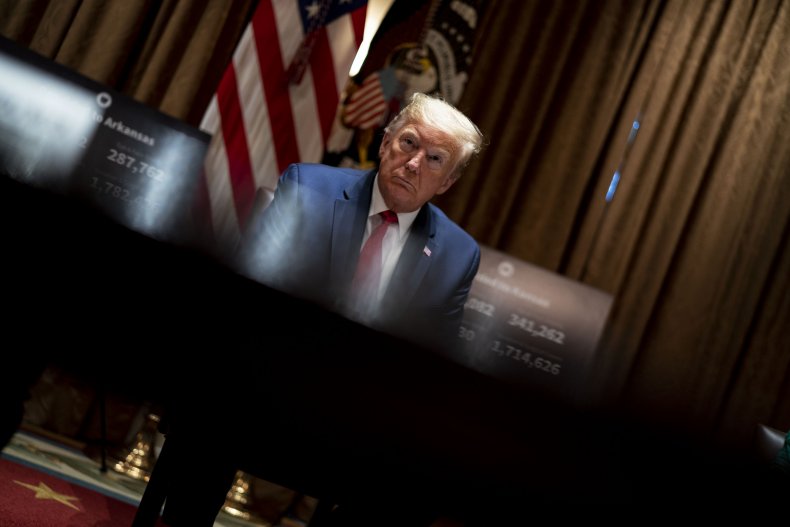 Voting by mail has increasingly been at the center of public criticism from Republicans in Congress and Trump, despite the president voting by mail in Florida's primary and in past elections. Amid the pandemic, Democrats have elevated their calls for billions of dollars to fund vote-by-mail elections over fears of a second pandemic wave this Fall.
"Americans should never be forced to choose between their health and their vote and no American president should ever ask them to," Truax added.
Michigan Secretary of State Jocelyn Benson, a Democrat and whose office runs the state's elections, fired back at Trump's claim of widespread voter fraud and threat to withhold federal funding. Benson announced Tuesday that every registered voter would be mailed the applications. The president deleted his original tweet that falsely claimed she distributed absentee ballots rather than applications and posted a new one.
"Hi again. Still wrong," Benson wrote in a tweet, addressing his revised tweet about the topic. "Every Michigan registered voter has a right to vote by mail. I have the authority & responsibility to make sure that they know how to exercise this right - just like my GOP colleagues are doing in GA, IA, NE and WV. Also, again, my name is Jocelyn Benson."
Michigan is a crucial swing state for Trump's re-election bid, one of three where he narrowly eked out a victory over Democratic nominee Hillary Clinton in 2016 to clench the presidency. Trump bested Clinton by less than 11,000 votes—or 0.3 percent in the state. Michigan Governor Gretchen Whitmer, a Democrat, has received repeated criticism from Trump over her handling of the virus. Michigan has the 7th highest number of infections in the United States.
Despite claims of rampant cheating, vote-by-mail fraud is so low that it is almost non-existent. From 2000 to 2012, there were just 491 cases of absentee ballot fraud nationwide. In Oregon, about a dozen cases of proven voter fraud have occurred since 2000 out of more than 100 million absentee ballots—or .00000012 percent.
Five states—Utah, Colorado, Hawaii, Oregon and Washington state—conduct their entire elections with vote-by-mail. "It works very, very well," Sen. Mitt Romney (R-Utah) told HuffPost's Igor Bobic. "And it's a very Republican state."
The most recent and serious case of vote-by-mail fraud occurred last year in a North Carolina congressional race. Another election was forced to occur after it was discovered a GOP operative illegally collected absentee ballots.
"I think just common sense would tell you that massive manipulation can take place. Massive," Trump claimed Wednesday. "You have cases of fraudulent ballots where they actually print them and they give them to people to sign. Maybe the same person signs them with different writing, different pens. I don't know. A lot of things can happen."