Anti-Trump Republicans Defend Biden, Argue He Is in Favor of the Police
Republican Voters Against Trump (RVAT) defended Democratic presidential nominee Joe Biden in their latest ad titled "The Real Joe Biden Is for Police."
"Donald Trump and his supporters have falsely attacked Joe Biden's commitment to police. Do you want to know how Joe Biden really feels about law enforcement?" the ad begins.
Clips of protesters clashing with police officers is then replaced by video footage of Biden's 2014 speech during the funeral for New York City police officer Rafael Ramos.
"Being a cop was not what they did. It was who they were. And they, like everyone of you, in uniform inside this church and outside, you all joined for essentially the same reason: that you should serve. That you had a duty," Biden said. "I've spoken at too many funerals, for too many police officers. Women and men who kept us safe."
Ramos was shot and killed by Ismaaiyl Brinsley while sitting in a marked patrol car with his partner in Brooklyn. Brinsley was motivated by the police killings of Michael Brown and Eric Garner.
"Police officers and police families are a different breed. Thank God for them, and may God protect the 84th Precinct and every police officer throughout this great country and keep them safe while they stand watch for us," he added.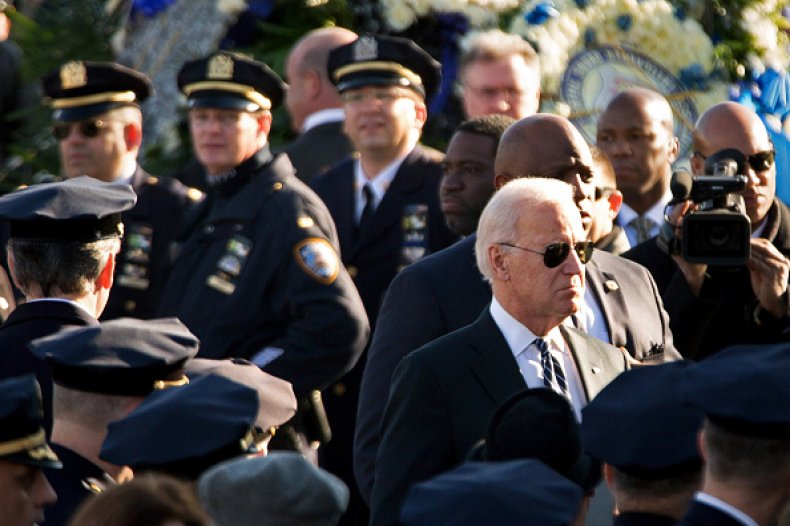 The new ad comes in response to the way "President Trump has smeared Biden's character and mischaracterized him as being anti-police," according to a press release from RVAT.
"We've increasingly been seeing disingenuous attacks from Trump and his allies that falsely imply that Joe Biden is not a friend to police and people who serve the country," RVAT's political director Tim Miller told Newsweek.
"We felt that we needed to correct the record," he added.
The organization, which will not be supporting Trump's reelection in November, says that the president has mishandled the recent racial injustice protests that have erupted across the nation over the past three months.
"President Trump likes to call himself the law-and-order president, but he refuses to denounce violence by his supporters, whether it's in Charlottesville or Kenosha," RVAT's strategic director Sarah Longwell said in the release. "Joe Biden's own words show that he understands both the dangers faced by police every day, and the struggle for fair and humane treatment so many people are joining now. He can unify both sides."
Trump visited Kenosha, Wisconsin, on Tuesday after the city faced more than a week of protests in response to the police shooting of Jacob Blake. He pledged to provide $1 million to Kenosha law enforcement so officers "have extra money to go out and do what you have to do."
Earlier this week, while talking to reporters at the White House, Trump also defended Kyle Rittenhouse, the 17-year-old charged with shooting three people and killing two in Kenosha, who was known to be a supporter of the president.
"It's the president who actually doesn't care about our law enforcement, unless they happen to be on his side," Miller said.
He said that the voters RVAT is trying to reach "are people that want to make sure that the next president will have the backs of police officers who are acting in good faith and who will stand behind pubic servants who are putting their lives on the line every day."
Miller argues that candidate is Biden, not Trump.
"The real Joe Biden, not the fake Joe Biden that gets painted by the Trump administration, supports police reform but also has the backs of law enforcement officials who have very risky jobs to serve their communities," he said.
The ad is airing digitally this week in battleground states including Wisconsin, Arizona, Florida, Pennsylvania and North Carolina.