The anti-Trump wing of the Republican party that emerged during the presidential election is continuing to work against the GOP's agenda, calling on conservative voters to back Democrats in the 2022 midterms and block Minority Leader Kevin McCarthy from taking back the House.
In a New York Times op-ed published Monday, Miles Taylor, a former top official at the Department of Homeland Security under the Trump administration, and Christine Todd Whitman, the former governor of New Jersey, urged Republican voters to support Democrat candidates as a last-ditch effort to divorce the party from the former president and to avoid having to start a new center-right party.
"Rational Republicans are losing the GOP civil war," Taylor and Whitman wrote. "And the only near-term way to battle pro-Trump extremists is for all of us to team up on key races and overarching political goals with our longtime political opponents: the Democratic Party."
"It's a strategy that has worked," they added. "Mr. Trump lost re-election in large part because Republicans nationwide defected, with 7 percent who voted for Mr. Trump in 2016 flipping to support Joe Biden, a margin big enough to have made some difference in key swing states."
Instead of voting for Trump-backed candidates, the two Republicans urged GOP voters to elect "a strong contingent of moderate Democrats," including Representatives Abigail Spanbergers and Elissa Slotkin and Senator Mark Kelly, as well as "a small nucleus of courageous Republicans, such as Liz Cheney, Adam Kinzinger, Peter Meijer and others."
Cheney, Kinzinger and Meijer were among the 10 Republicans notably who broke with their party earlier this year to vote in favor of Trump's second impeachment.
In the op-ed, Taylor and Whitman singled out McCarthy saying that "as long as he embraces Mr. Trump's lies, he cannot be trusted to lead the chamber" and cast doubt on his Senate counterpart, writing that while the both of them supported and respected Senator Mitch McConnell, "it is far from clear that he can keep Mr. Trump's allies at bay."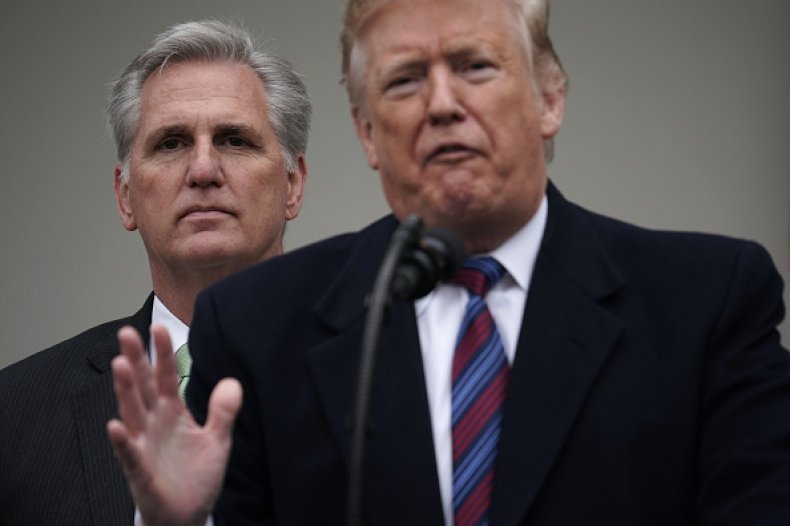 Taylor and Whitman were among the group of top Republicans who rallied against Trump in the 2020 presidential election and endorsed Joe Biden for the White House.
Taylor is also known for being the anonymous author behind the Times' 2018 essay criticizing Trump from inside the administration. He was serving as the deputy chief of staff of the DHS at the time of the story's publication.
A number of prominent GOP officials publicly opposed the reelection of Trump in 2020 and several Republican groups were formed to speak out against the sitting president, including Republican Voters Against Trump, The Lincoln Project and 43 Alumni for Biden.
Taylor and Whitman noted that voting for centrist Democrats in 2022 may be difficult for lifelong Republicans. "but democracy is not a game, which is why when push comes to shove, patriotic conservatives should put country over party."
"A great deal depends on our willingness to consider new paths of political reform. From the halls of Congress to our own communities, the fate of our Republic might well rest on forming alliances with those we least expected," Taylor and Whitman concluded.
Newsweek reached out to the Republican National Committee for comment but did not hear back before publication.