Anti-Vaccine Cartoonist With 'Rough' COVID Case Says He Would 'Never' Go to Hospital
Ben Garrison, a popular right-wing cartoonist, said he has had a rough time since contracting COVID-19, but he won't seek care in a hospital because he believes health care providers have motivation to let patients die.
Garrison, who has published multiple anti-vaccine cartoons, and his wife, both of whom are in their 60s, have had COVID-19 for about two weeks, according to Gizmodo. The cartoonist told the outlet that it's been "rough" and that he lost his sense of taste and smell, causing him to lose a desire to eat and drop 15 pounds. However, he has no plans to seek out a medical provider.
"I would never go to a hospital with COVID. Robert David Steele did it a few weeks ago and they killed him. The hospitals get extra money for COVID death reports, which is necessary to keep fear ramped up," Garrison told Gizmodo.
Steele advertised himself as one of the first people to push the theory that COVID-19 was a hoax and was vehemently opposed to the COVID-19 vaccine. In his last blog post, published on August 17, Steele acknowledged his lungs were "not functioning" but believed he would survive.
"This [has] been a near death experience, very much like a new death experience the whole country is going through right now. We will never be the same because now we know that we've all been lied to about everything," Steele wrote.
Steele denied the pandemic was real in March 2020, posting on his blog that he believed it was part of a plan to oust former President Donald Trump from office. He penned his last blog post from his hospital bed and after his death, his friend, Mark Tassi, claimed hospitals were "killing" people and advised Steele not to take the drugs he was being given.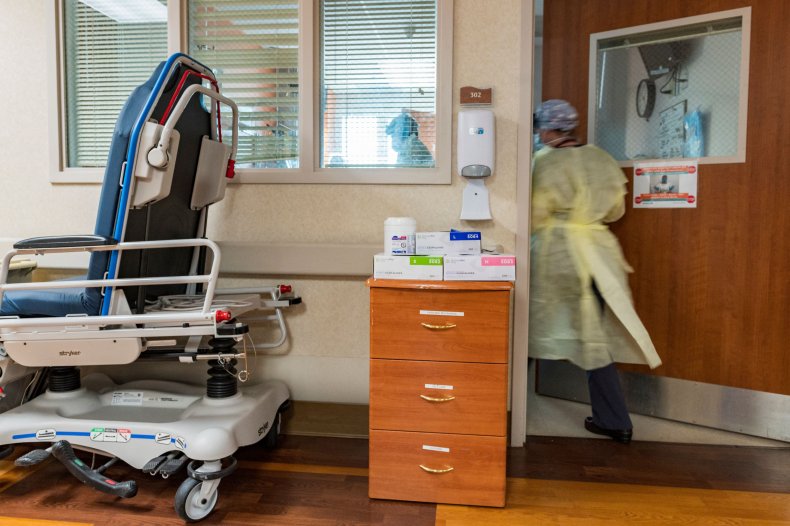 The Coronavirus Aid, Relief and Economic Security (CARES) Act passed in March 2020, created a 20 percent premium for COVID-19 Medicare patients. Senator Scott Jensen said the increase in payments for COVID-19 patients could motivate hospitals to list patients as having had COVID-19 before they died to receive more money from Medicare. He denied that he was accusing physicians of "gaming the system," but said administrators or other officials in the health care system could be motivated to attach a COVID-19 diagnosis to patients.
Joseph Antos, a health care scholar at the American Enterprise Institute, told Politifact it's "reasonable" for Medicare to increase payments for patients on ventilators because they require more care than someone who isn't "that sick." Antos added that there is "no scandal."
While hospitals receive additional payments to care for COVID-19 patients, the financial benefit is based on services provided, not deaths, so there's no financial incentive for health care providers to be killing patients, as conspiracy theorists have suggested.
In his mid-60s, Garrison could be considered at high risk of developing serious disease from COVID-19 and he acknowledged young people "tend to bounce back more quickly" but he and his wife are only feeling "slightly better" after two weeks.
Instead of seeking medical care, he told Gizmodo they're taking Ivermectin, an anti-parasitic drug that isn't FDA approved for COVID-19, and various vitamins. He also has no plans to get vaccinated against COVID-19.
"We will never take their foul spike protein-producing jabs, which are neither safe nor effective. They're not real vaccines. They're gene therapy," Garrison said
Newsweek reached out to Ben Garrison for comment but did not receive a response in time for publication.