'I Was Wrong Not To Get Vaccinated:' COVID Patient Cries From Hospital Bed
A COVID-19 patient has made an impassioned plea from her hospital bed, admitting that she "was wrong not to get vaccinated" and urging others not to make the same mistake.
The woman, identified as Maria Paola Grisafi, recorded a video from the Ribera hospital in Agrigento, on the Italian island of Sicily.
"I was wrong not to get vaccinated. Now I am hospitalized and I have been very ill because of COVID," the 56-year-old said as she fought back tears.
Grisafi, who was wearing an oxygen mask, explained that she, like the other patients surrounding her in the COVID ward, had decided not to get the vaccine. "We were all wrong. Go immediately and vaccinate," she said.
"I was terribly ill. I tell everyone, get vaccinated because I was wrong not to do it and I risked my life," she continued in the short clip, as reported by Italian newspaper La Stampaand translated by Google. "It is a very bad disease. It feels terrible … All those who are here are all without vaccines and we are all wrong, we are repentant. COVID is a very bad thing, it is very bad."
The video was first uploaded to the Facebook page of healthcare provider ASP di Agrigento on August 3.
Grisafi ended the clip by thanking the doctor who treated her and revealing that she was "a little better" after medical help.
"Thanks to the treatments I am a little better. I risked my life, but you vaccinate," she said, appearing to have difficulty speaking.
COVID-19 infections in Agrigento and the surrounding areas have risen rapidly over the past week, from 600 cases to more than 1,000, Italy24 reported. Mario Zappia, of ASP di Agrigento, has warned residents of a "fourth wave of the unvaccinated," the news outlet said.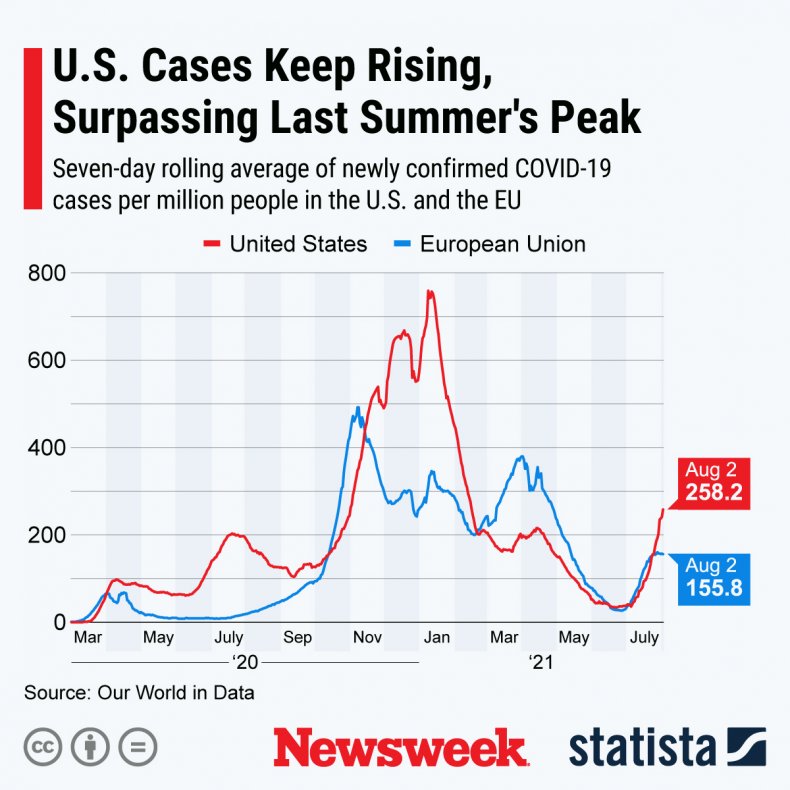 In the U.S., COVID-19 cases are continuing to rise, according to a seven-day rolling average of newly confirmed cases—as shown in the graphic above by Statista.
The Delta variant, first identified at the end of last year, has spread faster than any previous strain of COVID-19. It has driven up infection rates in every state of the U.S., prompting the Centers for Disease Control and Prevention (CDC) to once again recommend universal mask-wearing.
However, some scientists have told Newsweek that a COVID-19 variant worse than Delta may be on the horizon. The Delta outbreak is going to get worse, according to Michael Osterholm, an epidemiologist who leads the Center for Infectious Disease Research and Policy at the University of Minnesota.