Anti-Vaccine Mandate Protesters Flip COVID Testing Tent in New York
A protest in New York City Monday against COVID-19 vaccine mandates turned violent as the group made its way across the city.
The event began in Brooklyn at the headquarters of the New York City Department of Education (DOE). The DOE's recent employee mandate gave teachers until this past Friday to receive at least one dose of a COVID vaccine, or else they would not be allowed to return to work. Independent reporter Brendan Gutenschwager captured footage of the events as they unfolded.
It was estimated that up to 8,000 DOE employees would be out of a job due to refusing the vaccine. This number represents the minority, though, as Danielle Filson, press secretary for New York City Mayor Bill de Blasio, said on Twitter that 95 percent of DOE staff have been vaccinated.
As the protests continued, the large group then made its way across the Brooklyn Bridge into Manhattan, many carrying anti-vaccine signs and banners. As they made their way through the city, many could be heard chanting phrases like "wake up New York" and "We the people will not comply". The protesters could also be seen jeering at restaurant diners and leaving them stickers and signs. Under a new city-wide mandate, patrons must show proof of vaccination in order to dine indoors.
From there, the protest began to get violent, as marchers began to knock over various outdoor furniture. Footage shows the group ended up at Union Square, where protesters descended upon a mobile COVID testing unit, flipping its tent upside down and knocking over tables and chairs. Police were able to right the tent and tables.
After these incidents, the crowd kept moving across Manhattan and eventually ended up at the office of the Australian consulate in New York. Australia has been well-publicized for having some of the most stringent COVID lockdowns in the world. While cases across that country are rising, the nation has only reported 1,346 deaths from the coronavirus.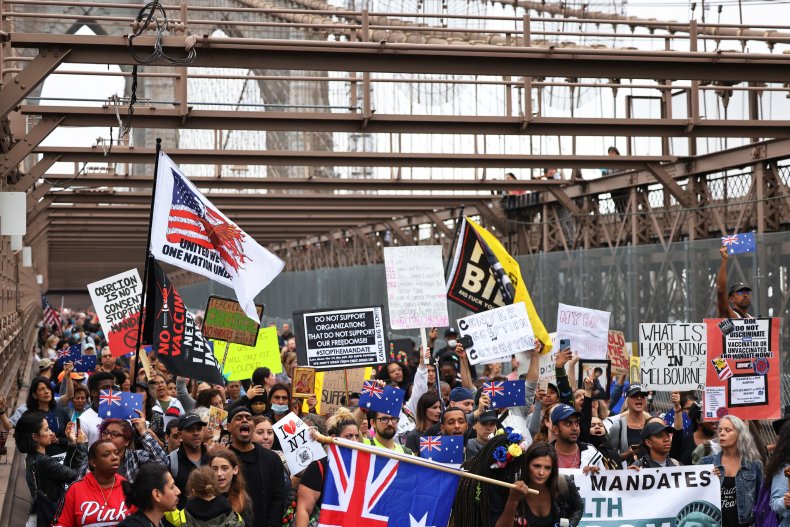 As the protesters gathered outside of the consulate building, some could be seen with both American and Australian flags. One marcher with a megaphone was heard addressing the crowd, stating that "[the protesters] have so much free time now, and we're gonna be at schools, and we're gonna be handing out flyers to the parents." It did not appear that anyone from the consulate's office communicated with the marchers.
Newsweek has reached out to the Australian consulate in New York City for comment.