Violence erupted as protestors in Sofia, Bulgaria, tried to storm Parliament on January 12, 2022, in opposition to the country's new COVID-19 restrictions.
Several people, including Bulgarian police officers, were injured when police stopped protesters from entering the building. Police were able to blockade the area and push back the protestors.
The protests, organized by a nationalist group, are in response to the government's new mask and vaccine mandates and other pandemic-related restrictions.
"The aim of the protest is to remove the restrictive measures and especially, first of all, the unconstitutional green certificate," said Kostadin Kostadinov, the leader of the Vazrazhdane party, before the protests began.
Current mandates in the country include wearing masks indoors and while using public transport. The U.S. Embassy in Bulgaria also says scarves are not an acceptable substitution for a mask, according to the Inquirer.
To enter public areas such as restaurants, cafes, malls and gyms, citizens must show a health pass that says they've either been vaccinated, recovered or recently tested negative for the virus. However, to cope with the recent surge, Bulgarian lawmakers recently voted to make the health pass mandatory to enter Parliament starting January 24.
Bulgaria faced protests back in 2021 after government officials tried to implement restrictions.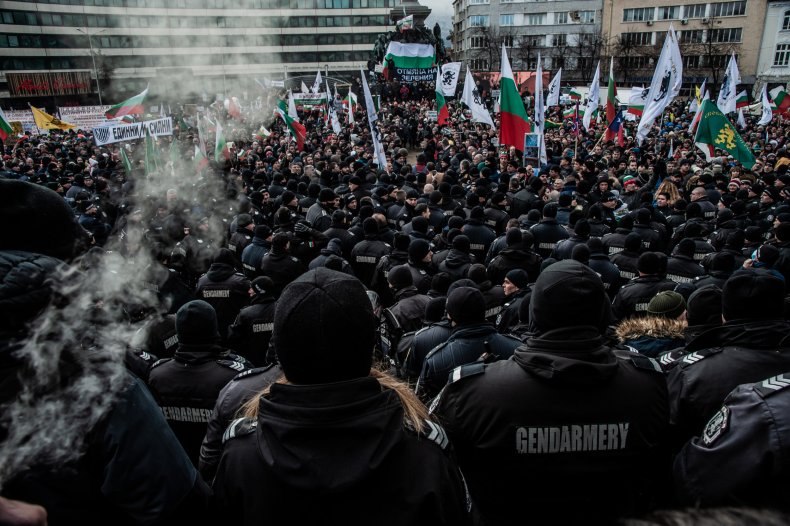 According to the World Health Organization, Bulgaria has 6761 confirmed cases over the past 24 hours. Only a third of Bulgaria's population is vaccinated, making it is the least vaccinated country out of the 27 countries in the European Union. However, the government did start a vaccine campaign to encourage more people to get the shot.
One YouTube video live-streamed at the time of the protests shows the protesters holding signs in opposition to the new mandates, waving flags and marking down the streets of Sofia.
The nationalist group, which holds 13 seats in Parliament's 240-seat chamber, has won support among opponents of new coronavirus restrictions.
Several of Bulgaria's top officials, including Prime Minister Kiril Petkov, are in quarantine after previously coming in contact with Speaker Nikola Minchev, who tested positive for the virus. Speaking from home, Petkov called for calm and invited protesters' representatives to his office later in the week to discuss their demands.
The nearly 1,000 protesters, who waved national flags and sang patriotic songs, remained at the square in front of the National Assembly, saying they planned to stay there until their demands for abolishing the mandatory face masks and green vaccination status passes are met.
The Associated Press contributed to this report.