Anti-Vaccine Protestor Halts California Legislative Session After Allegedly Throwing Menstrual Blood Onto Senate Floor
The final day of the California Legislative Session came to a temporary halt on Friday after blood was thrown onto the Senate floor.
The incident occurred just after 5 p.m. local time when Rebecca Dalelio, a woman observing the Senate session with a few other protestors, allegedly rose from her seat and dropped "a feminine hygiene device" that contained blood onto the floor of the chamber, the California Highway Patrol told the Sacramento Bee.
"That's for the dead babies," Dalelio reportedly yelled when she dropped the hygiene product. The Bee determined the "hygiene device" to be a menstrual cup.
Highway Patrol officers said Dalelio exited the chamber after the incident, where she was taken into custody. A video posted on Periscope and later shared by the Bee shows Dalelio standing with an officer, speaking about why she reportedly carried out her demonstration.
"Vaccines do cause injury and death, and I'm here and I'm doing this for the babies that died so their voices can be heard," Dalelio says in the video. "So that they don't die in vain. So that we are not here in vain. If we don't, our voices will not be heard. Their blood is on your hands, you who make the laws."
Dalelio was charged with misdemeanor battery, felony vandalism and other charges that deal with interrupting state business and the ability of the Legislature to meet, as well as disrupting the legislative session. She was issued a bond of $10,000, which was paid on Sunday night at which time Dalelio was released from the Sacramento County Main Jail where she was held since her arrest on Friday evening.
The demonstration came following days of protest in the California capitol as Governor Gavin Newsom signed SB 276 and SB 714 into law. SB 276 authorizes a standardized immunization exemption form and requires a physician, or surgeon to examine a child to verify a medical reason to forgo vaccinations and notify the child's parents or guardian of the state requirements to obtain a medical exemption. The doctor then must submit the exemption form to the California Department of Health for approval. The bill also allows the state's health department to view medical records in schools where the vaccination rate is less than 95 percent, at schools which do not report medical exemptions and records of doctors who write more than five exemptions per year.
SB 714 prohibits the admission of a student into a public school without required vaccinations, unless a medical exemption is on file. SB 714 is a companion bill to SB 276 and both will go into effect on January 1, 2020 after obtaining Newsom's signature last week.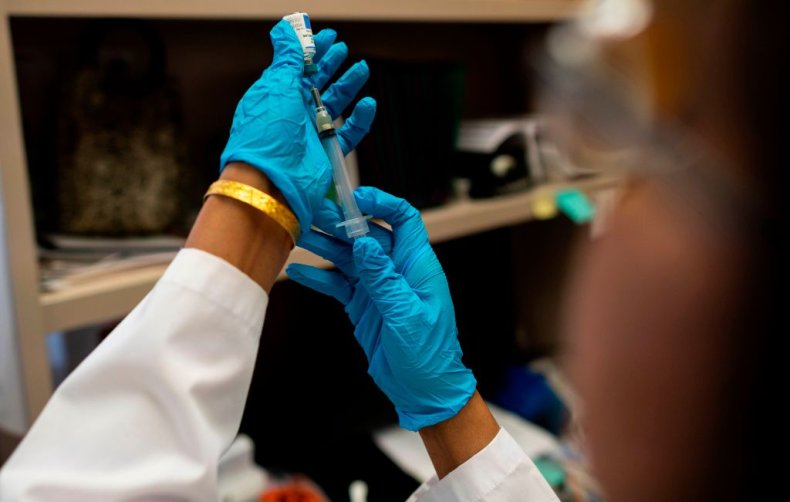 While it is unknown exactly what prompted the demonstration from Dalelio, the Bee reported a Facebook page matching her name displayed several anti-vaccination posts. However, Newsweek was unable to locate a Facebook page for Dalelio on Sunday.
The California Highway Patrol did not give a motive for Dalelio's actions in a brief press release issued on Friday.
"Becky has always been outspoken, and she was always one to express her opinion," Rebecca's father, Henry Dalelio, told the Bee. Henry also told the newspaper that his daughter is a conservative who is against abortions and vaccinations and is the mother to seven children, including a set of triplets.
The blood inside the hygiene device hit six senators, among them Richard Pan (D-Sacramento) who authored both SB 276 and SB 714, and prompted the chamber to be evacuated. Those senators also briefly left the capitol to shower and change clothes, the Los Angeles Times reported.
"Everyone is pretty disturbed and upset. It's like we've been saying, violent rhetoric turns to violent acts. This is a direct attack on the democratic process and this should be condemned by everyone. This needs to stop," Pan told the Times.
The Senate reconvened hours later in large conference room to finish the session, wrapping up around 3 a.m Saturday morning.