The Anti-vaxxers Are Winning the Battle on Facebook
Anti-vaccination Facebook Pages are currently better at attracting undecided users to their cause than pro-science counterparts, researchers have found.
As social media sites struggle to purge misinformation and conspiracy theories from their platforms, including campaigns relating to COVID-19, a study has now shown how differing stances on vaccination have evolved and competed over time. The project, led by Neil Johnson, professor of physics at George Washington University, analyzed Facebook communities containing close to 100 million individuals, grouping them into "clusters" to map how members interact, shift and share links.
The clusters were color coded, mapped and analyzed. And the results were surprising, Johnson told Newsweek, describing the current situation as a "perfect storm" that could see legitimate information drowned out by fringe, fake, science.
"We expected to find a network where establishment medical science/government public health advice ('Blue') forms a very large strong core, surrounded by a small number of fairly disorganized communities expressing a fringe view, like opposing vaccines ('Red'). We found the complete opposite," Johnson said. "Instead, there's a complex, three sided online war over trust in establishment medical science and health guidance—and Red is now in the driving seat.
"Instead of it being a two-sided war of Red vs Blue, anti-vaccination has pulled in the huge population of people who ordinarily don't talk a lot online about such issues; communities on Facebook of pet lovers or parents with a particular interest. These users are akin to a civilian population in an insurgency. We call them 'Green.' Blue is fighting in the wrong place, off to one side."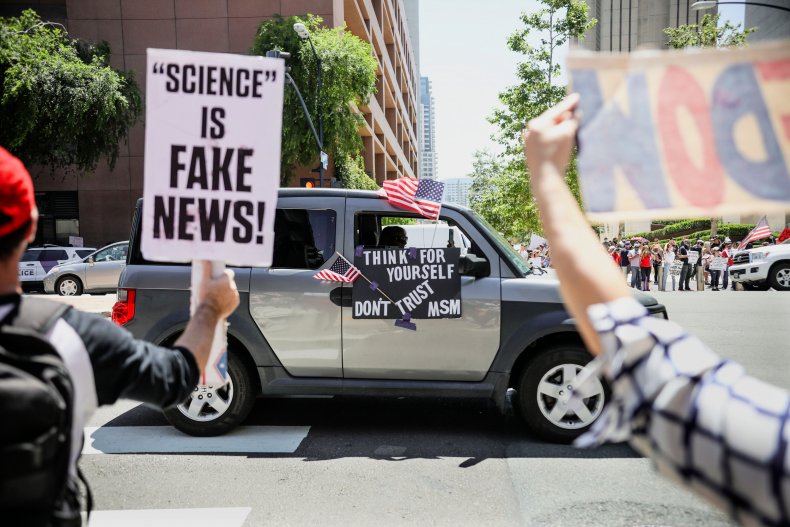 The team's findings suggested anti-vax Facebook Pages are smaller but more nimble than pro-vaccination communities, appearing to become "heavily entangled" with the much larger groups of users who are yet to fully form their own opinions.
Under present conditions, one predictive model used by the scientists found that anti-vaccination support could reach dominance in approximately 10 years.
"This is now a war over hearts and minds," Johnson said. "The growing success of Red lies in the fact that Red now offers lots of attractive 'flavors' of health-related narrative, such as questioning role of big pharma, government, civil liberties, freedom of choice for their kids etc. By contrast, Blue is like vanilla, one flavor of message."
Since the beginning of the COVID-19 pandemic, Facebook has stepped up its efforts to combat fake news and misinformation on its platforms—to mixed results.
That is, in part, due to the sheer scale of the problem.
Last week a video packed full of virus conspiracy theories from an anti-vax activist went viral and managed to attract millions of views before being addressed by the website's moderation staff. In March alone, Facebook said it had to display warnings on roughly 40 million posts that were related to bogus or unreliable COVID-19 information.
In April, Facebook said moderators had removed "hundreds of thousands of pieces of misinformation that could lead to imminent physical harm." These included claims like drinking bleach cures the virus and lies that social distancing does not work.
More recently, claims linking the novel coronavirus to 5G have spread on the website. There is no known cure or vaccine for COVID-19, health officials stress.
According to Johnson's team's research, published in the journal Nature, people on-the-fence are highly-active on social media, and can potentially be swayed. And it seems clusters containing misinformation and conspiracy, unlike straight-laced sources of real and evidence-based science, can offer "attractive narratives."
These groups blend topics such as safety, alternative medicine and speculation about the cause and cure COVID-19, the research paper says.
Anti-vaxxers were found to form twice as many clusters compared to pro-vaccination individuals, in part due to their smaller overall membership. But this only means they entangle themselves where pro-vaccine clusters cannot.
The project's data precedes COVID-19 (collected February-October 2019) but covered a period of fresh anti-vax activity linked to outbreaks of measles.
The CDC says there were more than 1,200 individual cases of measles across 31 states last year, which was the greatest number of cases reported in the country since 1992. Facebook was forced to address vaccine misinformation during that time.
Researchers found anti-vaccination clusters showed high growth during the measles outbreaks, whereas pro-vaccination clusters recorded lower growth.
Some anti-vax clusters spiked by more than 300 percent, while no pro-vaccine cluster grew by more than 100 percent. "This is again consistent with the anti-vaccination population being able to attract more undecided individuals," the study said.
Johnson has continued to monitor the trends during the ongoing novel coronavirus outbreak, and says targeting those who are undecided is critical.
Referencing the cluster color coding, he explained: "With COVID-19, this is a perfect storm since Blue itself is not 100 percent sure about the science. Since the start of COVID-19, we already see Green communities in this picture turning Red.
"The implication is that instead of trying to convince Red, which is very hard and may backfire to make them stronger, Blue should focus on intelligently engaging Green. Like in an insurgency, the battle should be for hearts and minds. Greens are much larger numerically in total, and could tip the balance away from herd immunity if not enough Greens get vaccinated against COVID-19, when a vaccine appears.
"Though the focus is on vaccines and COVID-19, the same applies for other scientific distrust, including climate change. Don't fight the Reds, engage the Greens."