'Anti-Vaxx Muppet' Speaks Out Against Big Bird in Viral Video
A spoof video of a Sesame Street puppet speaking out against the COVID-19 vaccine and his "woke" castmates has surfaced on social media.
The clip, which was posted to Twitter and apparently created by comedian Brent Terhune, in response to the uproar among Republicans and conservatives that greeted fictional Sesame Street character Big Bird's announcement that he had received the inoculation.
A pastiche of the kind of videos that have flooded social media in the wake of the introduction of mask and vaccine mandates in the U.S., the footage sees what appears to be Terhune voicing an unspecified and entirely invented puppet who claims to have been part of the Sesame Street cast.
Speaking to camera from the comfort of his car—a standard setting for clips of this kind—the video sees the puppet proceed to let rip at the mandate and his co-stars over their decision to get the jab.
"By now you've seen that Big Bird and the rest of my 'woke' co-workers down on Sesame Street got the jab," he says. "Well, let me be the first to tell you: I will not comply."
The muppet goes on to ape the familiar response among those opposed to the vaccination, albeit with a reference to The Muppets' resident scientist thrown in for good measure.
"Dr. Bunsen Honeydew and the rest of the so-called scientists can stick that band aid up their a**. I got dingleberries older than your research, Honeydew," the puppet states. "Do you think I'm scared to lose my job? I'm not scared to lose my job! I got Crank Yankers on speed dial any time I want."
The puppet then suggests that if he remains on Sesame Street he will "teach these kids how to do their own research" before lampooning another notable figurehead opposed to the vaccine.
"Cause everybody knows, all you gotta do is go to your podcast app and type in J-O-E, R-O-G-A-N," he states, in reference to the podcaster's aversion to the jab.
From there he goes on to namecheck several notable Sesame Street residents, with Oscar the Grouch told: "You live in a trash can—nobody has a better immune system than you" while he slams Cookie Monster surmising that it "looks like 'c' is for 'cuck.'"
Bert and Ernie are branded "the wokest of the woke" with the puppet even threatening to reveal a former tryst with Ernie. "Let's just say the rubber duckie ain't the only thing he's taking baths with," he quips.
He concludes by saying: "So in regards to the vaccine mandate, today's show is brought to you by the letters F and U which stands for..."
The comedy diatribe then tails off into a coughing fit with the puppet asking someone to fetch some ivermectin— an unproven treatment against COVID. The Centers for Disease Control and Prevention (CDC) has issued warnings against its use to treat COVID.
Terhune posted the video to Twitter where it has been viewed more than 363,000 times at time of writing.
The majority of comments praised the lampoon.
"I'm still laughing at this..." KestonWilliams wrote. "I ended up laughing so hard at it I was crying and wheezing," Douglas_Boyle added. JoJoFromJerz wrote: "I cannot breathe!!!!!!! I love you so so much!!!!!!" while psgosh commented: "The Cookie Monster rant made me pass out!"
Not everyone was quite so enamored with the skit.
"Very amateurish," Servelan responded. "Not even the slightest bit amusing." Indianabullock was similarly scathing: "First rule of puppetry: to simulate speech, open mouth on syllables, don't close. Pathetic timing. Terrible message." Lacunadogmata echoed those sentiments, writing: "I don't get it. It's not funny or insightful and it's poorly-performed."
Most saw a funny side, with TheEvilSizer even taking note of the choice of setting. "I love that he's in the usual venue for these types of videos," they wrote. Terhune responded: "It's the only place to rant."
Terhune told Newsweek the response to Big Bird getting the jab has been over the top.
"Anytime someone gets mad at a fictional character whether it be Big Bird, Mr. Potato Head or Looney Tunes no longer having guns, it's always over the top and hilarious," he said.
"Just the thought of an adult getting mad at something that's not real is always entertaining and provides a great jumping-off point to have a funny take on the situation."
He said the response to the video has been largely positive.
"The only negative remarks I've really gotten are people saying I'm not a good puppeteer which is very funny to me," Terhune said. "Never would I have thought a stranger from the internet would be like, 'your puppet skills are trash!' I just chalk it up to the puppet being on too much ivermectin."
The comedian said the hardest part of the video was the movement of the puppet itself.
"I shot it in the car so I had to use my left hand (I'm right handed) and it's very difficult to yell, stick to your script and have the puppet move at the same time," he said.
"I've always been envious of people that are great with puppets because it takes a lot of skill to put life into an inanimate object."
Terhune also hinted that this may not be the last time we hear from the "anti-vaxx muppet."
"You just never know," he said. "It may be time for the world to have a right-wing puppet who tells it like it is."
The subject of Big Bird's vaccination has been the source of much ire with Texas Senator Ted Cruz among those to criticize the move as "government propaganda" for children.
The Sesame Street stalwart is no stranger to vaccinations with a video dating back to 1972 resurfacing showing the character promoting a measles vaccine to children.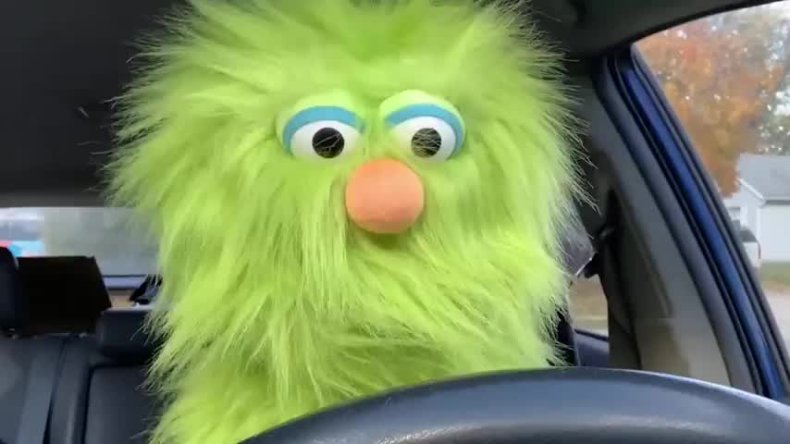 UPDATE 11/10/21 10:43 a.m. ET: This article was updated to include comment from Terhune.