Barry Manilow Songs Deployed Against Anti-Vaccine Protestors
Continued protests against COVID restrictions across the globe are resulting in officials using a number of unorthodox methods to combat them.
One such scenario played out in New Zealand on Saturday on the fifth day of protests in the capital city of Wellington. Demonstrators had been gathered outside of the country's parliament building in opposition to strict COVID restrictions and vaccination mandates.
Initially, Parliament Speaker Trevor Mallard ordered that sprinklers be turned on, hoping to drive away protestors wary of getting damp. In response, the crowds reportedly dug trenches and worked up drainpipes to siphon the water away, according to Australia's ABC News. Bails of hay were also brought in to counteract the muddy ground.
At this point, Mallard ordered a much more unusual tactic: blasting out a loop of Barry Manilow songs at the protestors using a sound system. In addition to a selection of music from the popular singer-songwriter, the loop included instances of the '90s Latin dance hit "Macarena" and various non-musical pro-vaccine messages.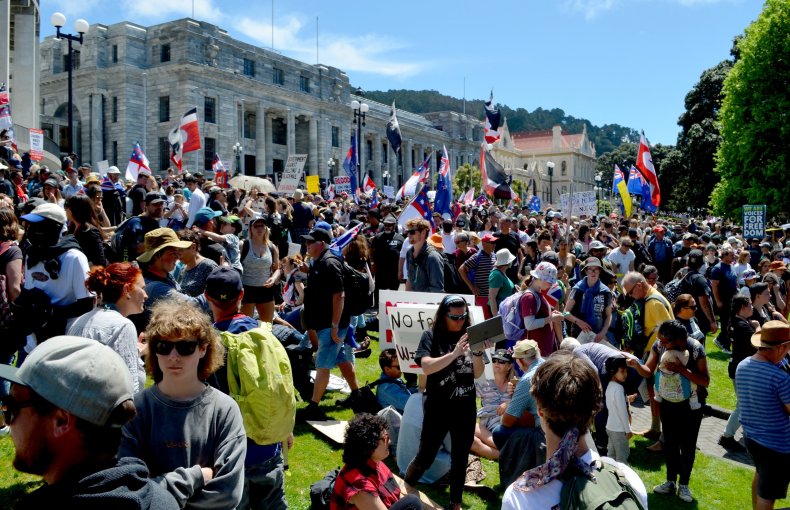 Speaking with Australia's ABC News, Mallard confirmed his involvement with the sprinkler and music ideas.
"I ordered them on," he said, in reference to the sprinklers. "No one who is here is here legally, and if they're getting wet from below as well as above, they're likely to be a little bit less comfortable and more likely to go home.
"Some people have suggested we add the vaccine in the water, but I don't think it works that way," he added in a joking tone.
Newsweek reached out to Mallard's office for comments and his rationale for the music loop.
Despite the novelty of the approach, it appears that the music was, like the sprinklers, ineffective in dispersing the crowd. In response to the Manilow songs and the rest of the loop, protestors reportedly began playing the 80s hit "We're Not Gonna Take It" by Twisted Sister.
The protests outside the parliament building in Wellington began on Tuesday and were purportedly inspired by the "Freedom Convoy" in Canada. Around 1,000 people attended initially, but these numbers declined as the week went on. Among the strict rules that the demonstrators opposed were New Zealand's vaccination for workers such as teachers, doctors, police, and military members, and mask mandates for places like shops and classrooms with more than eight students.
The "Freedom Convoy" that inspired the Wellington demonstrators was subject to a police crackdown in Canada on Saturday morning. In Windsor, Ontario, law enforcement deployed "tactical teams" and rooftop snipers. In Paris, meanwhile, authorities reportedly used tear gas on similarly inspired protestors defying a ban on entering the city.