7 Countries Where Anti-Vaxxer Myths Are Fueling Outbreaks
America is far from the only country grappling with anti-vaxxer misinformation—and preventable diseases.
Anti-vaxxers in America continue to question the validity of vaccines, sometimes with devastating results: In the first two months of 2019, 159 cases of measles were diagnosed—more than were reported in all of 2017.
But the U.S. is not alone in facing anti-vaxxers: Despite the widespread availability of a vaccine, measles caused 110,000 deaths worldwide in 2017, mostly in children under 5. Around the globe, populist right-wing parties promote anti-vaxxer propaganda, with religious groups and inadequate health care systems compounding the problem. The World Health Organization (WHO) has named vaccine hesitancy one of the biggest global health threats in 2019.
Below are seven countries battling anti-vaxxer myths and misinformation—and facing outbreaks of vaccine-preventable diseases.
France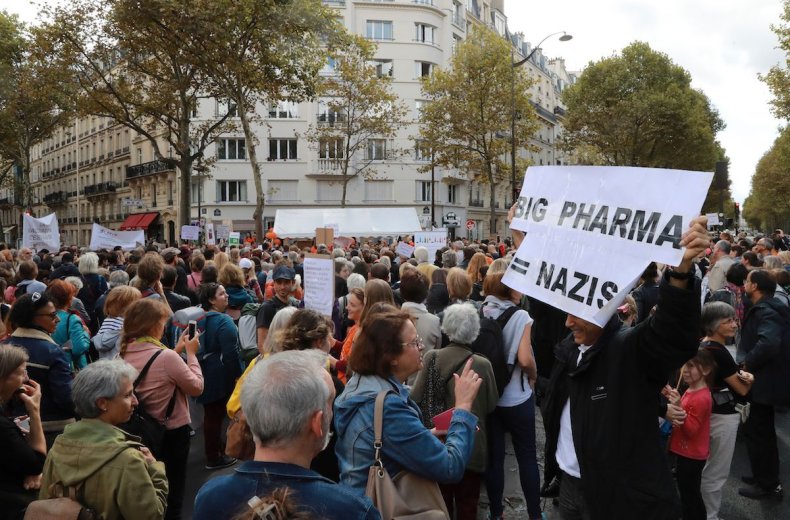 Surprisingly, the birthplace of immunology has the lowest measles vaccination rates in Europe: Only 90 percent of citizens are vaccinated, according to the Organization for Economic Co-operation and Development, even though at least 90-95% of a community needs to be vaccinated against measles to achieve herd immunity.
A 2016 study published in the journal EBioMedicine revealed that 41 percent of French respondents don't believe vaccines are safe—far higher than the global average of just 12 percent.
Between 2008 and 2016, there were 24,000 measles cases reported in France, resulting in 10 deaths. This year, nearly 250 people have already been diagnosed. To address the crisis, the government has made 11 vaccines, including measles, compulsory for children born after January 1, 2018. "I do not like to impose obligations, it goes against my character," said French health minister Agnes Buzyn. "But with vaccinations it is justified."
But reactionary politicians have been exploiting anti-vaxxer propaganda: "We know so little about the long-term consequences of multiple vaccinations, which fill the pockets of medical labs," National Rally leader Marine Le Pen tweeted in 2017.
In 2018, the CDC issued a Level 1 Alert, warning American travelers that they should make sure they are vaccinated against measles before visiting France.
Italy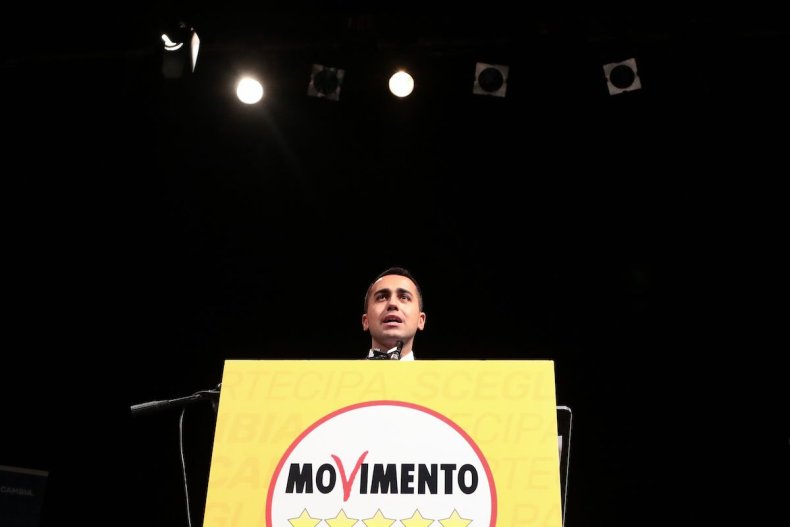 Italy's right-wing Five Star Movement (M5S), which became part of a populist coalition government in 2018, has claimed vaccines are unsafe—suggesting they're tied to everything from autism to leukemia. M5S leaders opposes the mandatory vaccination policy imposed by the previous administration and have even suggested banning vaccines outright.
They're being aided by a 2012 court ruling in Rimini that established a link between autism and the MMR vaccine. By the time that ruling was overturned three years later, vaccine adherence in Italy declined to about 85 percent.
In 2017, 5,000 people were diagnosed with measles, and four unvaccinated people died. That outbreak led M5S to backpedal on its anti-vaxx stance and, in November 2018, call for almost a million children to be vaccinated to halt the spread of measles.
Ukraine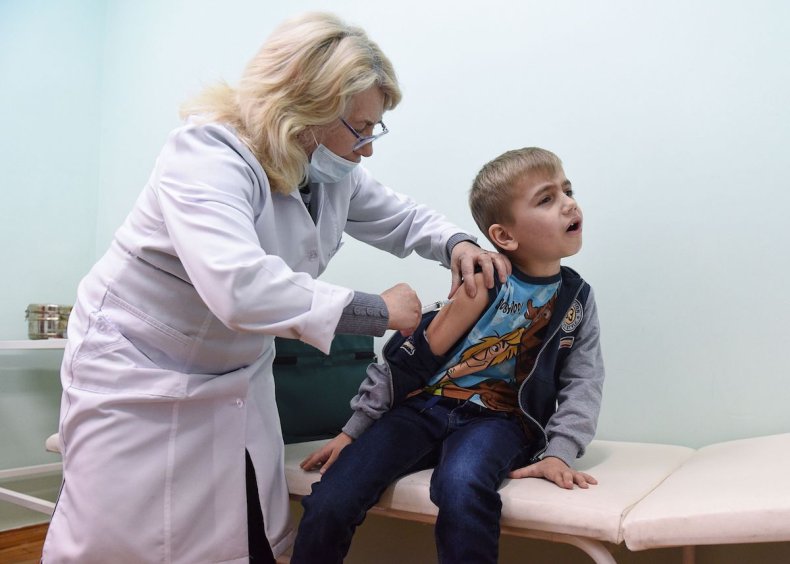 Measles has made a big return in eastern Europe, owing to the combination of anti-vaxxer rhetoric and an inefficient health care system. According to government data, Ukraine is undergoing the biggest increase in measles cases in the world, with more than 53,000 reported cases in 2018 compared to less than 5,000 in 2017.
The epidemic doesn't show signs of ending anytime soon: According to UNICEF, at least 24,000 Ukrainians were diagnosed with measles in just the first two months of 2019.
"The current epidemic is the most massive in the entire post-vaccine period," pediatric infectious disease specialist Nataliya Vynnyk told Science. Up to a third of Ukrainian parents oppose vaccinations, according to a 2012 UNICEF survey, which found that only half of children were fully immunized, down from 80 percent in 2008.
And, as elsewhere, misinformation has fueled anti-vaxxer paranoia: When a 17-year-old Ukrainian boy died in 2008 following an MMR jab, Russian headlines warned of a "deadly vaccination," even though both UNICEF and the World Health Organization insisted the child's death was unrelated to his inoculation.
Even for parents willing to inoculate their kids there are frequently shortages, thanks to lack of funding, government corruption and poor forecasting: In 2013, The Lancet reported that the Ukraine government could only vaccinate about 65 percent of the population.
The epidemic may be bleeding across borders, too: In neighboring Romania, vaccination coverage fell below 90 percent in 2014. Three years later, Romania was experiencing more than 1,000 measles cases a month. Serbia, which borders Romania, is currently undergoing the sixth-biggest measles increase in the world, with over 4,000 reported cases between 2017 and 2018.
Poland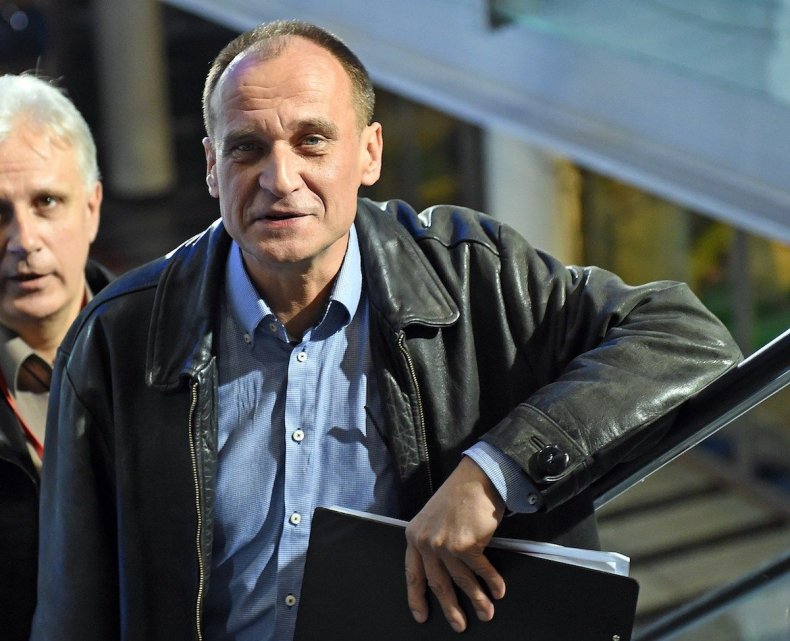 Vaccination is supposedly mandatory in Poland, but over the past decade there's been a sharp rise in parents refusing to immunize their children: In 2011, just over 5,000 people declined to vaccinate their children; in 2016 that number grew to over 23,000.
Unsurprisingly a measles outbreak was reported near Warsaw at the end of 2018.
Kukiz'15, a right-wing anti-establishment party, has helped amplify the voice of Polish anti-vaxxers. It supports a group called Stop NOP (a Polish acronym for "undesirable post-vaccine reactions") that campaigns against mandatory vaccinations. Stop NOP also claims doctors are conspiring with vaccine manufacturers to downplay vaccine side effects. In January, it was revealed that Stop NOP leader Justyna Socha is an assistant to a prominent member of Kukiz'15.
England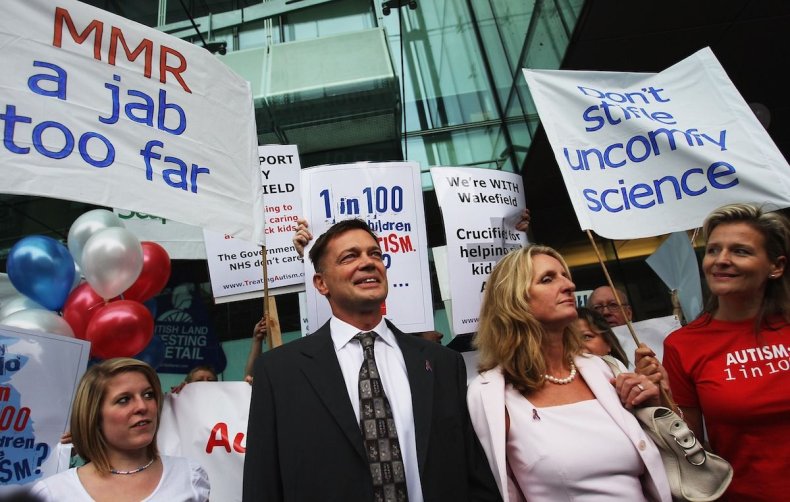 The modern anti-vaxxer movement really began in England, when gastroenterologist Andrew Wakefield authored a shocking Lancet study in 1998 linking the MMR vaccine to autism and bowel disease. When it was discovered Wakefield fabricated data and had several conflicts of interest, he lost his medical license and The Lancet retracted the study. But his "theory" still took hold in the public imagination.
The percentage of British children receiving an MMR shot has dropped every year since 2014—in 2018 it was just 91.2 percent. In London, it's just 89.2 percent. Not coincidentally, measles infections tripled between 2017 and 2018, when there were more than 900 cases.
In March 2019, National Health Service director Simon Stevens blamed misinformation on social media for the dip. "We are not being helped on this front by the fact that although nine in 10 parents support vaccination, half of them say they have seen fake messages about vaccination on social media."
Brazil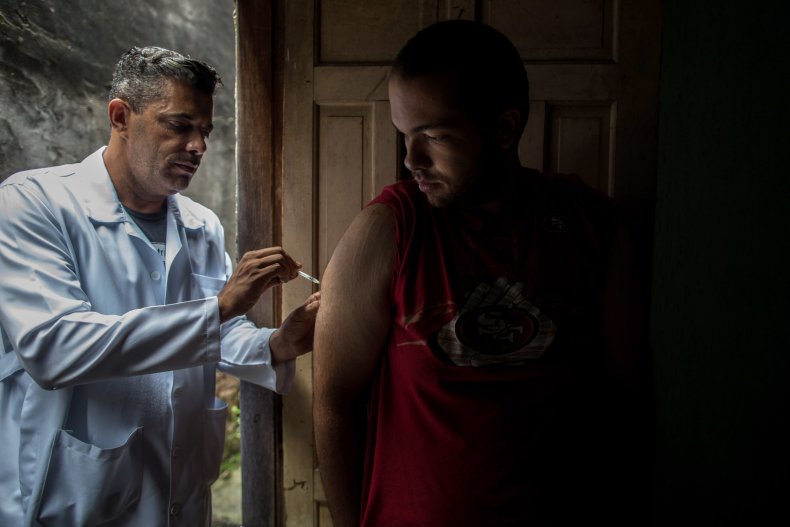 In 2017, Brazil had no reported cases of measles. A year later, there were 10,262 diagnoses and 12 deaths. Concentrated in the northern state of Amazonas, the epidemic was thought to have been sparked by refugees from Venezuela, which shares a border with Brazil. Some 40,000 Venezuelans sought refuge in Brazil in 2017 alone, but the embattled Venezuelan government no longer releases data on measles cases and it's unknown what kind of vaccination program, if any, currently exists in the country.
The outbreak was also fueled by Brazil's complacency surrounding vaccinations—almost a third of Amazonas state's four million residents were unvaccinated when the epidemic began. Misinformation about vaccines has also been circulating on Brazilian social media: In 2016, rumors arose on WhatsApp that the Zika virus was caused by vaccines.
Japan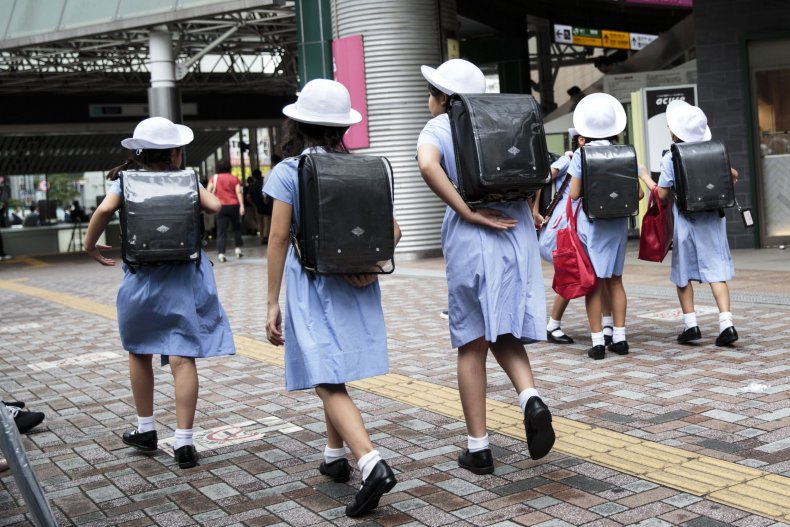 Japan is currently fighting its worst measles outbreak in a decade, with more than 170 cases diagnosed since the start of 2019. One factor contributing to the spread was the anti-vax religious group Kyusei Shinkyo, which told followers vaccines were harmful. After unvaccinated followers caused a measles outbreak in Mie Prefecture, Kyusei Shinkyo leaders apologized in February for causing "a lot of troubles and inconvenience." The sect promised to change its message "under the guidance of public health centers."
Japan actually banned the combination MMR vaccine in 1993 after it was discovered to use a strain of mumps that caused some children to develop aseptic meningitis. The Japanese government continued to give a separate measles and rubella vaccine, with a separate optional mumps vaccine. But health officials only began inoculating children with measles booster shots in 2006, leaving older generations, who only had a single dose, with less protection. Even now, vaccines aren't a requirement for school enrollment, and inoculation rates remain relatively low in Japan: A NIID survey from 2016 showed that only 83 percent of 7-year-olds had been given two doses of the measles-rubella (MR) vaccine.
Experts say Japan is more than a decade behind Europe and North America in its inoculation policy. As a result it has notably higher incidences of vaccine-preventable diseases like hepatitis B, measles, mumps, rubella and varicella.