Anti-Vaxxers Invade New York City Burger King, 5 Protestors Arrested
Five people were arrested Monday night in New York City after invading a Burger King to protest COVID-19 protocols.
Multiple videos documenting the ordeal at the restaurant at 417 Fulton Street went online.
One video viewed over 367,000 times showed a man yelling to other patrons, though nobody seems to acknowledge him. A woman and others then begin shouting at employees behind the counter, with an unidentified man yelling, "Mandates are not laws."
"Let's Go Brandon" chants, which are meant as an incendiary jab toward President Joe Biden, were audible in another video.
Sergeant Edward Riley, a spokesperson for the NYPD, said the arrests occurred at approximately 7:34 a.m. Five men were charged with trespassing after entering and remaining unlawfully inside of the Burger King, within the confines of the 84th Precinct.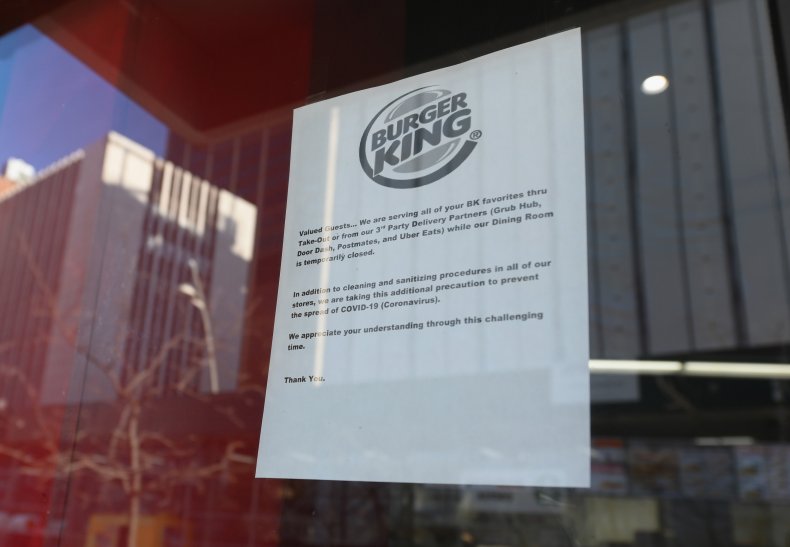 Individuals refused to leave the location after multiple requests to do so, Riley added, saying that all individuals were issued desk appearance tickets.
The five individuals were: Michael Mitchell, 36, of Brooklyn; Augusto Alarcon, 39, of the Bronx; Ethan Boisvert, 41, of Queens; Mitchell Bosch, 41, of Brooklyn; and Bradford Solomon, 44, of Queens.
Aside from many Twitter replies poking fun at individuals starting a ruckus in a Burger King, and some getting arrested for it, some questioned whether these were paid actors. Another said there's a reason protesters don't galvanize at the Tribeca Grill.
"I love how Americans are so deeply attached to their fast food that that's where they make their 'political' statements," one person commented.
Another Twitter user said the arrested man in the video "clearly misunderstands" the symbol of Martin Luther King Jr. on his clothing.
"Am always surprised at their confidence," someone wrote. "They believe that they're somehow they're more informed than everyone else."
Newsweek reached out to Burger King and its parent company, Restaurant Brands International Inc., for comment.