Anti-Vaxxers Make Nazi Salutes, Wear Star of David Badges During U.K. Election Count
A prominent Scottish politician has spoken out about his confrontation with an anti-vaccination candidate from a fringe political party wearing a yellow star on his jacket.
The scene took place as ballots were being counted in Glasgow on Friday, a day after local elections had taken place across the United Kingdom.
Scottish National Party (SNP) candidate Humza Yousaf who has served as Scotland's justice secretary, said he was approached by Derek Jackson, a candidate for Glasgow Southside for the Liberal Party, which is not connected to the much bigger party, the Liberal Democrats.
Video shared on social media shows Jackson along with his supporters earlier entering the Emirates Arena in Glasgow giving salutes with their right hands. On their jackets were armbands and yellow stars next to the phrase "unvax."
Jackson was criticized in 2017 for using an image of Auschwitz in an election campaign, the Daily Record reported.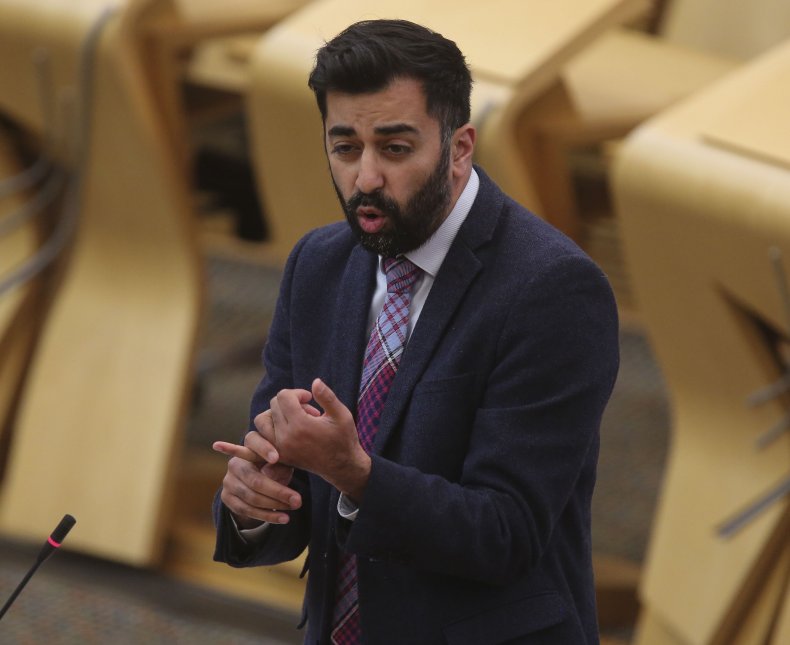 Yousaf said that Jackson started questioning him about Pakistan. "They were directing questions at me about Pakistan, obviously because of my color of skin, I'm not from Pakistan, my home is in Scotland," Yousaf told reporters after the incident, the Press Association reported.
Reporters challenged Jackson and his supporters over their gestures and whether they were mocking the Holocaust. Jackson said that his actions were a "parody" of the Hate Crime Bill passed by Scottish MPs, known as MSPs, in March and told reporters that the gesture was a "love salute."
"I'm certainly not anti-Semitic. I want to love everyone all the time," Jackson said. His group was asked to leave the count by police.
Yousaf condemned the group, telling reporters: "You had six muppets here and then you very quickly had 25 people on the other side telling them where to go. That to me is the best of Scotland really."
Yousaf later tweeted: "Twice these cretins have approached me, targeting ethnic minority candidates demanding we apologise for things going on in Pakistan.
"Always said voices of good outweigh the bad," he added, "when these numbskulls started, people of all political parties joined with me to tell them to jog on."
On Thursday, Scotland's first minister Nicola Sturgeon was involved in a confrontation with a far-right candidate at a polling station in the south of Glasgow.
Jayda Fransen, the former deputy leader of Britain First accused Sturgeon of "flooding" the country with immigrants. But Sturgeon won praise on social media for calling Fransen out, saying that she was "a fascist and a racist," the BBC reported.
Newsweek has contacted the SNP for comment.