David Hogg Remembers Delmonte Johnson, Teen Anti-Violence Activist Fatally Shot in Chicago
A 19-year-old gun control activist who worked alongside the Parkland students was shot and killed in Chicago, authorities said.
Delmonte Johnson, 19, was shot and killed on Wednesday at 7:30 p.m., at the 8600 block of South Euclid, authorities confirmed to Newsweek. Police said he was standing in front of a store when suspects in a tan van fired shots at him. Johnson later died of his injuries at the University of Chicago Medical Center, according to police.
Johnson's death received national attention on social media. Parkland survivor and leader of the March for Our Lives movement to end gun violence, David Hogg, tweeted about Johnson's death on Thursday.
"Delmonte Johnson was a 19-year-old who worked with @GKMC18 as an activist to end gun violence in Chicago, last night he was shot to death. This has to end, my heart goes out to Delmonte and his family together we will end this," Hogg wrote.
Johnson's mother told WLS that her son enjoyed playing basketball, baseball and was a great dancer. Johnson was also involved in the anti-violence organization GoodKids MadCity, co-founder Carlil Pittman told the Chicago Sun-Times.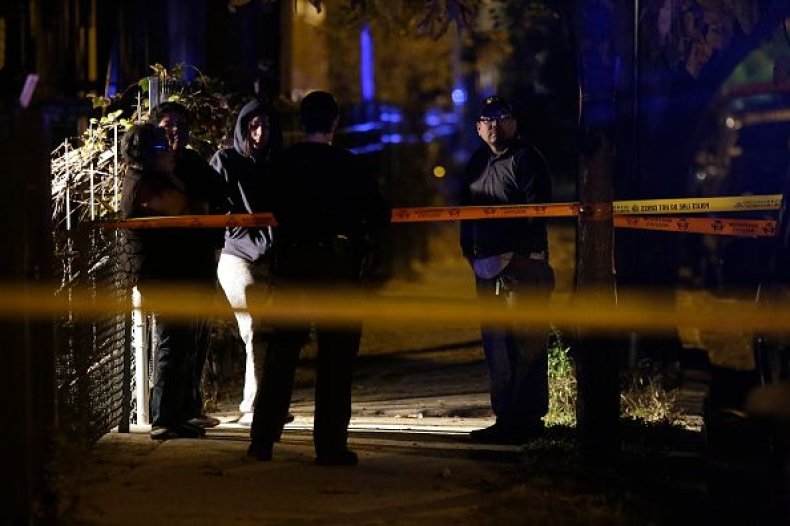 The group was formed after the shooting in Parkland, Florida, at Marjory Stoneman Douglas High School, and works to end gun violence in neighborhoods throughout Chicago, the Chicago Sun-Times reported. Pittman told Newsweek the last time he saw Johnson was during a shoe giveaway the organization participated in on August 26. The co-founder said the two went to the same church together and were close friends.
"It's unfortunate that this happened to a young person trying to make a difference," said Pittman. "It's shocking for something like this to take place."
The organization tweeted their condolences to Johnson's family on Thursday morning.
"We wake up this morning with heavy hearts and horrible news, #GoodKidsMadCity member #DelmonteJohnson was killed last night, he just turned 19. Our condolences go out to his family and we will continue our fight to end #GunViolence in Chicago!" the organization tweeted.
Joshua Barker also met Johnson through church. Barker, 18, called the young activist his "big brother" and used to enjoy playing basketball with him. The 18-year-old said Johnson's death comes as a shock, but said he would continue to be involved in the anti-violence movement in memory of Johnson.
"I'm going to take this death and use it as a positive to keep pushing to do what's right," said Barker."
As for the GoodKids MadCity organization, Pittman told Newsweek a vigil will be held tonight to remember Johnson and the group will continue to push for non-violence in Chicago communities.
"We are pushing harder than ever," said Pittman.
Protestors attempted to shut down expressways and Chicago's O'Hare International Airport on Labor Day during an anti-violence protest on Labor Day, the Associated Press reported. Activist Minister Gregory S Livingston organized the protest and tweeted a list of seven demands on Sunday, including the resignation of Chicago Mayor Rahm Emanuel and inmate rights.
"I would rather see my people marching on the expressways than dying in the streets," Livingston tweeted.