Over 2 Million New Yorkers Had COVID-19 in March, Antibody Study Suggests
More than 2 million people in New York may have been infected by the coronavirus which causes COVID-19 by late March, according to estimates.
Between April 19 to 28, researchers collected blood samples from 15,101 shoppers at 99 New York grocery stores, across 26 counties which house 87 percent of the state's population. Of the total volunteers, 1,887 had antibodies to the coronavirus which causes COVID-19. The team used this information to estimate how many people may have caught the virus across the state by March 29, and arrived at 2,139,300. The findings were published in the journal Annals of Epidemiology.
Participants in New York City were the most likely to have antibodies. By demographic, Hispanics had the highest chance of carrying coronavirus antibodies, at 29 percent, followed by a fifth of black or African American people, 12 percent of non-Hispanic Asians, and 8 percent of white people.
Six months into the COVID-19 pandemic, New York has emerged as the hardest hit U.S. state so far, as shown by the Statista graph below, with the first cases confirmed in early March. Of the over 118,000 people who have died of COVID-19 in the U.S. almost 31,000 people were in New York, according to Johns Hopkins University. More than 69,000 people have recovered in the state.
But as asymptomatic people or those with mild cases are less likely to be tested and end up in the overall case counts, the true number of diagnoses is likely far higher, the authors said.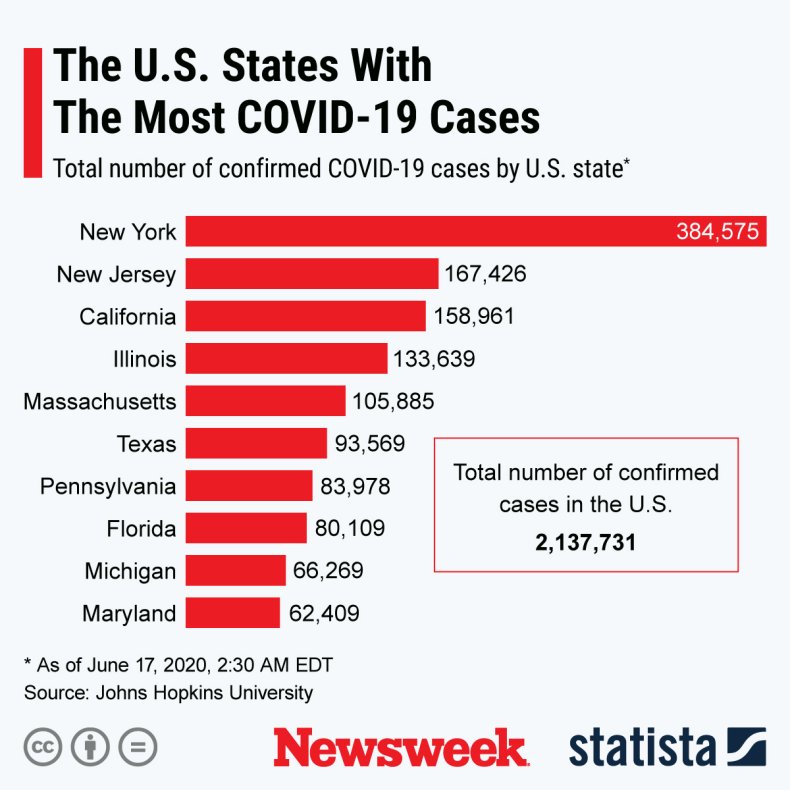 The team said the study was limited for a number of reasons, including that they may not have got enough samples from people vulnerable to COVID-19 compilations as they are less likely go grocery shopping. Their findings therefore may be a slight overestimate, as people who stayed at home were less likely to have antibodies.
On the other hand, the sample didn't include those who have died from COVID-19 or who were in long term care facilities, which may in turn have caused an underestimate in the figures.
Professor Sanjeev Krishna of the Institute for Infection and Immunity at St. George's, University of London, who didn't work on the paper told Newsweek the team's method for measuring antibody responses "was developed in-house and had good specificity, so it wouldn't pick up many non-SARS-CoV-2 infections in error."
Krishna said: "These results give important information and also highlight the value of testing for markers of infection in populations not just patients who come to hospital.
"These types of tests give added value when they are repeated to build up pictures over time of how the infection unfolds in different populations. Eventually they may also tell us about immunity."