'Antifa Civil War' Fake News Story Treated As 'Threat' by DHS Officials, Emails Reveal
A false but pervasive conspiracy theory suggesting that "antifa" was going to wage civil war in city streets across the U.S. on November 4, 2017 traveled all the way to the Department of Homeland Security (DHS), according to documents published this week by Muckrock, a non-profit group that assists people in filing Freedom of Information Act requests.
The Central California Intelligence Center—also known as a fusion center, or local intelligence gathering branches that assist with the "receipt, analysis, gathering and sharing of threat-related information," according to DHS—looked into the November 4 protests. One October threat assessment report explicitly addresses what it calls "the "Civil War concern."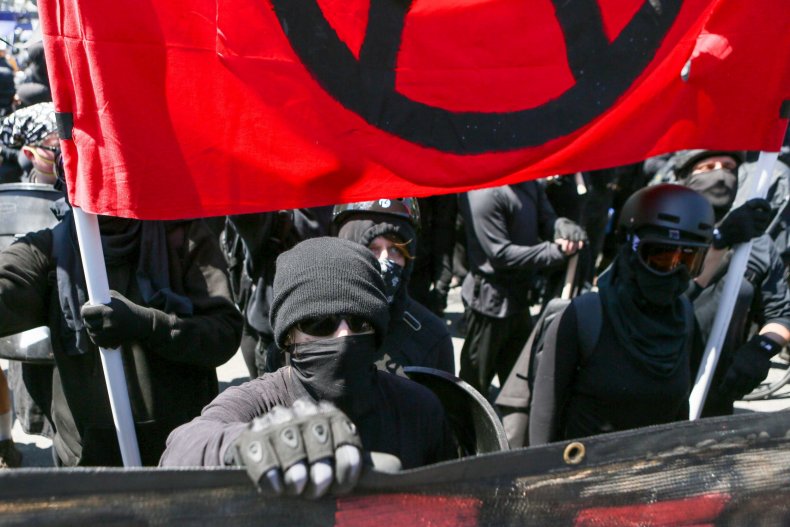 "Heightened fear over the perceived potential for violence may encourage some individuals to come to the rallies prepared to use violent tactics to defend demonstrators or themselves," the email warned.
The so-called November 4 protests, which took place in cities across the country on that day and ultimately produced mostly small and law-abiding crowds, were hosted by a group called Refused Fascism, which is a rebrand of an older activist group, and did not feature the young, masked anarchists stereotypically linked to "antifa" or antifascist demonstrations. The group is a Trump-era offshoot of "The Revolutionary Communist Party," which is a far-left group that was founded in the mid-1970's.
RELATED: 'Antifa Civil War' on November 4 Was Really Just a Few Protests Against Trump
These marchers were never planning on beheading conservatives, or breeding "antifa supersoldiers," which was the basis of a story published on the pro-Trump blog Gateway Pundit. But after a glut of fake news stories and social media posts about the event, some activists on the far-right spectrum of U.S. politics began to prepare for a civil war. Doomsday preppers, or people who store guns, food and other supplies to get ready for an impending disaster, posted YouTube videos promising consequences for the activists they imagined would suddenly arrive at their doorsteps. Alex Jones, the face of the conspiracy website InfoWars, even ran live coverage of the uneventful November 4 protests under the headline "Antifa Launches Communist Revolution in the United States."
The documents published by MuckRock help to demonstrate just how far that conspiracy traveled and for how long. Email discussions about the November 4 protest were exchanged as late as October 24, 2017, roughly two weeks after Newsweek, Snopes and other outlets ran stories debunking the conspiracy.
The chief of the Central California Intelligence Center did not respond Friday to a request for comment about the documents. Department of Homeland Security Press Secretary Tyler Houlton in Washington, D.C. clarified to Newsweek its relationship to the Sacramento-based fusion center, noting that officials are prohibited from monitoring activists for the sole purpose of violating free speech rights.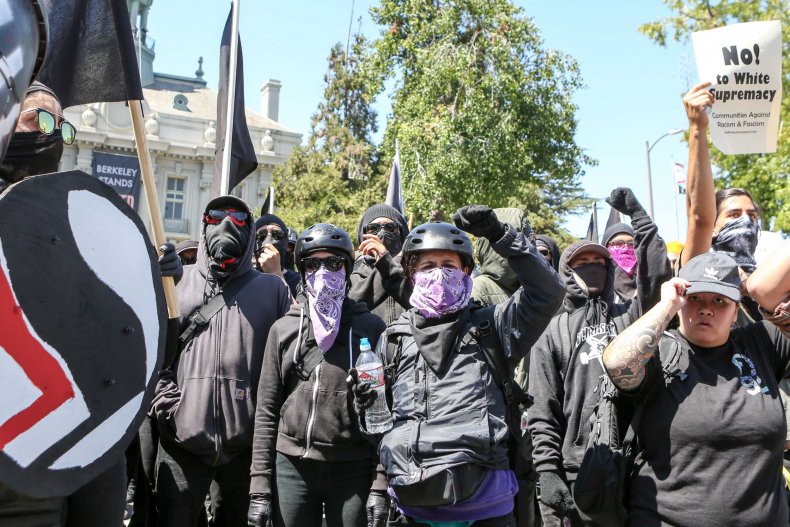 "DHS routinely works with federal partners, as well as state and local law enforcement through fusion centers, to assess threats, analyze trends and disseminate information to our partners," Houlton said. "While DHS collects and reports on domestic extremist groups that demonstrate the intent to conduct violence to further their agendas, DHS is prohibited from engaging in intelligence gathering for the sole purpose of monitoring activities protected by the First Amendment or the lawful exercise of other rights secured by the Constitution or the laws of the United States."
Other emails released by MuckRock appear to show the same fusion center had a basic misunderstanding of some leftist political movements. Regarding a planned anti-Marxism protest scheduled for August 27, 2017 at Berkeley, California's Martin Luther King Jr. Civic Center Park, an email warns of potential threats that focus on leftist counterdemonstrators, while appearing to ignore the hosts' connections to the alt-right movement.
"Known hate groups anticipated," the email reads. "ANTIFA, BAMN, Black Bloc, Black Lives Matter (BLM)."
These categorizations might be confusing for most Americans. While some conservative pundits have on multiple occasions described Black Lives Matter as a hate group, the political movement is largely peaceful and inclusive. "Antifa" depicts a style of protest and not a group with any formal, organizational hierarchy. Black Bloc is also a protest tactic adopted by anarchists that wear black clothing and sometimes embrace militant tactics during demonstrations and counterdemonstrations. BAMN, an acronym for By Any Means Necessary is a small, left-leaning protest group that focuses on immigration and civil rights issues. Meanwhile, people that march with Black Lives Matter could easily participate in the same "antifa" counterdemonstrations with members of BAMN, or identify as antifascist. Members of these groups have been arrested for participating in acts of violence at counterdemonstrations over the past few years, but have not been linked to the kind of overt acts of domestic terrorism found among those who sometimes travel with the far-right.
RELATED: Threat of Far-Right Terrorism Is Being Ignored by the Media, Analysts Suggest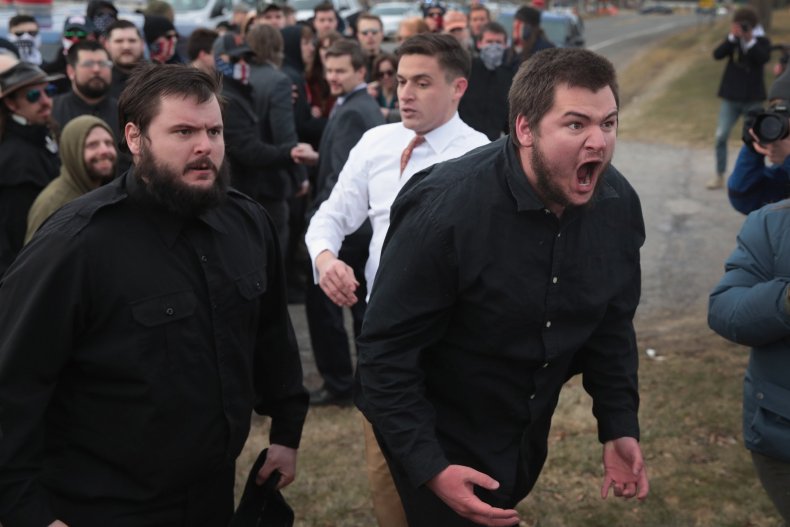 Fusion centers have been accused of adopting reactionary viewpoints in the past. A September 2017 email that circulated in a Nevada fusion center, and was published by MuckRock in January, appeared to show an investigator discounting a report about a Nevada hate group from the Southern Poverty Law Center (SPLC), a non-profit civil rights group, on the basis that they receive money from billionaire philanthropist George Soros. Far-right media figures, such as Jones of InfoWars, have been launching baseless attacks against Soros for years.
"Although I don't take the SPLC at their word without looking into it more given some of their donors like George Soros, I'm curious about this group which the SPLC states is operating in Carson City," the email states.
Heidi Beirich, who leads the SPLC's Intelligence Project, did not comment about the reference to Soros in that email, but said there should be no denying the degree to which white supremacy poses a serious threat to national security. She referenced Dylann Roof, the man who murdered nine black churchgoers in 2015, and trafficked "alt-right" websites like Daily Stormer as an example of what is at stake in the discussion of these matters.
"I would hope that our intelligence agencies understand the facts here, which is that white supremaicst groups are fueling domestic terrorism in America," she says. "Antifa protesters have engaged in acts of violence at rallies but that is distinctly different from Dylann Roof."