An Antifa activist compared the Immigration and Customs Enforcement to the Gestapo and called for the slaughter of "the fascistic Border Patrol dogs and their bosses."
In an article published on Thursday on the far-left website Incendiary News, Antifa activist Ulrike Salazar compared ICE officers to "shadowy Gestapo agents" who "take away young boys and girls, tear apart families, throw away undesirables into dark and cramped dungeons."
The comments come as the agency continues to receive criticism in the aftermath of the Trump administration's "zero tolerance" immigration policy. The policy resulted in thousands of families being forcibly separated at the U.S.-Mexico border after coming into the country illegally.
At the end of August, the Trump administration had reunited 2,126 of the 2,654 children who were separated from their families at the border. The biggest obstacle in reuniting the remaining families is that many of the parents have already been deported.
Salazar commented that the "horrific reality imposed on undocumented immigrants, especially children and women, will go down in history as another dark chapter in the bloody history of America."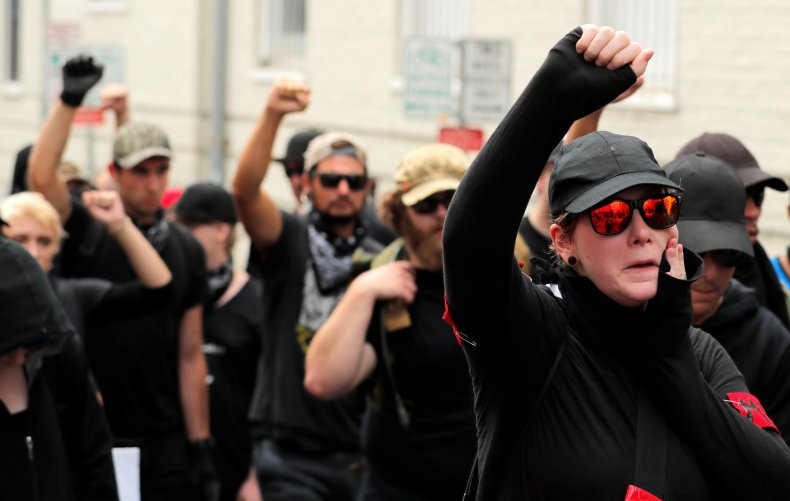 The author also wrote that he hopes this "chapter in American history will also include the moment when revolutionaries rose up with the masses and slaughtered the fascistic Border Patrol dogs and their bosses, slaying them with revolutionary fire and justice."
The article cited the serial murders committed by Juan David Ortiz while he was a Border Patrol agent. Ortiz was arrested in connection to the slaying of four women in a two-week period.
"Serial killer Juan David Ortiz is not the only federally-salaried murderer among us. More than 60,000 of them walk around the country in broad daylight," the Antifa activist wrote.
Antifa, short for "anti-fascist," is a far-left group that tracks and challenges the activities of neo-Nazis. The group has no unified structure or national leadership, much like the neo-Nazi groups it mirrors, but has local chapters across the United States. The groups also challenge homophobia and a large portion of Antifa activists are anti-capitalists.
The Antifa movement became particularly well-known for counter-protesting during the Charlottesville "Unite the Right" rally in 2017. The white supremacy march resulted in the death of 32-year-old Heather Heyer when neo-Nazi James Alex Fields drove a car into a group of counter-demonstrators.
Antifa has been criticized for often being violent at rallies and protests. This past August the group was met with backlash after attacking police and journalists at the "Unite the Right 2" rally in Washington D.C.