At the last Democratic presidential debate hosted by MSNBC and The Washington Post, moderator Kristen Welker asked the candidates what they would do about white supremacist terrorism. The question, though unsurprising for a Democratic debate, is symptomatic of America's myopic panic over right-wing extremism since the election of Donald Trump.
This week, Congresswoman Rashida Tlaib blamed "white supremacy" for the Jersey City shootings that killed a detective and three citizens at a Jewish supermarket. The shooters were reportedly part of a black nationalist, anti-police religious sect.
While the threat from the far right is real, so is the violent threat posed by the far left.
Last January, Charles Landeros, 30, wearing a "Smash the patriarchy" t-shirt, went to his daughter's middle school in Eugene, Oregon, to discuss a custody dispute. When asked by two school resource officers to leave the building, Charles refused. They attempted to place him under arrest, and he pulled out a handgun and fired two rounds at them. He missed and was killed by returning gunfire from one of the officers. Charles' daughter was feet away. Authorities later found Landeros was carrying an extra magazine on his belt.
Soon after the news broke of his death, Popular Mobilization, the Portland anti-fascist group that organized the protest turned riot in June where I was beaten, claimed him as one of its own.
"Charlie Landeros, beloved comrade and street medic, was murdered by Eugene police 2 days ago," the group tweeted. "They were a non-binary activist of color who did amazing work in their community and were gunned down in front of their children's school."
While his death shocked the small college town, I knew it was only a matter of time before antifa adherents would kill or be killed. Since antifa gained prominence after the election of Donald Trump, there have been several violent instances involving people who are associated with the group or have expressed support for its ideology.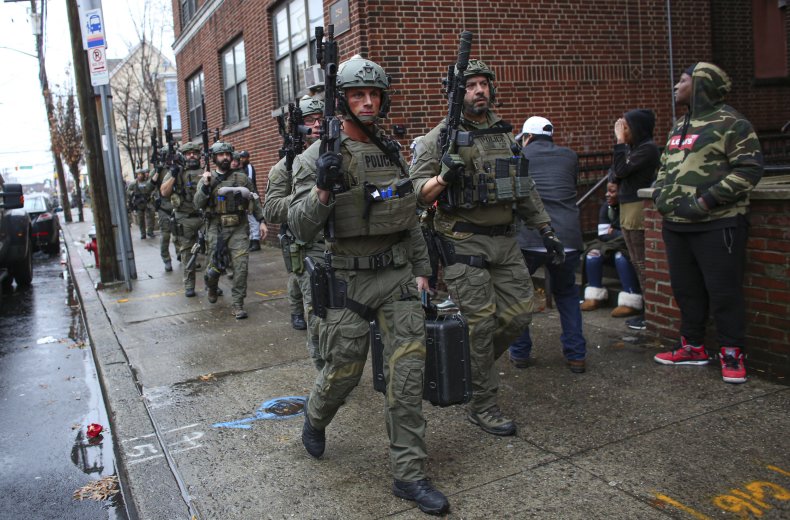 According to Charles' ex-wife, Shayla Landeros, he was radicalized after starting at the University of Oregon in 2014. They had divorced the year prior. There, she says, he was introduced to radical left-wing theories and became deeply involved in various social-justice groups on campus. In October 2017, Charles was part of a group of radical students who stormed the stage before the university president could speak. They complained about "fascism" on campus and tuition increases.
"He was a smart, loving, intelligent person who turned into a monster," she says. "There's the Charlie I married and then there is the antifa Charlie."
By 2017, Landeros started the Community Armed Self Defense group, a left-wing organization that teaches people of color to use guns for community "self-defense." Shayla alleges he was "stockpiling guns" and using the group to radicalize members to start a violent uprising. Charles posted a photo of their younger daughter in front of weapons on his private Instagram account. In 2018, the Federal Bureau of Investigation looked into him after it received a credible tip. The investigation ultimately failed to bring charges, however.
Two days before Landeros was killed on January 11, police in nearby Springfield received a screenshot of a Facebook comment by a "Charlie Landros" that read "Time to start killing pigs," according to investigators. An hour before the shooting at the school, someone reported to the manager of the Springfield Police Department's Facebook page that a "Charlie Landros" had commented "Death to all pigs" on a post, but when the manager "attempted to locate the comment, it had been removed," District Attorney Patty Perlow wrote.
According to Shayla, just days before her ex-husband's attack, he made their younger daughter watch him burn the U.S. flag.
Shortly after body camera footage and an investigation led the district attorney to clear police of wrongdoing in the death of Landeros, bombs were left outside the Eugene Police Department but failed to detonate. The investigation remains ongoing.
Six months later, in July, police shot and killed Willem van Spronsen, 69, after he attacked an Immigrations and Customs Enforcement facility in Tacoma, Washington. Police said he tried to ignite a 500-gallon propane tank attached to the building and was armed with a rifle and incendiary devices.
Shortly before the attack, van Spronsen sent a manifesto to friends. In it, he wrote "I am antifa" and referred to ICE facilities as "concentration camps." They did not report the manifesto to police.
After his death, antifa groups issued eulogies. The group Seattle Antifascist Action described van Spronsen as a "good friend and comrade" and "a martyr." Memorials were organized in Washington and Oregon.
I encountered van Spronsen the year prior at an antifa demonstration outside Seattle City Hall. He was part of a left-wing militia that patrolled the area while carrying guns.
One extremist who later referred to van Spronsen as a "martyr" on social media went on to carry out his own attack. On August 4, 24-year-old Connor Betts killed nine and injured dozens in a mass shooting in Dayton, Ohio. He was shot dead by responding police officers.
Though the investigation into a motive remains ongoing, authorities have stated that Betts was exploring "violent ideologies" before the massacre. A Twitter account that appeared to belong to Betts retweeted content supporting antifa protesters. Offline, he even participated in armed black bloc tactics.
In October, Sean Kealiher, 23, was killed in Portland after being hit by a car that had bullet holes in it, police said. Kealiher was a prominent member of the local antifa movement.
On social media, the Pacific Northwest Antifascist Workers Collective warned members against cooperating with the media and "the pigs" in the investigation. Portland's Rose City Antifa said in a tweet that "our sources indicate that this was not related to fascist activity." Kealiher's homicide investigation remains ongoing.
With the election now less than a year away, the violence that swirls around antifa and those who fall victim to its ideology may only grow in 2020.
Andy Ngo is editor-at-large of The Post Millennial.
The opinions expressed in this essay are the author's own.