Fake Antifa Facebook Event Lures Dozens of Trump, Confederate Supporters to 'Defend' Store
Lured by a fake Facebook event for a planned antifa recruiting push, dozens of North Carolina President Donald Trump supporters and confederate sympathizers showed up to "defend" a sports store against a rally that never happened.
A Facebook post from a page claiming to support Gaston County Antifascists detailed an event gathering members "from at least ten states" to meet at the Gander Outdoors store in Franklin Square on October 20. The widely shared social media post sparked angry comments online and drew a few dozen right-wing supporters to the Gaston County storefront.
The fake event centered on an antifa recruiting effort to remove "the Nazi statue at the Gaston County Courthouse." There is no National Socialist statue at the courthouse, but several Sons of Confederate Veterans members showed up to defend the "Confederate Common Soldier" monument that is outside the building.
Other counterprotesters said they'd heard rumors online that antifa members were coming to burn down a large American flag that flies outside the Gander store.
Flags representing the Confederacy, Trump and the Gadsden banner were touted alongside the American flag by those gathering outside the sports store Saturday. Many said they didn't care if the supposed antifa recruiting event was a prank or not.
"They ain't here because they're still in their momma's basement," said Terry Pennington, a counterprotester from Locust, North Carolina, told the Gaston Gazette newspaper. He noted that the Gaston County antifa post was "most likely" a hoax.
"But you see the true supporters," Pennington continued. "We don't care if it's a prank. We're going to show up because what's going to happen is they're going to call this and then we ain't going to show up and then they're going to really burn down an American flag and it's going to cause someone to seriously have problems."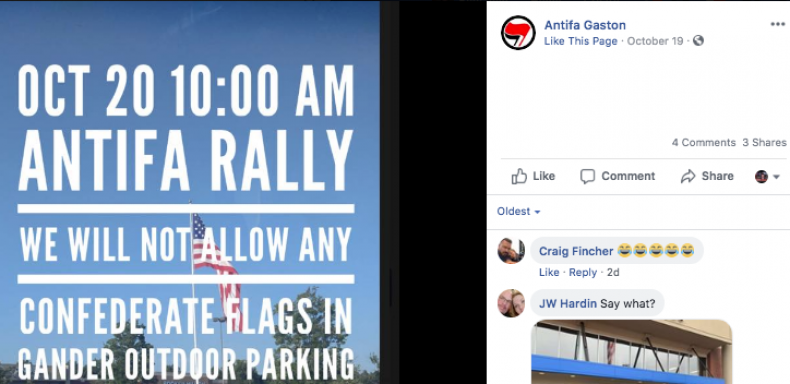 Several right-wing counterprotesters waited hours for antifa members to show, but only police appeared at the scene. Gastonia officer B. Syboutlan told the Gaston Gazette there were no problems reported and they showed up as "just precaution." But many counterprotesters said they would remain outside the store "until we know antifa ain't coming," the Gazette reported.
The fake antifa Facebook page has posted several bogus claims, including that the U.S. Civil War was fought against "the Britons." When the Facebook page was later challenged in a comments section, the account responded it was "rained out."
A local sheriff later posted on Facebook that the department believed "there is no such group in Gaston County...Unfortunately, social media can be a platform for one person to cause concerns and try to entice violence and hate."