Protesters who cover their face or wear a disguise may spend over a decade in prison if Republicans in Congress succeed in passing the "Unmasking Antifa Act of 2018."
Under the bill, anyone who "injures, oppresses, threatens, or intimidates" another person while "in disguise, including wearing a mask" will face up to 15 years of jail time, be forced to pay a fine, or both.
The legislation was introduced in the House last month by conservative Representative Daniel Donovan from New York along with support from Republican lawmakers Peter King, Ted Budd and Paul Gosar.
The bill also makes it clear that police and other law enforcement agents are exempt, stating that "nothing in this section shall be construed so as to deter any law enforcement officer from lawfully carrying out the duties of his office."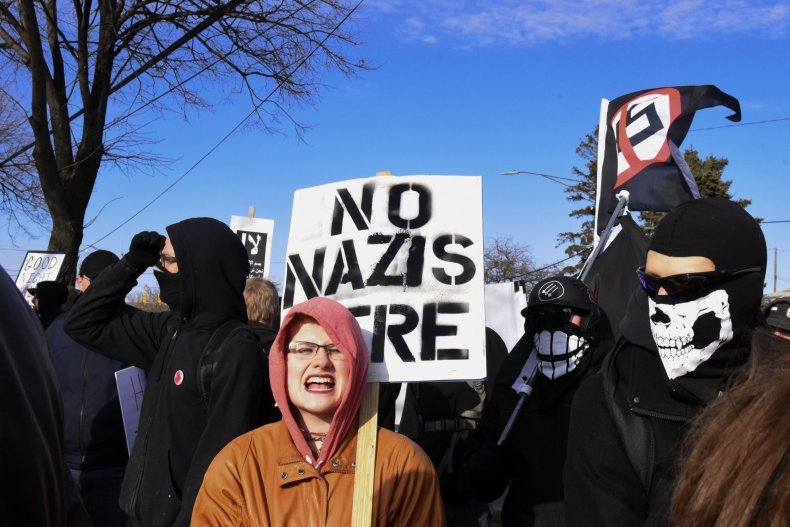 Similar anti-masking legislation has been passed in multiple states since the mid-20th century to combat groups like the Ku Klux Klan.
But this bill is specifically aimed at Antifa activists, who are leftist radicals who fight against the advancement of white supremacy and fascism. According to a Washington Post report, a majority of the Antifa adherents are communists, socialists or anarchists, and they do not generally trust the police to stop neo-Nazi advocates and organizations.
According to the Anti-Fascist Network website, the group aims to "work together to oppose local and national far-right events, ensuring maximum numbers on the streets as well as sharing resources and providing legal support."
Antifa became more popular after the election of Donald Trump in 2016 and has gained traction while battling high-profile white supremacist rallies like last year's demonstration in Charlottesville, Virginia. These counterprotesters often cover most of their face with masks or clothing. In one protest in April, Antifa demonstrators were held by police and forced to remove their masks.
The potential problem with the House bill is that some experts say it too narrowly focuses on Antifa protesters and as a result it could be argued that the law is discriminating against a certain group of people, according to a report by The Daily Beast. The bill is currently sitting in the House Judiciary Committee.
Media personality Mike Cernovich tweeted about the legislation on Tuesday and told his followers to "call the United States Capitol switchboard" and "let them know what you think about the Unmasking Antifa Act, which would hold far left wing terrorist groups to the same standards as KKK and other groups."