Antifa Plans Wave of Demonstrations on Streets as U.S. Election Polls Close
A wave of demonstrations are being planned to mark the end of the US election, it has emerged.
Protesters supporting the Black Lives Matter and Antifa movements are organizing protests beginning on Tuesday night.
One Twitter post depicting a police car and a brick alongside the phrase "ballot box" with an arrow directing that it should be going through the vehicle's window has attracted more than 17,000 likes since it was posted on the social media platform.
Alongside the phrase #seattleprotests, there are calls to target the police and create disruption.
Using the Twitter handle @justjae2206, someone calling themselves Jae, a Black Lives Matter supporter, has written: "We will not be stopped no matter what this election brings. Neither side is for black lives. Be out there!!"
Alongside the post is a mock up of a poster showing a time of 7 p.m. with a burning ballot box and a call to "Revolutionaries, Anarchists and Anti-Fascists."
Elsewhere, there are calls for those supporting anti-fascist group Antifa to take to the streets on Wednesday, the day after the election.
Using the hashtag #antifariots and #seattleprotests, demonstrators are encouraged to meet at 6.30 p.m. with a planned march set to begin from Seattle Central College an hour later.
Plans for the demonstrations have emerged as Newsweek reported that security at the White House is being increased with plans to install a new "non-scalable" fence around the building's perimeter as President Donald Trump's administration prepares for possible unrest related to Tuesday's election.
The barrier will be similar to the one erected during this summer's protests against police brutality and systemic racial inequality, which saw demonstrations—and police brutality against peaceful marchers—within sight of the White House.
NBC News first reported the plan to install the new fencing. CNN later confirmed the report citing an unnamed source "with knowledge of the matter." Newsweek has contacted the White House to request comment.
CNN reported that the planned fence will close off the Ellipse and Lafayette Square, stretching down 15th Street to Constitution Avenue and then across to 17th Street. It will then run up to H Street and across Lafayette, before coming down 15th Street.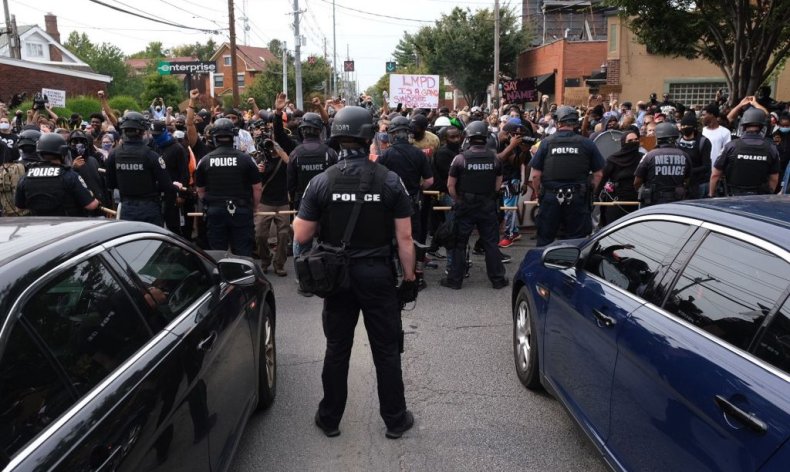 Earlier this month, Patrick Burke—the executive director of the Washington, D.C., Police Foundation—told CNN that police were preparing for all types of unrest.
"If there's no winner, you will see significant deployments of officers at all levels across the capital," Burke said. "Officers will get cancellations of days off, extensions of shifts and full deployments of officers across the city."