'Antifa' Rallies on November 4 Aim to Remove Trump From White House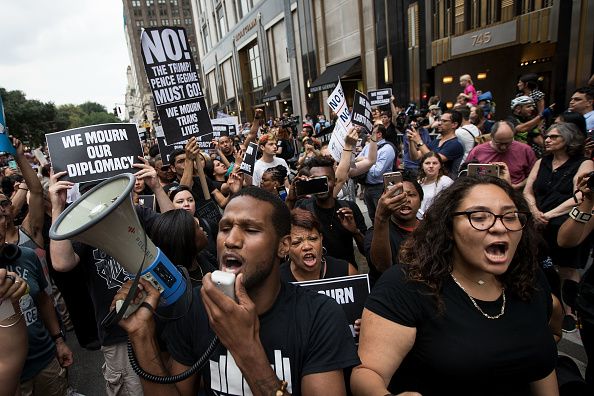 The ad greeted New York Times readers on page five, not far from stories about an ISIS-inspired terror attack that left eight people dead in New York City's financial sector. In stark black and white, it proclaimed: "The TRUMP/PENCE REGIME MUST GO! NOV 4. It Begins. BE THERE. JOIN WITH THE THOUSANDS. RefuseFascism.org."
"Refuse fascism," a nascent protest group with ties to a more explicitly left-wing radical group, "the revolutionary communist party," doesn't seem like a typical fit for the left-leaning pages of the paper known as The Gray Lady, but very little has been normal about the Trump era so far, according to organizers. The regime is destroying the planet by ignoring climate change, they say, and they claim it is turning America into a fascist country through an unprecedented series of executive orders.
The explicit goal of the November 4 protests, which have been warped into a number of increasingly bizarre, "antifa"-related conspiracy theories by right-wing media, is to remove Trump and his administration from office. In order to achieve that end, millions of people will have to take to the streets of cities like New York, Austin and San Francisco, demanding that the administration step down, organizers tell Newsweek. It's something that will not be achieved with the actions of only a few left-wing radicals, they say.
"What Trump and his administration are doing could pose an existential threat to humanity," Andy Zee, a member of the advisory board for refuse fascism, told Newsweek in a phone interview, echoing comments made by leftist academic Noam Chomsky and others regarding the alleged dangers of the contemporary Republican Party. "We're in one of the most perilous moments in history right now."
Zee said he thinks that the more moderate, Thomas Friedman-reading consumers of the Times will respond to his concerns, and that a coalition can be built between people with different political views who simply want to see Trump removed from office as soon as possible. "Antifa," after all, means "anti-fascist," and that's a belief that most Americans share, he said.
So far, the rallies, which are scheduled in cities throughout the country, appear to be gaining the most popularity in liberal hubs like New York and San Francisco, according to Facebook events pages. As of Thursday afternoon, close to a thousand people had explicitly signed up to go to the New York rally, and a little less than 5,000 people had expressed an interest in attending the event without fully committing to going.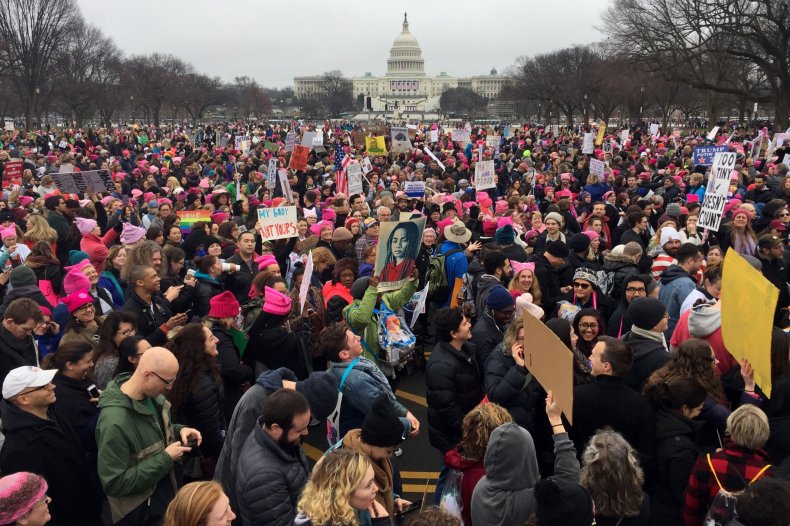 The 2017 Women's March, by comparison, drew hundreds of thousands of protesters in major cities, but did not lead to Trump stepping down from power. In addition, those protests did not have a host of obstacles in the form of potentially dangerous fake news stories working against them as a deterrence. According to far right-wing conspiracies, the November 4 protests are the beginning of an antifa-led civil war plot. Antifa-bred supersoldiers will be unleashed to kill white people on November 4, the conspiracy theorists claim. These conspiracy theories have become so popular on the right, Alex Jones of InfoWars is now using them to market a series of T-shirts.
The deluge of fake news stories have led to some people on the far right lobbing violent threats at protesters online. Right-wing militia members have said they will attend the Austin rally to face antifa, for example, leading to concerns about violence from activists.
"We're not going to back down just because of this," refuse fascism's Coco Das told Newsweek of the Austin protest. "They're counting on people staying home because of fear." Kit O'Connell, an Austin-based writer and a veteran antifascist organizer who is not a member of refuse fascism but is familiar with it, told Newsweek he believed right-wing militias posed more of a danger to refuse fascism than the other way around.
Zee said the protests have nothing to do with the right-wing image of masked anarchists, and are meant only to be the first step in a longer process of everyday citizens taking to the streets to remove Trump from office.
"The goal of this is start a peaceful protest and to begin to get large numbers of people out on the street," Zee explained. "There is a fascist in the White House in Trump. That is who this person is."