Antifa Trends on Twitter After Video Shows Protest Group Throwing Milkshakes at Journalist
Police in Portland, Oregon, have advised groups protesting in their city to disperse after things got unruly on the streets Saturday afternoon. Protests and counterdemonstrations were taking place at three different locations.
Portland police said the scenes had become a "civil disturbance and unlawful assembly," and asked all folks in the area to leave immediately.
Those advertised to be among the demonstrators Saturday included two right-wing groups — the street-fighting fraternal group called Proud Boys, and Haley Adams of the "HimToo Movement." The Rose City Antifa planned a counterdemonstration.
The trend on Twitter hit fever pitch Saturday afternoon — nearly 50,000 before 3:30 p.m. PT.
One of the most-watched videos in the thread show a journalist get objects thrown at him, including "vegan" milkshakes that were supposedly distributed to antifa members. Andy Ngo is shown in a video with cuts on his face and around his eye, and white, splotchy substances in his hair and on his shirt.
"I just got beat up by the crowd, no police at all," Ngo said, adding that he was in the middle of the street and that "they stole my GoPro" camera. He said he was punched several times in my face and my head" and that he was bleeding.
Ngo paused for a minute, blinking his eyes and then looked around as people could be heard asking him questions.
"Where the hell were all of you?" Ngo asked them. Ngo said protesters threw milkshakes on him in addition to punching him.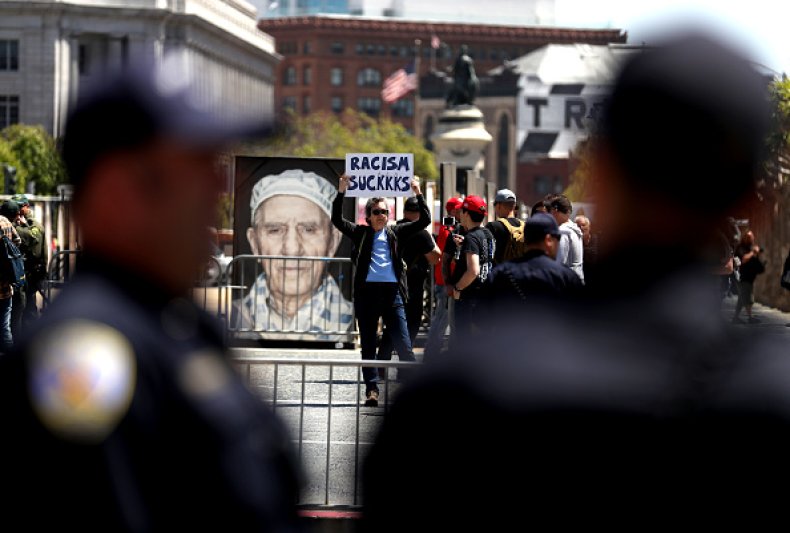 Ngo on social media identifies as an editor for the online magazine called "Quillette," and his handle also says he's "hated by antifa."
He posted Friday, saying he was "nervous" about covering the rally, saying, "They're promising "physical confrontation" & have singled me out to be assaulted. I went on Tucker Carlson last year to explain why I think they're doing this: They're seeking meaning through violence."
The responses around Twitter blamed everything from lack of security in Portland to President Donald Trump — and seemingly everything in between the far right and far left.
This one compared antifa to Adolf Hitler's "brown shirts."
Some have called antifa members who hide their faces behind masks "cowards" and "terrorists."