'Antifa' Waging Civil War on November 4, According to Right Wing Conspiracy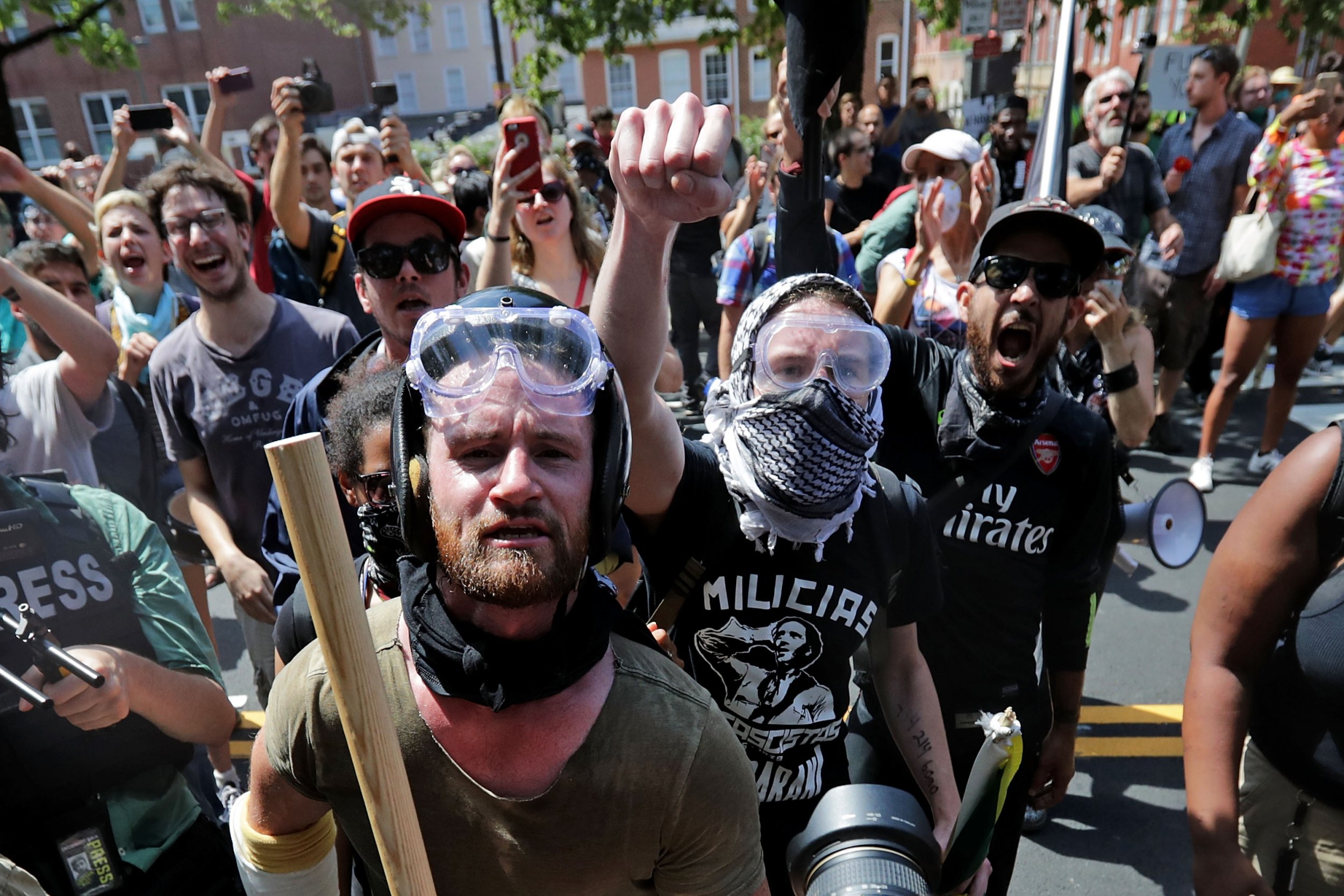 The idea of "Antifa" (short for anti-fascism) has become a fixture in America's popular imagination in the wake of President Donald Trump's election, albeit in a way that tends to have very little basis in reality. The group—which has no formal organizational structure, and is best defined as a tactic associated with protesting against the threat of fascism—has been falsely blamed for everything from the deadly mass shooting in Las Vegas to covert collaborations with the Islamic State militant group (ISIS). Now, "antifa" is apparently plotting a civil war in the United States that will begin on November 4, according to a pervasive right wing conspiracy theory.
This story, which can be found across social media, sometimes attached to the hashtag "#CivilWar2017," is not only utterly fake, it's also potentially dangerous, according to half a dozen left wing activists who spoke to Newsweek, expressing concerns that it could inspire senseless violence from people who believe it to be true.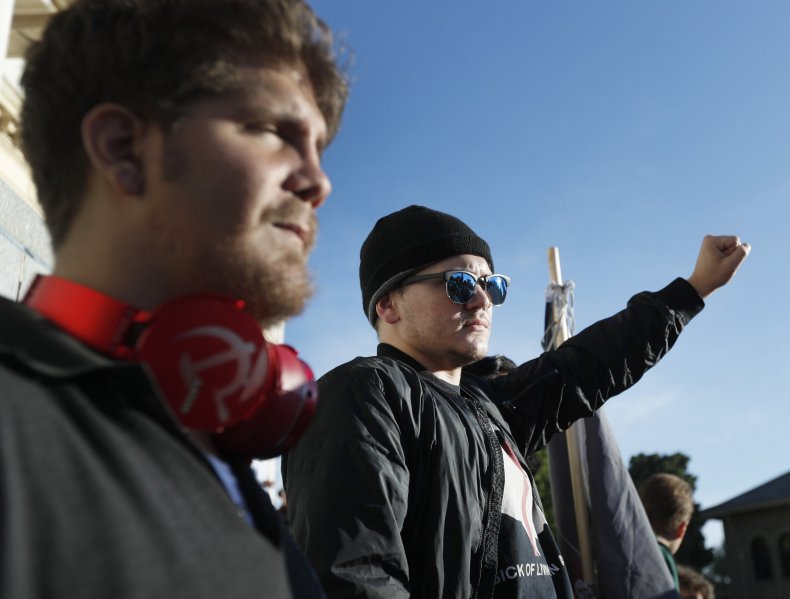 The spark of this conspiracy, as one might guess, emerged from Alex Jones's InfoWars website. Paul Joseph Watson, a British YouTube performer who frequently functions as Jones's sidekick, posted a misleading story with the headline, "CIVIL WAR: Alt-left Plans Anti-trump Riots in Major Cities on November 4." The August 22 report, if it can credibly be called one, clocks in at less than 400 words, and features no first-hand reporting outside of a link to a page on the website of a far-left activist group, The Revolutionary Communist Party. Regardless, it performed well for InfoWars, generating more than 9,000 shares on Facebook and more than 2,000 comments on the InfoWars website.
About a week later, Yournewswire.com, another conspiracy website that frequently leeches off of content that first appears on InfoWars, posted another loosely sourced story with the headline "Antifa Plan Civil War to Overthrow Trump on Nov. 4." InfoWars then returned to the content-fertile subject of Antifa-backed civil war on September 29, with a video featuring Jones citing Watson's one-source reporting, as well as footage purporting to show antifa activists discussing their supposed plot, as evidence that "antifa" members are coming to "kill conservatives."
"We have a flood of antifa saying that they're preparing with weapons, knives and guns to kill conservatives, patriots and white people en masse," Jones warns his viewers.
The idea has exploded online, taking on a proverbial mind of its own. One example of this is a "prepper" YouTube account hosted by a man called "A Glock Fanboy." The user posted a video of himself talking into his cellphone camera in late September, called, "Antifa to Start the War on November 4th," in which he talks about the different guns he plans to use during the war he believes is coming next month to American streets.
"If anyone from antifa is listening to this video I want you to think about the consequences of what will occur," A Glock Fanboy says in the video, which has been viewed more than a quarter of a million times. "You will not survive this. If this is really, really what you want, then that's fine."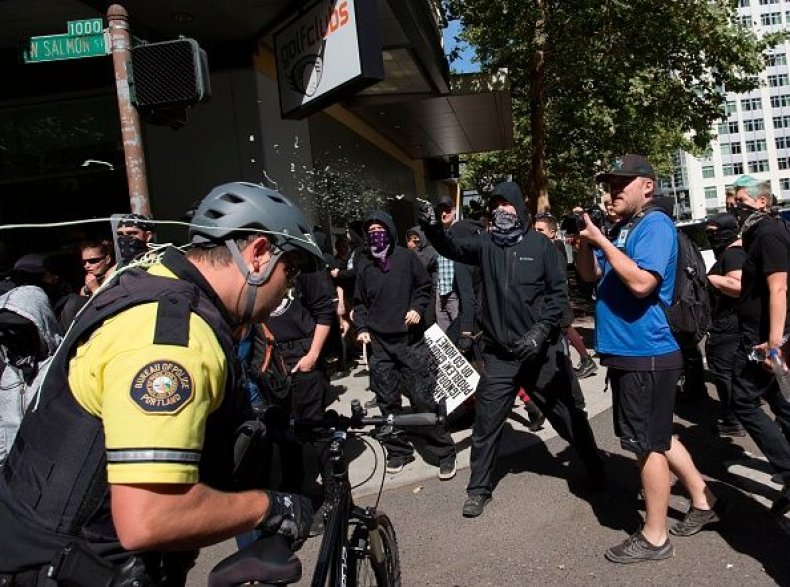 A more obscure example comes from a Twitter user going by the handle @DoesAnyoneGetIt, who writes, " Why has Antifa chosen November 4th to "begin" their war? Because dates matter to terrorists... " He then goes on to post a series of screenshots referencing 9/11, Obama's election, Hitler and something called "#IslamicSocialism."
What is actually happening on November 4? A protest is being launched by the activist group Refuse Fascism, which is intended to stir a non-violent mass movement to remove Trump from office, according to Perry Hoberman, a professor at the University of Southern California who is a member of the group's steering committee. The idea is to mobilize people to hit the streets in a peaceful demonstration against Trump's administration, Hoberman says, stressing that it has absolutely nothing to do with starting another American civil war.
"Right wingers will spin anything into anything," Hoberman says of the civil war conspiracy. "It's just an attempt to smear anyone who isn't a fascist."
The Revolutionary Communist Party (REVCOM), which according to activists who spoke to Newsweek is an active but not particularly large antifascist group, also issued a statement. On its website, the group said a 2005 pamphlet by its founder, Bob Avakian, called The Coming Civil War and Repolarization for Revolution in the Present Era, was inserted into Jones's commentary about Refuse Fascism's planned protests and conflated to be part of the same story.
"This statement being pushed by Jones is a lie," the statement says. Sunsara Taylor, an activist who belongs to both REVCOM and Refuse Fascism, told Newsweek that the two groups are unrelated, and that the protest is intended to also include "Hillary and Bernie voters" who believe that the Trump regime "must go" if immigrants and people of color are to be protected, and if a nuclear war with North Korea is to be prevented. Newsweek reached out to InfoWars and Yournewswire.com for comment about their reporting, but did not immediately receive a response.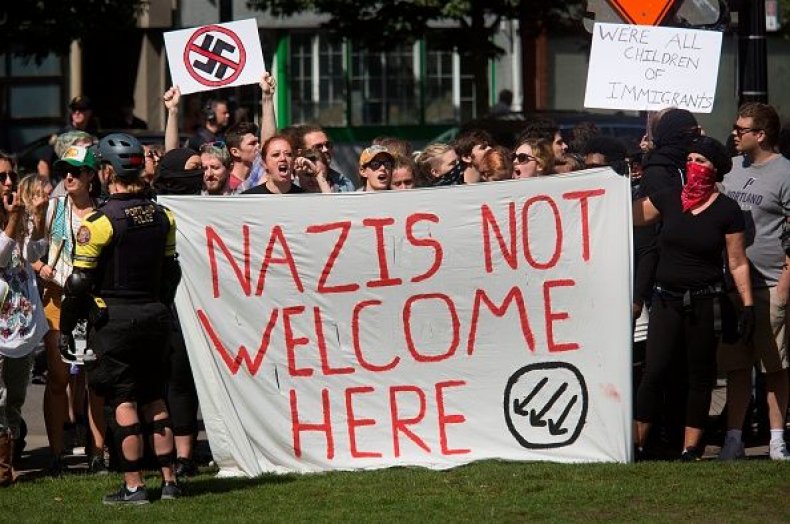 Hoberman, who opposes fascism but certainly does not seem to fit the image of a masked "antifa" activist as depicted on InfoWars, says he's concerned about how the conspiracy theory could inspire people to commit acts of violence against protesters.
"Of course we're worried," Hoberman says.
Coco Das, who is part of Refuse Fascism's Austin, Texas chapter, tells Newsweek that her group has received reports from other activists "that armed militias are expected to counter" its protest in the city on November 4, and insists that the group is completely non-violent.
"We're not going to back down just because of this," Das says of the protest, "They're counting on people staying home because of fear."
Kit O'Connell, an Austin-based writer and a veteran antifascist organizer who is not a member of Refuse Fascism but is familiar with it, says the idea that the group could cause a civil war is preposterous.
"For Alex Jones to say that about this protest is like suggesting that a local parent teacher association is capable of waging a civil war," O'Connell quips.
Mark Bray, an activist, academic and the author of Antifa, The Anti-Fascist Handbook, says right wing conspiracy theorists who are obsessed with the idea of antifa don't fully understand what the word means. He says antifascist protesters have captivated the imagination of far right wing personalities like Jones in part because of the clothing and symbols adopted by black bloc activists, which is a particular sect within the broader "antifa" movement. Black bloc activists wear black, and sometimes—but certainly not always—destroy property, according to Bray, and thus have captured media attention.
"The clothes and symbols stir the imagination for whatever reason," Bray says. "The right wing focuses on violence as a tactic when many antifascists are focused on other tactics like unmasking white supremacists through doxing."
Mark Fenster, a law professor at the University of Florida and the author of a book about conspiracy theories in American culture, argues that we shouldn't be as dismissive as we once were about the potential dangers of baseless conspiracy theories like those currently spinning around antifa protesters—in part because of the degree to which they've risen into the more mainstream cultural conversation.
"November 4 will come and go and most likely nothing will happen," Fenster says of the theory. "But it will drive traffic online and in turn deepen a fear in some people that a civil war is really coming."
Fenster says conspiracy theories have "long been a part of American culture," but only some of them have the potential to cause harm to people.
"The conspiracy theories that are based on racial superiority are much more dangerous and have the potential to inspire real violence," he says of other ideas that are trafficked by some members of the so-called alt-right.