Protest Over 'Unsettling' Antisemitic 'Vax the Jews' Banner Hung on Texas Bridge
An antisemitic sign reading "Vax The Jews" has been placed close to West Austin's Shalom Austin Jewish Community Center, triggering a social media backlash.
Austin police confirmed to KXAN complaints had been made about the offensive sign, which was attributed to goyimtv.tv.
The site is associated with the Goyim Defense League, described by Stop Antisemitism as an antisemitic white supremacist organization led by Jon Minadeo II.
Last summer, the Goyim Defense League was suspected of "posting antisemitic flyers insinuating Jews orchestrated the 9/11 attacks around Northern California towns of Santa Rosa and Novato, including at the San Marin high school," according to Stop Antisemitism
Many in the Texas city have registered their disgust at the sign.
Austin-based Lorri Barnett tweeted how the banner "really caught me off guard", writing: "I had to explain to my 11-year-old what that meant & why someone would believe that. Not the teachable moment I was prepared for, coming home from a birthday party."
Another Texan Twitter user, Travis, wrote: "A scene in which someone covered in Nazi imagery is installing hate symbols in a public place will never be "safe"—no matter how much that person may comply with COVID protocols."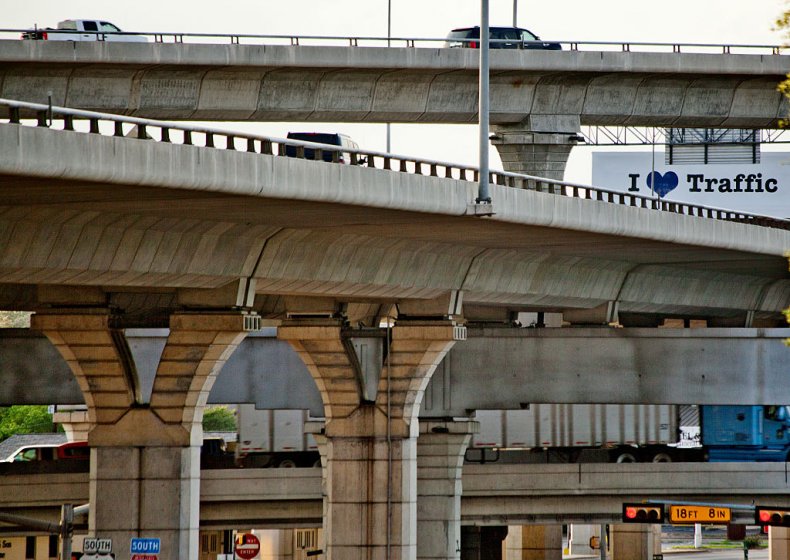 Others took the opportunity to ridicule the antisemitic banners' apparent lack of logic, pointing out vaccination against the coronavirus would result in saving Jewish people's lives.
Lo-fi Takes To Study wrote: "For the record, I believe we should vax the Jews, and also every other religious group."
And Austin-based Twitter user KSV agreed, joking: "This might be the only neo-Nazi sign I've ever seen that I agree with."
Shalom Austin wrote in a letter on the day of the banner's unveiling: "We understand this is extremely upsetting and unsettling.
"We are always vigilant in monitoring anti-Semitic groups and work closely with law enforcement to share information about their activities."
Austin Police Chief Joseph Chacon tweeted on Sunday, the day after the banner was unveiled, to reiterate "hate and bigotry have absolutely no place in our community."
He wrote in a statement: "Views shared by demonstrators during a protest action over the weekend were abhorrent and do not reflect our values.
"A screen grab from the more than two-hour incident does not tell the whole story. I ask that our community not buy into the hate and images that have been taken out of context on social media.
"After enduring a barrage of hate speech and personal insults being hurled at them, officers who responded to the schedule calmly and professionally carried out their duty two keep drivers on MoPa, bystanders and protesters, while ensuring that the incident did not escalate and no laws were being g broken.
"A supervisor responded to the scene and got a protestor to comply with his requests to ensure the scene remained safe."
However, the police chief's closing comment that a supervisor "declined a request for a handshake and instead opted for a fist bump citing COVID-19 safety protocols" was criticized on social media.
Images thought to corroborate the fist bump claim were greeted by disbelief on Twitter.
Cari Marshall tweeted at Austin Police: "Would the officers have shaken the hand of a neo-Nazi? Even though he was "compliant," he was a neo-Nazi participating in anti-Semitic actions.
"I'm fairly certain that officers are not required to shakes hands / bump fists with protestors who are compliant."
And Jeremy Russell Says Black Lives Matter added: "It was only a fist bump because if it wasn't covid it would definitely have been a big ole hug."
Newsweek has contacted Stop Antisemitism, Shalom Austin, Austin Police and the Goyim Defense League for comment.