Antisemitic Flyers Saying Jews Involved in Child Grooming Found in Virginia
A series of antisemitic flyers claiming leading Jewish figures at Disney are responsible for "child grooming" have been distributed around a community in Virginia.
The leaflets, which include web addresses for a far-right video sharing platform, were found in a Middle Plantation neighborhood in Virginia Beach over the weekend.
The flyers, which were kept in a clear plastic zip lock bag, push the claim that several high-ranking employees at Disney who are Jewish are responsible for "grooming" young children.
The claim that Disney allegedly "grooms" children were widely pushed by conservative figures earlier in 2022 after the company objected to Florida introducing the so-called "don't say gay" bill, which banned the discussion of sexual orientation and gender identity in Florida schools from kindergarten through to third grade.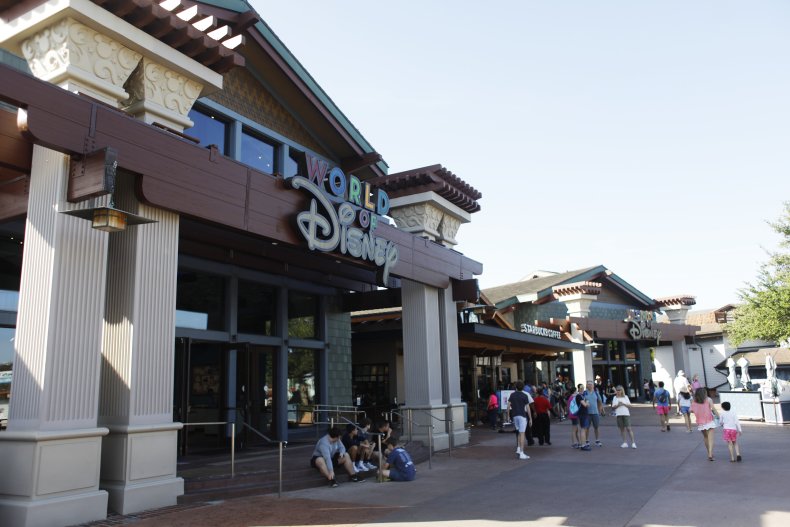 The "grooming" accusation was previously used by conservatives as a slur to link LGBTQ communities with pedophilia.
The flyers also name several people who work in the White House, the military or other agencies, such as the CIA, who are Jewish or transgender, and include their photos.
A note at the bottom of the pamphlets claims they were distributed "randomly without malicious intent."
Rep. Elaine Luria, a Democrat who represents Virginia's second congressional district, condemned the flyers in a tweet.
"These Antisemitic flyers found today in VA Beach are disgraceful. We are better than this," Luria wrote.
Local residents also described their outrage after finding the far-right material alongside their Sunday paper deliveries.
"I opened it up and I realized what it was," one woman, who only wished to be identified as Felice, told WAVY.com. "I was shocked [...] it had a lot of Jewish faces and names and immediately thought it was against the Jewish community.
"It makes me feel devastated that I know it could happen, but I never thought it would happen in the community," Felice, who is Jewish, said.
Rabbi Israel Zoberman, the Founder and Spiritual Leader of Temple Lev Tikvah, said: "Obviously, that was not a message of love. It was a message of hate. Today we were targeted, but that's not the end of it. Hatred has no boundaries."
Zoberman suggested that the flyers actually highlight how diligent members of the Jewish community are as they work in the upper levels in government and one of the biggest companies in the world.
"To begrudge the fact that Jews have worked so very, very hard. They work in government in large numbers," he said. "That should be an opportunity to commend the Jewish community."
The Virginia Beach Police Department has been contacted for comment.
Over the same weekend, antisemitic flyers were also found in a neighborhood in the Lake Forest area of Florida.
The flyers were also kept in a bag, with residents leaving messages on the Nextdoor app suggesting five youths were responsible for handing them out, reported WTSP.