Racist and Anti-Semitic Graffiti Threatening Shooting at Virginia School Sparks Hate Crime Investigation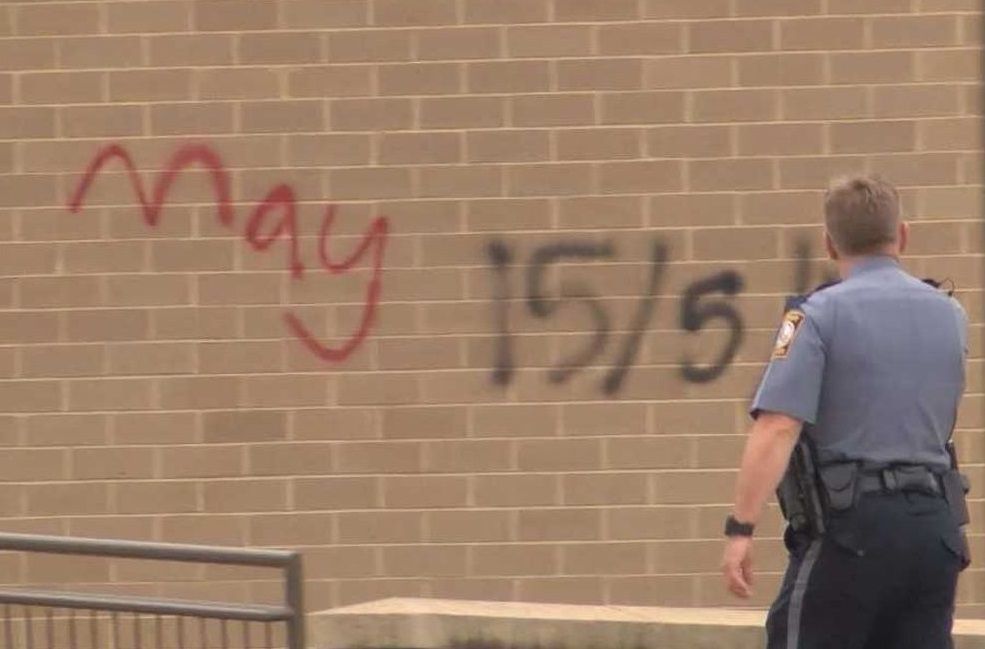 A school in Virginia is on high alert after racist and anti-Semitic graffiti was found scrawled on its grounds, including one threatening a shooting.
The Henrico Police Department said they are increasing patrols at Godwin High School in Richmond after the hateful and threatening graffiti was discovered on May 12.
Officers said they are also investigating the vandalism as a possible hate crime incident.
In a statement, Henrico County Public Schools spokesperson Andy Jenks confirmed the school had informed parents and the community about the "significant amount" of graffiti that appeared.
"The images are hateful, disgusting and have zero place in society. We condemn these acts in the strongest terms," Jenks said.
"We are thankful to have the immediate assistance of our partners with Henrico Police. We want our community to please be assured that when we determine who was responsible, both law enforcement and school administration will be addressing the situation to the fullest possible extent."
The school said it has also been in contact with Daniel Staffenberg, CEO of the Jewish Community Federation of Richmond, and will continue to provide updates about the incident.
As reported by The Richmond Times-Dispatch, the graffiti contains racist slurs and threats against both black and Jewish people. There is also a gun spray-painted on the walls with the words "soon" and a reference to the date May 15.
"We are in constant touch with Henrico Police to investigate this apparent threat and to take steps that will ensure the safety of our school tomorrow and throughout the week," Jenks added.
Police have not confirmed whether they are linking the vandalism at the school to Nazi and white supremacist graffiti that has appeared across Henrico County in recent days.
As reported by WTVR, swastikas and "White Power" slogans were found in neighborhoods in Henrico's West End over the weekend. They were later removed by volunteers from a local community group.
"For me, personally, I felt just upset and shocked and saddened and disturbed and very afraid for my daughter," one local woman, who did not wish to be named, told the station. "Not to be overly dramatic, I'm sure everything will be fine, but you just never know."
The Anti-Defamation League (ADL) recently said that the U.S. Jewish community is experiencing "near-historic levels" of anti-Semitism. According to an audit released by the organization, there were 1,879 attacks against Jews and Jewish institutions across the country in 2018, including 774 incidents of vandalism.