Antonella Barba, 'American Idol' Singer, Gets 45 Months in Prison for Fentanyl Possession
Former American Idol contestant Antonella Barba was sentenced to 45 months in federal prison for possession and intent to distribute the opioid fentanyl, the U.S. Attorney's Office Eastern District of Virginia announced Thursday.
Barba, 32, appeared on the sixth season of American Idol in 2007 and made it to the top 16 contestants before being eliminated. The competition was eventually won by Jordin Sparks.
The singer from Point Pleasant, New Jersey, pleaded guilty in July to possessing 400 grams or more of fentanyl with the intent to distribute.
Barba was arrested in October 2018 in Norfolk, Virginia, when she was approached by local police. A police drug dog was alerted by the Barba's rental car. Police searched the vehicle and found a closed shoebox "in plain view on the front passenger floorboard," the U.S. Attorney's Office said. Inside the shoebox was a plastic bag containing a large quantity of a "white, rock-like substance." Forensic analysis discovered it to be fentanyl, which is a Schedule II controlled substance in the U.S. The total weight of the drug was 830.9 grams.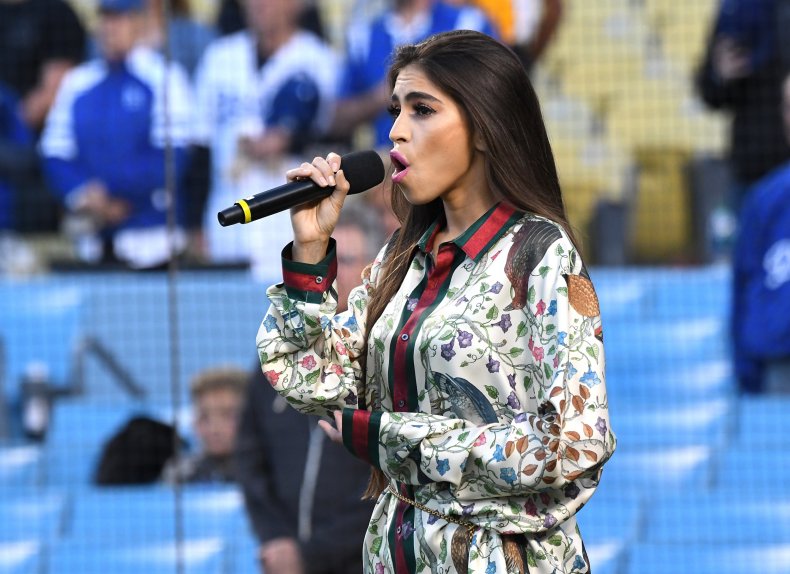 According to USA Today, Barba was implicated in a drug bust involving a California man named Justin Michael "Cali" Isaac, who police suspected was the source of large quantities of cocaine and heroin being distributed. Isaac was discovered to be heading to a "stash" apartment in Norfolk in October 2018. Police listened to a phone call in which Isaac said he was sending a woman to deliver drugs, leading them to Barba.
Friends and family of Barba's submitted letters of support to the judge in the case, pleading for a lighter sentence. Barba's mother and friends said that her "sudden move to Hollywood" after American Idol led to a "detrimental change" in the singer's life.
Barba's mother also said that being catapulted to fame at a young age through the program, "the world intruded and interrupted [Barba's] dream of a career in architecture. [This is] where it all went wrong," reports NJ.com.
A friend of the singer, identified only as K.J., said the move to Hollywood after appearing on American Idol was a "recipe for disaster" and that when Barba failed to "achieve the results she wanted, it was devastating to her."