Antonio Brown Apologizes To Steelers, Says 'It's Good To Be Around' People Who Don't Have An Agenda And Support His Mental Health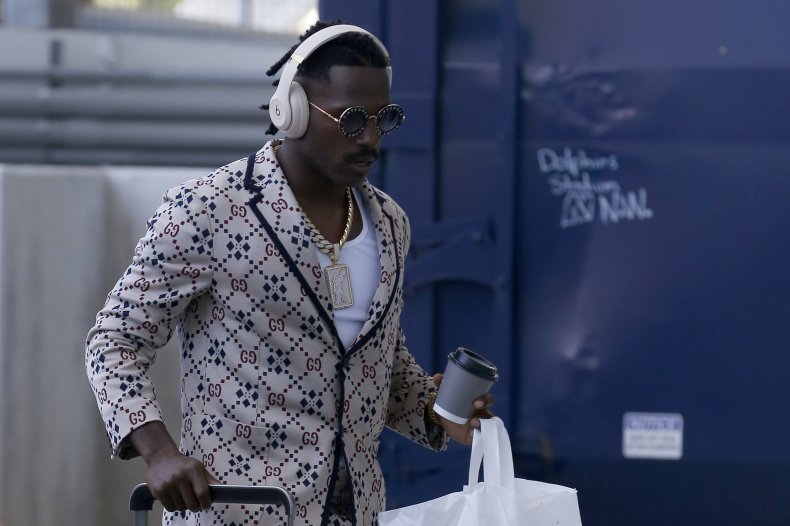 During a recent interview with the Pittsburgh radio station, 93.7 The Fan, free-agent NFL wide receiver Antonio Brown addressed his mental health and the recent issues that have placed him in a controversial spotlight.
Brown was asked about his mental health, his recent arrest and if he is "good."
Brown turned himself in to police on January 23 for charges of burglary with battery, burglary of an unoccupied conveyance and criminal mischief. While he only spent a night in jail, Brown was ordered to undergo a psych evaluation and was also seen wearing a suicide prevention jacket during a court appearance.
"I'm pretty good man. Those guys put me in a crazy jacket, I don't know why they did that," Brown said. "I just think mental health is really important, you know, it's really difficult for me when I can't even go out in public, everyone coming up to me putting their camera phones. Everyone's got an agenda from what they want to get from me or what they can make off me so it's good to be around and talk to people that don't have an agenda that can just support your mental health and listen to you."
Brown also discussed how his absence from football has affected his anger and his attitude.
"I don't really have anger, I just think I'm really bored," Brown said. "Football kept a lot of my focus and not being able to have that thing to take my energy out to put my focus towards, allowed me to react to things I normally wouldn't react to."
During the interview, Brown also apologized to his former team, the Pittsburgh Steelers. Brown played for the Steelers in 2018 but expressed his distaste for the organization towards the end of the season.
"I apologize to those guys for the distractions, the unwanted attention I probably caused those guys," Brown said. "I'm forever grateful and indebted to the Steelers organization, Mr. Rooney (Steelers' owner), Mike Tomlin (head coach), Kevin Colbert (general manager), Ben Roethlisberger (quarterback). You know I started my career with those guys, a lot of beautiful moments, a lot of positive things."
"These guys gave me an opportunity when I was 21-years-old and I'm forever grateful to those guys," Brown added.
At the start of the 2019 season, Brown was a member of the Oakland Raiders but after a number of issues, he requested to be released from the team. Brown was then signed by the New England Patriots, but after only playing one game he was released again. The release was due to a lawsuit filed by his former personal trainer, which claimed Brown sexually assaulted her on multiple occasions. Despite not appearing on a football field since September 15, during his interview, Brown said he could return to the NFL.
"I don't know what I want to do right now, I'm just taking it one day at a time," but later in the interview, Brown added: "I miss the Burgh [Pittsburgh] man, hopefully, I can come back and get it going."
Despite his comments on a potential return, Brown is currently being investigated by the NFL over the sexual assault allegations. While Brown is eligible to sign with an NFL team before the 2020 season, the league could place him on NFL commissioner Roger Goodell's exempt list or suspend him if the investigation determines that he violated conduct policies related to the alleged assault.