Antonio Brown Says He 'Won't Beg' for NFL Return After Being Left 'Hurt and Angry'
Antonio Brown has launched a new tirade against the NFL, insisting he will "not beg" to be given another opportunity to play professional football again.
In a lengthy Instagram post on Friday, the former Pittsburgh Steelers wideout said he has been left "hurt, angry and disappointed" by the treatment he has received from the NFL.
The 31-year-old athlete was released by the New England Patriots in September amid off-field allegations of sexual misconduct just two weeks after he signed with the reigning Super Bowl champions.
While the Patriots' receiving corps are depleted, ESPN last week reported that New England will not bring Brown back this season and earlier this week NFL commissioner Roger Goodell said the league's investigation over the civil lawsuit filed against Brown in September remains ongoing.
Britney Taylor, Brown's former personal trainer, alleged the seven-time Pro Bowler assaulted her on three separate occasions in 2017 and 2018.
Goodell's comments and the Patriots' stance clearly left the seven-time Pro Bowl selection unimpressed.
In a lengthy Instagram post on Friday, Brown claimed he been stripped of the chance to play professional football.
"I worked my entire life to earn the right to play in the National Football League," he wrote.
"After putting it all on the line week after week and putting my body and my mind through some gruesome workouts, it was taken away from me. I'm hurt, I'm disappointed and I'm angry all at the same time. I feel abandoned by people who I trusted and they turned their backs on me and helped take away what I loved."
The former Central Michigan alumni also suggested he would not look for a return to the NFL, unless he is offered a way back into the league.
"As a man, I ain't begging for nothing and I ain't going to let people treat me any kind of way," he continued.
"I earned the right to play in the NFL! So why was it taken away? It's been over 3 months and I haven't heard from anyone. But y'all want me to beg to play!? I feel abandoned by a league I gave my all to. [...] If a team calls, I'll be ready and in shape but I'm not begging nobody for a job."
Brown's travails have been a theme of this NFL season, before a ball was even kicked.
After acrimoniously ending his seven-year stay in Pittsburgh at the end of last season, Brown was traded to the Oakland Raiders in March.
The Florida native, however, never played a game for the Raiders after a summer of off-season incidents.
The wide receiver missed most of training camp with frostbite on his feet, incurred after not wearing the appropriate footwear in a cryotherapy chamber.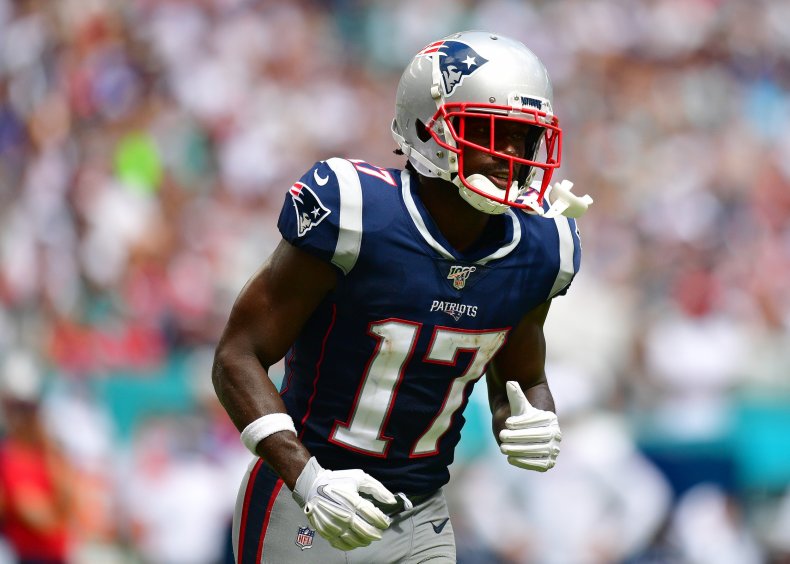 He subsequently tested the Raiders' patience again when he threatened to quit football if the NFL didn't allow him to wear the same helmet he's used for the last 10 years, before filing two grievances against the league.
On September 4, Oakland fined their star signing for conduct detrimental to the team. Brown reacted by getting into a heated on-field confrontation with general manager Mike Mayock.
Brown was suspended by the franchise a day later, only for the Raiders to then announce he would play in the season opener against the Denver Broncos.
Three days, Oakland fined Brown again, who then decided to dare the team to release him via an Instagram post. The Raiders eventually agreed to the request, paving the way for Brown to sign with the Patriots on September 9.
His adventure in New England, however, lasted just two weeks.
Brown initially thanked the franchise for giving him an opportunity, before calling out Patriots owner Robert Kraft on Twitter, suggesting the latter's legal issues didn't give him the right to take any sort of moral high ground.
The Patriots owner has been charged by authorities for soliciting prostitution in a massage parlor in Florida.
The seemingly never-ending saga took yet another turn last month, as Brown publicly apologized to Kraft and the Patriots via an Instagram post and then doubled down last week as he admitted the blame for the way his NFL career laid firmly at his feet.
Despite claiming he will "not beg" for a job in the NFL, the decision could be out of Brown's hands as long as the lawsuit is ongoing.
While that does not prevent Brown to sign with a NFL team, it means he would almost certainly be placed on the commissioner's exempt list therefore making him ineligible to play.