Antonio Brown Trade Rumors: Jerry Rice Claims Steelers WR Wants to Join 49ers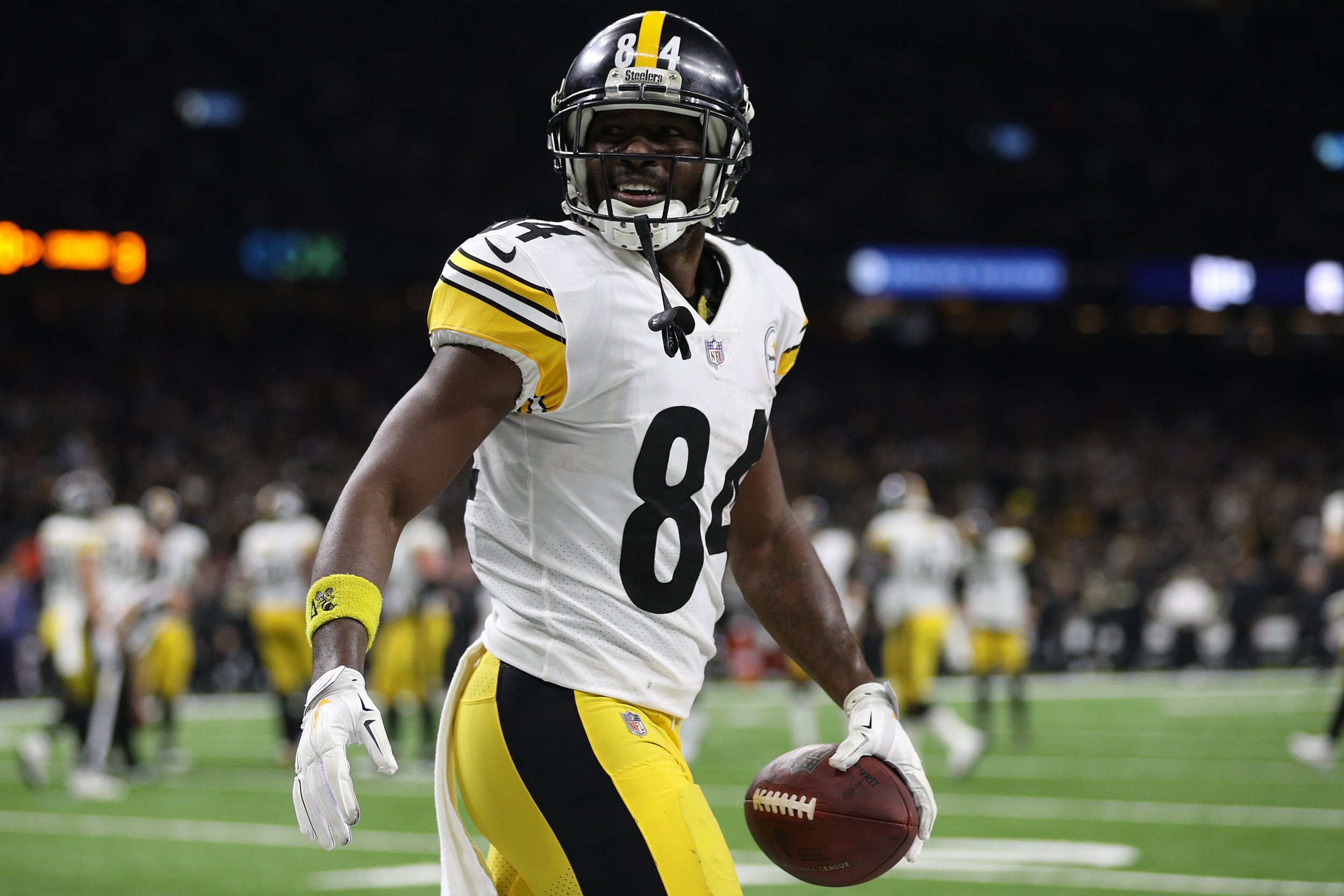 NFL legend Jerry Rice believes Antonio Brown is desperate join the San Francisco 49ers next season.
Brown's future is the latest issue in what has been a tumultuous season for the Pittsburgh Steelers, who have missed out on the playoffs for the first time since 2013 and also face the prospect of losing Le'Veon Bell during the offseason.
Read more: What's next for Antonio Brown and the Steelers?
The running back opted to sit out the whole season over a salary dispute and it seems unlikely he will be in Pittsburgh by the time next season kicks off in March.
Brown could reportedly join him on the flight out of Pennsylvania, after being benched for the last game of the season due to a heated argument with Steelers quarterback Ben Roethlisberger.
Pittsburgh had originally indicated the wide receiver had been benched because of a knee problem, before head coach Mike Tomlin explained Brown had been benched due to a "lack of communication" with the team.
With Pittsburgh not involved in the postseason, the five-time All-Pro selection has kept himself busy by dropping not-so-subtle hints over franchises he would like to play for.
On Sunday, he posted a picture on Instagram of him chatting with Rice and simultaneously removed any references to the Steelers from his Twitter bio. Brown, who has made no mystery of his admiration for the former 49ers wide receiver, also shared the picture of a painting depicting Rice and himself merged into one.
As hints from Brown keep coming, Rice suggested the 30-year-old had his sights set on moving to San Francisco.
"He wants to come here really bad," the NFL legend said on Monday, while speaking to the Bay Area's 95.7 The Game.
"He's talking about running the hill with me—doing all that and just working out and just picking my brain. I don't know if it's going to happen because it's going to be up to [head coach] Kyle Shanahan and also [general manager] John Lynch, but I'm all for it if they want him to come on board."
Rice, who won three Super Bowl rings during his 15-spell in San Francisco, added he would relish the opportunity of mentoring Brown in the Bay Area.
"I would be looking forward to just passing some of that knowledge on to him and being around this guy because I know he's a great individual," he added.
"If it was left up to me, he'd be here in a heartbeat."
Brown is entering the third year of a five-year, $72.5 million deal that has already been restructured once and has a salary cap hit of $22.1 million this year.
For the Steelers, that would mean a cap hit of $21.1 million if Brown was moved on. That isn't as far-fetched as it might have once seemed, after Steelers owner Art Rooney suggested Brown was unlikely to be part of the team next season.
"There's not much we can do right now; we have time to make a decision," Rooney was quoted as saying by the Pittsburgh-Post Gazette last week. "We'll look at all the options. We're not going to release him, that's not on the table. But I will say all other options are on the table.
"Whether the situation can be reconciled and have him back on the team next year, we're a long way away from thinking that can happen. We're not closing the door on anything at this point."
One of the standout receivers in the league, Brown has averaged 114 receptions, 1,524 yards, and 11 touchdowns per season since 2013.
Since being drafted by the Steelers in 2010, the seven-time Pro Bowl selection has recorded six consecutive seasons with at least 100 catches and has broken the 1,000 receiving yards threshold in all but two seasons.