Antonio Brown Quits Buccaneers Team Mid-Game, Removes Pads and Walks Off Field
The saga of Antonio Brown continues. The Tampa Bay wide receiver got so frustrated Sunday against the New York Jets that he removed his shoulder pads, tossed his jersey toward the stands, removed his undershirt and walked off the field at MetLife Stadium.
In a parting gesture, he threw the deuce in the air, which is two fingers signifying "peace out."
Tampa Bay Buccaneers coach Bruce Arians said after the game that Brown "is no longer a Buc."
Brown played a key role for the team last week in a win over Carolina with starting wide receivers Mike Evans and Chris Godwin missing from the lineup. Brown had a game-high 10 catches for 106 yards in that win. Then this Sunday against the Jets, his production wasn't there, and Arians appeared to bench Brown after just three catches for 26 yards.
Evans looked like he was trying to calm down Brown and prevent the tantrum, which didn't seem to work.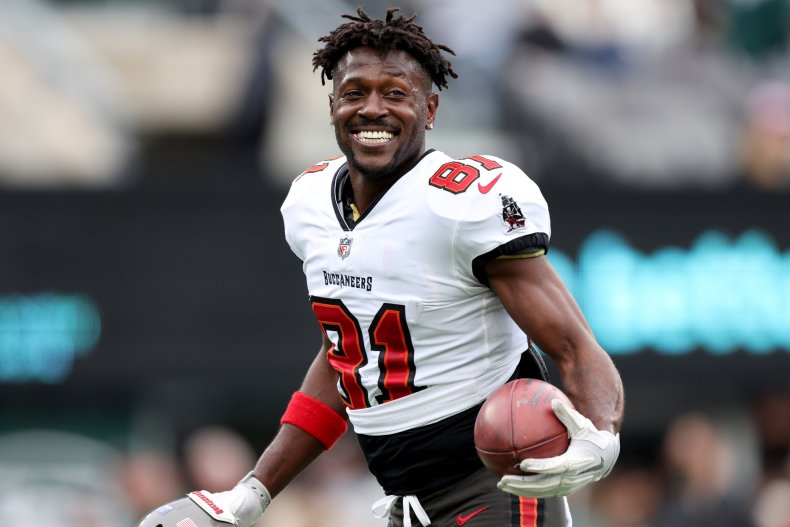 The Buccaneers came from behind to beat the lowly Jets, 28-24. Tampa Bay, which is the defending Super Bowl champion, has already clinched the NFC South division and will host a first-round playoff game in two weeks.
Brown played his first nine seasons with the Pittsburgh Steelers, who drafted the wide receiver from Central Michigan in the sixth round of the 2010 draft. Brown went on to have a stellar career with the Steelers, where he won a Super Bowl title and was a first-team all-pro from 2014-17. He made the Pro Bowl seven times and was named to the all-decade team for the 2010's.
In late 2018, prior to the final regular-season game, Brown got into an argument with Steelers quarterback Ben Roethlisberger, and Brown was benched for the Week 17 game. In the spring of 2019, the Steelers traded Brown to the Raiders.
In August 2019, Brown missed several preseason practices because of frostbite on his toes, which happened for allegedly not wearing the right kind of footwear during cryotherapy sessions. He also had a grievance with the league's new helmet policy, wishing to wear his old helmet which had since been banned. He had been fined for unexcused absences from practice, and Brown left the team before their first game.
Brown immediately signed with the New England Patriots, but was soon embroiled in a sexual assault allegation with his former trainer.
Britney Taylor is a former gymnast who Brown met at Central Michigan University. She became his trainer, and there are three separate incidents of him sexually assaulting her.
The lawsuit alleges Brown sexually assaulted Taylor twice in June 2017 and again in May 2018. Darren Heitner, Brown's attorney, denies Brown ever sexually assaulted Taylor, and says he will do what it takes to clear the receiver's name.
"Mr. Brown denies each and every allegation in the lawsuit," Heitner said. "He will pursue all legal remedies to not only clear his name but to also protect other professional athletes against false accusations."
Brown was let go by the Patriots. A year later, Brown signed a one-year contract with the Buccaneers. He scored a touchdown in the Super Bowl, which the Buccaneers won over the Kansas City Chiefs.
Now, he may have seen his last time on the field as an NFL player with his abrupt departure on Sunday against the New York Jets.