Will Antonio Brown Play Again? New England Patriots Launch Investigation After Star Receiver Is Accused of Rape in Lawsuit
Antonio Brown might have to wait longer than expected to make his debut with the New England Patriots after he was accused of sexually assaulting his former trainer.
In a lawsuit filed on Tuesday in the Southern District of Florida, Britney Taylor alleged the seven-time Pro Bowler assaulted her on three separate occasions in 2017 and 2018.
According to a copy of the lawsuit obtained by ESPN, the 31-year-old exposed himself to Taylor and kissed her without her consent at his residence in the Pittsburgh area in June 2017.
The lawsuit alleges that a month later Brown masturbated near her without her knowledge and ejaculated on her back. Taylor claims Brown boasted about the incident, which unfolded at his home in Miami, in a series of text messages.
Newsweek subscription offers >
The third case of assault is also alleged to have happened in Miami less than a year later, when Brown "forced her down onto a bed, pushed her face into the mattress, and forcibly raped her."
The plaintiff claims to be suffering "near-daily panic attacks and suicidal ideations" is seeking damages in excess of $75,000.
Brown's lawyer Darren Heitner released a statement on Tuesday night, in which he indicated his client "will leave no stone unturned and will aggressively defend himself, including all of his rights in countersuits."
Brown officially joined the Patriots on Monday, signing a one-year contract, which includes a $9 million signing bonus and $10 million guaranteed, with a further $5 million more in incentives.
Newsweek subscription offers >
At the time of writing, it remains unclear how the civil suit might impact his playing status. The Miami native was expected to practice with the Patriots on Wednesday and was in line to make his debut in his hometown against the Dolphins on Sunday.
According to ESPN, however, he could be placed on the commissioner's exempt list, meaning he would not count towards the franchise's active roster while the investigation remains ongoing.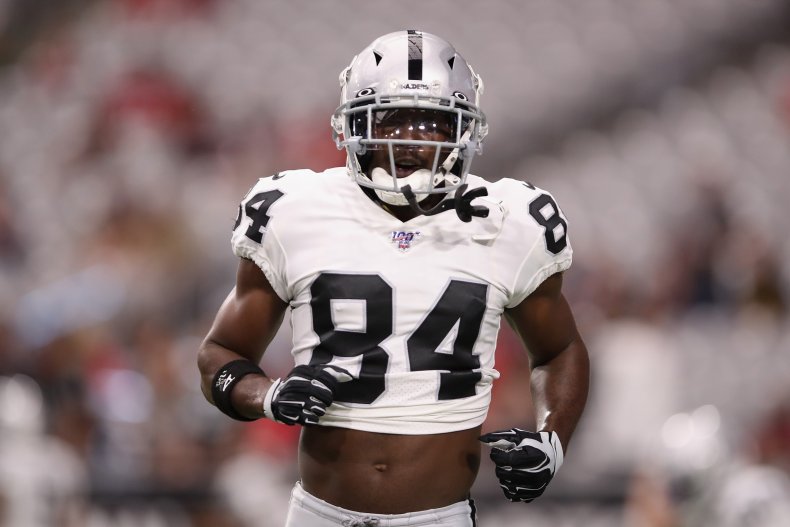 Normally, once a lawsuit has been served upon the defendant, the latter has a certain time to file responsive pleadings, either admitting or denying the allegations.
An exchange of documents—known as "discovery"—follows, so each side can get a sense of the evidence in the case, before depositions take place. Should the two parties fail to agree to a settlement, the case would go to trial.
The whole process, however, can take up to several years.
The lawsuit is a considerable headache for the Patriots and Bill Belichick, whose team culture has rescued the careers of a number of troubled stars, most notably Randy Moss.
"We are aware of the civil lawsuit that was filed earlier today against Antonio Brown, as well as the response by Antonio's representatives," the Patriots said in a statement on Tuesday night.
"We take these allegations very seriously. Under no circumstances does this organization condone sexual violence or assault. The league has informed us that they will be investigating. We will have no further comment while that investigation takes place."
However, it remains to be seen whether Brown will ever don a Patriots jersey.
"Usually sports teams have morals clauses in their contracts," Dmitriy Shakhnevich, Adjunct Lecturer at the John Jay College of Criminal Justice in New York City, told Newsweek.
"Those morals clauses very strongly favor the teams. So yes, the Patriots could likely get rid of Brown if they so choose."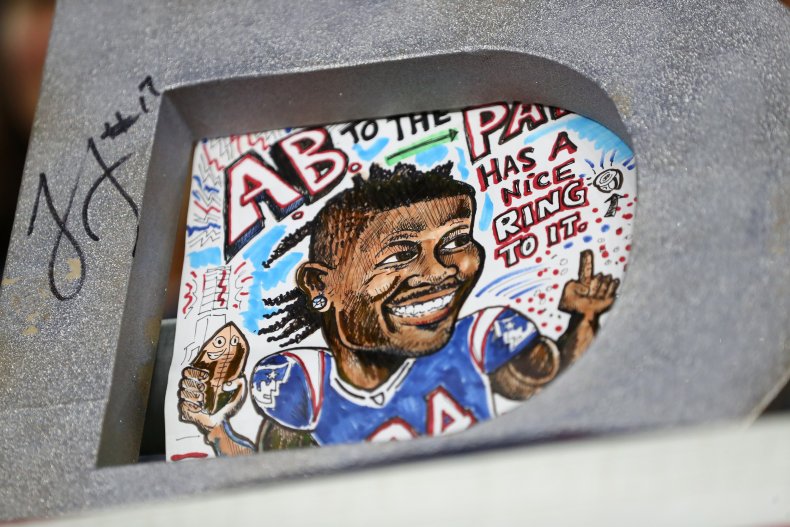 The case is the latest and most dramatic development of what has been a tumultuous summer for Brown.
The four-time First-team All-Pro selection was traded to the Oakland Raiders in March after his relationship with the Pittsburgh Steelers was damaged beyond repair.
Brown, however, never played a game for the Raiders after a summer of off-season incidents.
The wide receiver missed most of training camp with frostbite on his feet, incurred after not wearing the appropriate footwear in a cryotherapy chamber.
Brown then threatened to quit football if the NFL didn't allow him to wear the same helmet he's used for the last 10 years, before filing two grievances against the league.
On September 4, Brown was fined by the Raiders for conduct detrimental to the team, then got into a heated on-field confrontation with general manager Mike Mayock.
A day later, the Raiders suspended him, before announcing just 24 hours later that he would play in the season opener against the Denver Broncos.
On September 7, Brown was again fined by the Raiders, before daring them to release him via an Instagram post. Oakland eventually agreed to the request, paving the way for Brown to sign with the Patriots.
The seven-time Pro Bowler remains one of the best receivers in the league. Brown has 686 receptions and 9,145 receiving yards since 2013, the most by any player over a six-year span in NFL history.
The 31-year-old has scored 74 touchdowns since making his NFL debut in 2010, more than any other active player.
Will Antonio Brown Play Again? New England Patriots Launch Investigation After Star Receiver Is Accused of Rape in Lawsuit | Sports