Antonio Brown Sends Message to Tom Brady: 'Wherever Tom Goes, I Think I Want to Play With Tom'
While appearing on a Tuesday podcast, free-agent wide receiver Antonio Brown sent a message to New England Patriots quarterback Tom Brady suggesting that he wants to play with him next season.
"Wherever Tom goes, man, I think I want to play with Tom," Brown said while appearing on the Complex Sports podcast Load Management. He also said the two could have standout year together, with "20 touchdowns, 25 maybe, 2,000 yards."
Both players' futures in the NFL are currently unknown. During this past season, Brown played one game with the Patriots and Brady but was released after sexual assault allegations against him surfaced. He is under investigation by the NFL, and even if he does sign with a team before the upcoming season, he could be placed on the commissioner's exempt list, which would bar him from playing.
On the other hand, Brady, a six-time Super Bowl–winning quarterback, could become a free agent for the first time in his 20-year career in March if he does not reach a contract agreement with the Patriots. Despite the widespread speculation surrounding his potential signing to a new team, it is unclear where he will land.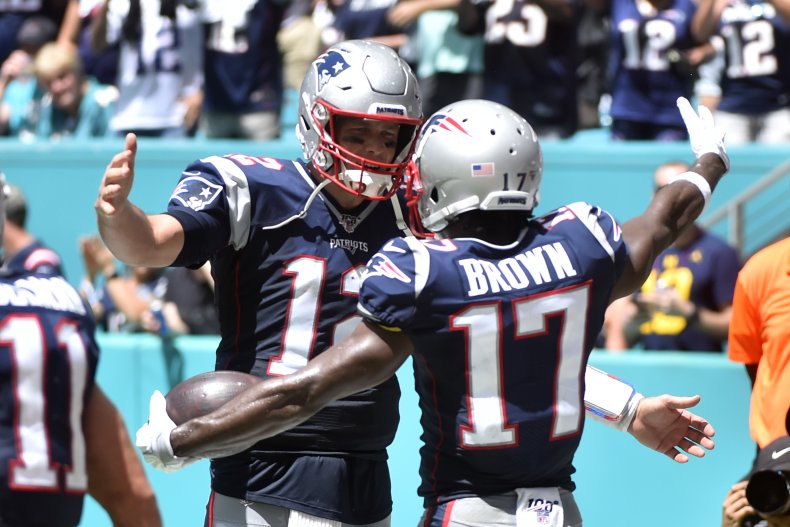 Brown is also coming off of a recent arrest after an incident involving a moving truck driver at his Florida home, which brought burglary and battery charges. He was also ordered to get a mental health evaluation. While speaking on the podcast, he noted that while Brady "is a great supporter," he is "not happy about everything I've done."
This is not the first time Brady's support for the all-pro wide receiver has been publicized.
After Brown was released by the Patriots in September 2019, Brady made it known that he wanted to help him rebound. "I liked him. We had a great rapport when were here," Brady told the Boston Herald in November. "I'm trying to support him to be the best person he can be, that's all."
This is also not the first time Brown has made it known that he would like to play with Brady again. Following the Patriots' exit from the playoffs after losing to the Tennessee Titans, Brown tweeted: "2020 Only want to play with @TomBrady or no play."
"Call me," Brown added in a response to a video of Brady talking about his future.
A few weeks later in January, Brown once again spoke about playing with the quarterback in an Instagram post showing the two during their one game together.
"Want to play more than ever 2020 wherever @TomBrady go," Brown wrote in the caption.