Antonio Skármeta Reflects on Santiago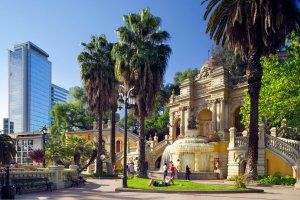 Something strange has happened to Santiago in recent years. Chile's capital quickly went from a city everyone wanted to flee into a city everyone wants to visit. Prestigious journals have even reported this city as one of the world's top travel destinations. Those who live here and love this city stand soberly perplexed, and I count myself among them.
A few months ago, I went to my favorite restaurant—one away from the city's center, off the radar of tour operators—but the diners at the neighboring tables were speaking nothing but English and Portuguese. With a mixture of pride and melancholy I ordered the house special: fresh crab and lamb from Magallanes far down south. It was clear to me that Santiago was no longer the modest capital at the end of the world. It had become tempting prey for curious tourists and investors.
Investors! While almost all world markets in 2010 dropped at least a couple of points, the Santiago Stock Exchange yielded a near 30 percent gain. Just a decade ago, Santiago was a stopover on the way to Chile's grandest tourist attractions. The majestic volcanoes of the south. The Antarctic snow, the color of white gold. Lakes like giant mirrors in the sky. Trout and salmon fishing. And the loquacious silence of the desert in the north. But now Santiago is a place where strangers come to stay. The Cinderella of Latin America has become its princess.
Economic progress has given rise to the affluent neighborhood of Providencia, a set of beautiful buildings and overwhelming modernity. It's given provincial Santiago the appearance of a metropolis. Some optimistic santiaguinos, invoking New York's Manhattan, have christened it "Sanhattan." The best hotels and wealthy tourists now fill Barrio Alto, where luxury shops are filled with the latest European fashions. Nearby, the Pueblito de los Domínicos is a clever local craft village that feels like a market from a different century, delighting tourists with jewelry, jackets, blouses, musical instruments, clothing, birds, and paintings.
Newsweek subscription offers >
Santiago is also a dynamic hub that enjoys the geographical narrowness of the country. Just one hour away is the snow for skiing. Beautiful beaches are 100 kilometers away. The world-famous Chilean grapevines are 50 kilometers away. In fact, there's a new breed of explorer wine-tasters who love the countryside. And there's no problem with drinking plenty of these elixirs, as plenty of drivers—who swallow nothing more than honest mineral water—will bring them back in vans and buses to their hotels.
Santiago is also an epicenter of great poetry where we never stop celebrating our two Nobel Prizes in Literature. Pablo Neruda may be the world's most popular poet of recent decades. His houses are landmarks for visitors. One, the Chascona, stands at the foot of Cerro San Cristóbal, a spectacle of extravagant architecture, the kind of home only a poet could dream of. Neruda's second abode, in the village of Isla Negra, is an hour and 15 minutes from the city and opens to a lively sea of magnificent blue. It houses collections Neruda sought throughout his life, including several huge figureheads from wrecked ships. Visiting the museum is like roaming with the muses among the poet's own neurons.
Unlike other cities devastated by poverty or overrun by modernity, Santiago has been spared. Old sectors such as the Plaza Bellavista and Brazil have been conquered by young people. They have renovated the buildings' interiors but, at the same time, have maintained the façades from the past. It lends both truth and authenticity to the capital.
Of course, do not forget the spectacle of the rescued miners in the north, which made headlines worldwide and threw the world's eyes directly on Chile. The 33 miners remain a favorite subject in the media: some of them have gone off to Europe and others went to Disneyland. But some of these Lazaruses remain, and it is hardly surprising that visitors spot them on television: some of them singing "Summer Days" with Olivia Newton-John or competing in a Bachelor-type contest, trying to win the heart of a young woman looking for love.
Newsweek subscription offers >
Skármeta is the author, most recently, of The Dancer and the Thief. (Translated from the original Spanish by Andrew Bast.)
Antonio Skármeta Reflects on Santiago | World