Secretary of State Antony Blinken has rejected the charge that his administration's policies were to blame for the rise in undocumented immigrants and defended how it was handling an influx at the southern border.
Blinken told 60 Minutes that the administration of President Joe Biden had "inherited a totally broken system," and that "it takes time to fix it."
Further pressure was put on the White House's handling of the border crisis on Sunday when a boat believed to be part of a suspected human smuggling operation capsized along the San Diego coast, killing at least four people and injuring more than two dozen others.
Blinken was challenged by CBS's Norah O'Donnell about how more than 170,000 migrants had been taken into U.S. custody in March—the highest number for 20 years.
Although Biden has used his executive authority to slow down deportations and allow more asylum seekers into the U.S. Blinken said this was not a contributing factor to the rise in numbers.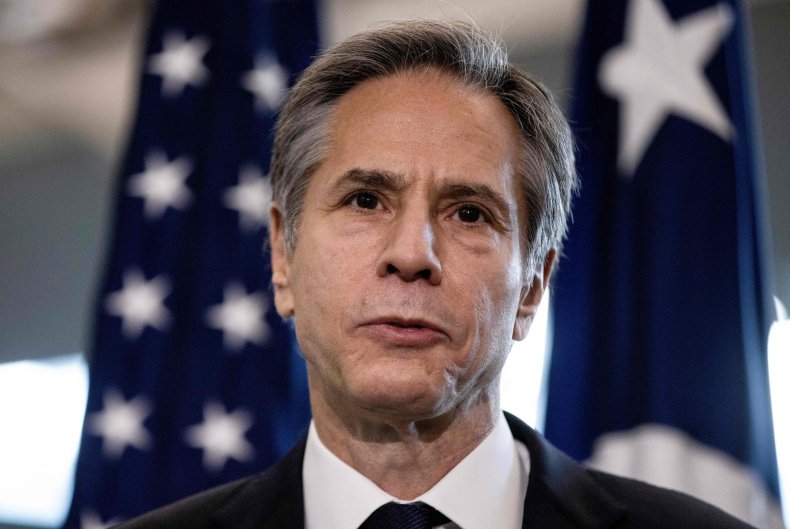 "Our message is very clear, 'Don't come. The border is not open. You won't get in,'" Blinken said, "but we have to understand what is motivating so many people to do this. And it is usually desperation.
"One of the challenges...we've had is that traffickers and others are trying to tell them that 'the border's open.' It's not."
"We're focused when it comes to people coming in to making sure...that children, unaccompanied minors are treated humanely and according to the law."
O'Donnell suggested that the U.S. was sending mixed messages. People are being discouraged from coming, although children are being allowed in.
"Children are the one exception," Blinken replied, "because it is the right thing to do. We are not going to abide the notion that children are kept in a precarious, dangerous situation. That is unacceptable."
This week, four families separated under the Trump administration's border crackdown are expected to be reunited as part of the Biden administration's move to redress the "zero tolerance" policies of the Trump team, CBS News reported.
These will be the first reunifications to occur under Biden, who set up a task force led by Homeland Security Secretary, Alejandro Mayorkas.
Also in the wide-ranging interview with CBS, Blinken addressed the rising tensions between Washington, DC and Beijing, saying that, "China believes that it can be and should be and will be the dominant country in the world."
"What we've witnessed over the last several years is China acting more repressively at home and more aggressively abroad. That is a fact," he said.
The Secretary of State also said that Washington was "very, very carefully" watching whether Russia was making good on its announcement that it was withdrawing its troops from its border with Ukraine. Newsweek has contacted the White House for comment.