'I Cured My Anxiety With a Major Life Change'
I had been planning to move off-grid for the past 10 years, but I didn't know how it was going to happen. I didn't have the money, and I didn't know where my family and I would go, but I was slowly putting everything in place by researching off-grid lifestyles.
In 2020, once COVID had hit, I was a registered nurse doing home health and my company said that we could not wear masks because it was going to scare patients.
So, I immediately left my job for my own health and safety. At the time, I had over 100 hours of paid time off to take, so I used it up.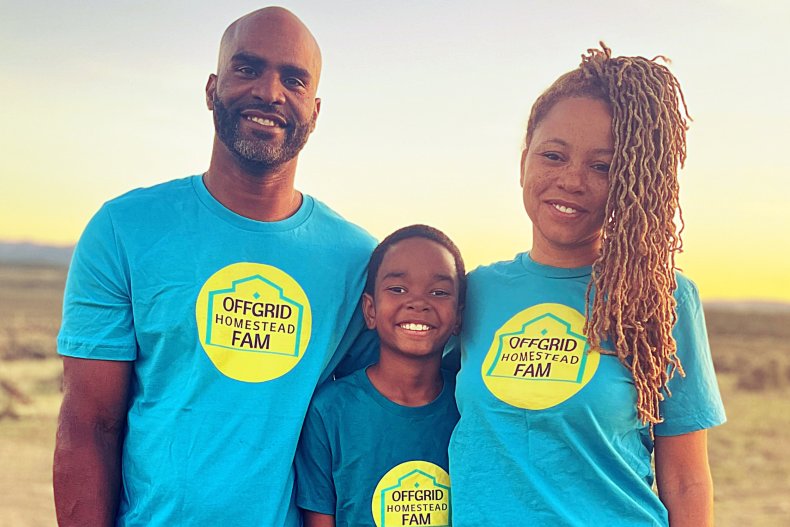 My husband didn't want to be stuck during the lockdown, so he planned a trip for us. We were in Atlanta, but my husband grew up in New Mexico and he always wanted to get go back there and show it to me, so we traveled there temporarily.
In June 2020, we sold our car and traded it in for a travel trailer and we immediately hit the road. My husband is very spontaneous, so we left at 3:00 a.m in the morning.
Deciding to live off the grid
When we arrived in New Mexico, we had a lot of fun. My husband has lots of friends who are like family to him, so we went on family outings and adventures. It was just really cool and my youngest son thought it was a great adventure, he didn't complain about anything.
My husband and I found out that the land prices were very cheap, so we began looking for land and decided to start our off-grid journey in New Mexico. We found 20 acres for $15,000 and we bought it. It felt like a breath of fresh air and a dream come true. I couldn't believe that organically, we were deciding to live off-grid. I was very excited.
Six to eight months later, I was looking on Facebook marketplace and somebody was selling five acres of land in my area for $7,500. When I found out that it was directly connected to our land, we bought it.
I have anxiety, depression, and chronic fatigue. When we lived in the city, I was always so anxious. Not only did I work as a nurse, but we also had an Airbnb on the side of our house that I had to take care of. My husband also had a motorsports business that I was managing, as well as looking after our children. So, there was constantly a lot going on.
Once we moved to New Mexico, I felt very different. I used to get seasonal depression, but for the first time, this year, I haven't had it at all. I feel more peaceful, and I love it. In fact, almost immediately when we started the road trip, my anxiety and depression got better.
Becoming self-sustainable
After moving off the grid, we had $180,000 cash to spare from selling our home. We knew that we weren't able to build our "forever" home just yet, so we cleared a section of our land using a four-wheeler. We also pulled out each individual sagebrush on our land, because it was filled with them.
We then found a 40-foot, two-bedroom travel trailer that came fully furnished, for $15,000. It's very spacious and looks like the size of some regular apartments.
After that, we called a well driller and paid $15,000 for a 350-foot well so we can have our own water. Because we were not attached to a city sewage system, we had to get tanks installed underground, so we paid $7,500 for a septic system.
My husband then built a mud room at the front of our travel trailer and we put a wood stove there, in order to warm the place.
We put together a little greenhouse and installed a large solar system for electricity. Our aim was to become as self-sustainable as possible, so we also had a barn installed, and I bought chickens and a goose, which I had to learn how to take of. Because we live in the middle of nowhere, we also had to buy five cats in order to stop mice from getting into the trailer.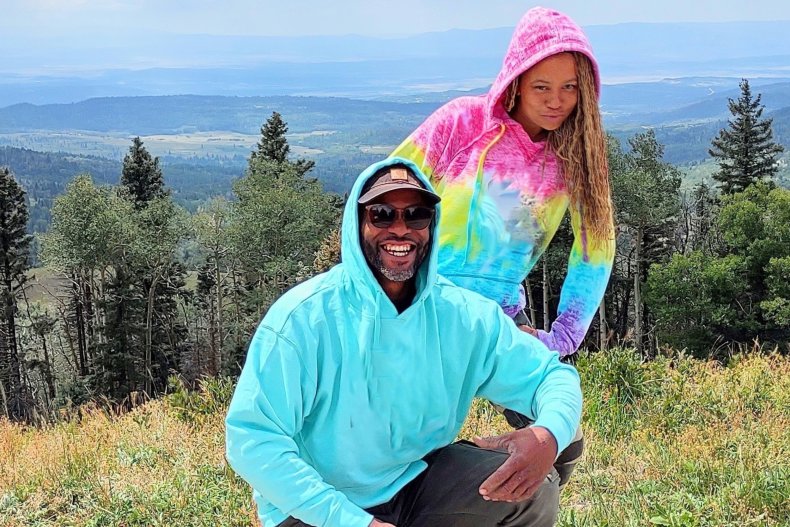 A part of my daily routine involves feeding the cats, chickens, and geese. People seem to think that living off-grid is difficult, but I don't think it is for us. That's because we installed a well, a septic system, a greenhouse, and solar panels.
If you don't have the money to be able to live off-grid, it's hard, but if you have a good lump sum of money to start with, you can really set everything up, so it's not much different from living on-grid.
Finding a lifestyle that suits me
A year and a half after living off-grid, I went back to work. Because a lot of nurses were trying to work remotely after COVID, I couldn't find any remote nursing jobs. So, I ended up working for my family as a human resources director for a medical company.
Because the company's business is in Atlanta, I am able to work from 08:00 a.m. to 12:00 p.m. daily. I find that great. It's a big shift from the hustle and bustle of my previous job in Atlanta.
Because I went a year and a half without working, going back and working four hours a day was a very good transition for me. I was able to kickstart our Offgrid Homestead Fam business.
Because our whole land is covered in sagebrush. I began selling them to customers while documenting my off-grid lifestyle on social media. Because people are very interested in my lifestyle, my followers began increasing as the months went on. I use my social media platform to teach others about the off-grid lifestyle.
Most recently, I wrote a book called 'Beginners Survival and Prepping Manual' which teaches people how to be prepared for disasters, I believe that the book could help people save lives.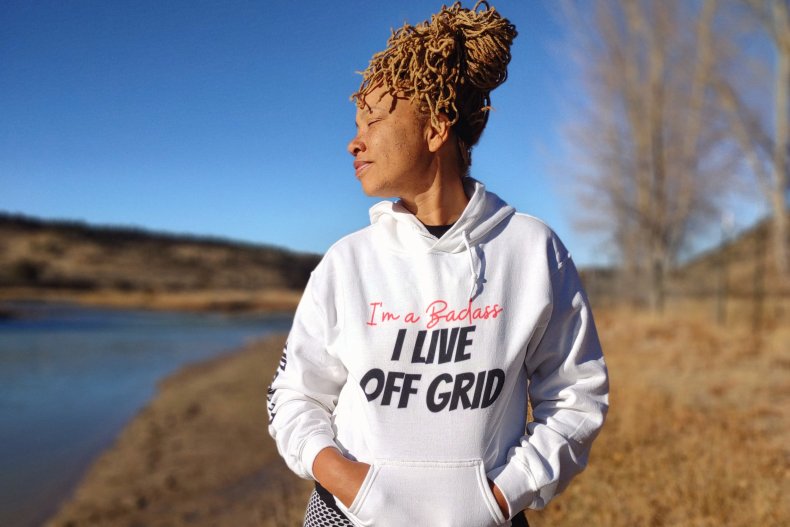 Our next steps as a family
People ask me questions about my younger son, who lives with us. They think it's horrible that we're in the middle of nowhere with him. But he spends three hours a day being home-schooled and he loves it.
There's a school that's roughly 20 minutes away, but he doesn't want to go to it. He loves being in New Mexico and he's been traveling back and forth from Atlanta to see his biological father, so he gets the best of both worlds. Being home-schooled allows him not to worry about falling behind on school work, and he gets the city life, and the country life, in one.
As a family, our next step is to build an Earthship, which is a fully sustainable home where the house catches rainwater. It gets filtered into our sink for us to drink; the water then goes from the sink, to the shower and toilets, and also waters the plants.
The house will also be south facing, so it'll get a lot of sunlight, and the front of it will be a greenhouse so that we can grow our own food inside. The house will also be made of tires and dirt so that it can hold solar energy, which will help it stay warm in the summer and cool in the winter.
Some people believe that if you are self-sustainable, you are unable to go to the store and you have to do everything yourself, but that isn't the case. Our aim is to be 90 percent self-sustainable. I still like my flavored coffee creamer and other small things, but we want to be able to feed ourselves and all of our animals off of the land.
I'm happy to be able to help people by giving them an alternative to the traditional nine-to-five grind. I think my generation of millennials is really waking up and thinking about how sustainable their lives really are.
Sometimes, my husband and I look at each other and think: We can't believe we're here; we can't believe we finally did this.
Our view is amazing, we're surrounded by mountains. It's very quiet and peaceful. It's an exciting and awesome time for us.
Zani Sunshine lives off the grid in New Mexico with her husband and her son. You can find out more about her here.
All views expressed in this article are the author's own.
As told to Newsweek associate editor, Carine Harb.
Do you have a unique experience or personal story to share? Email the My Turn team at myturn@newsweek.com