#AnybodyButTrump2020 Trends After Orlando Sentinel Editorial Board Endorses Anyone But Trump
The hashtag "#AnybodyButTrump2020" trended on Twitter on Tuesday after the Orlando Sentinel's editorial board published an article endorsing "not Donald Trump" ahead of the president's official 2020 campaign launch.
"There's no point pretending we would ever recommend that readers vote for Trump," the paper wrote in its stinging rebuke of the president just hours before he is expected to officially announce his campaign in the city. "Enough of the chaos, the division, the schoolyard insults, the self-aggrandizement, the corruption, and especially the lies."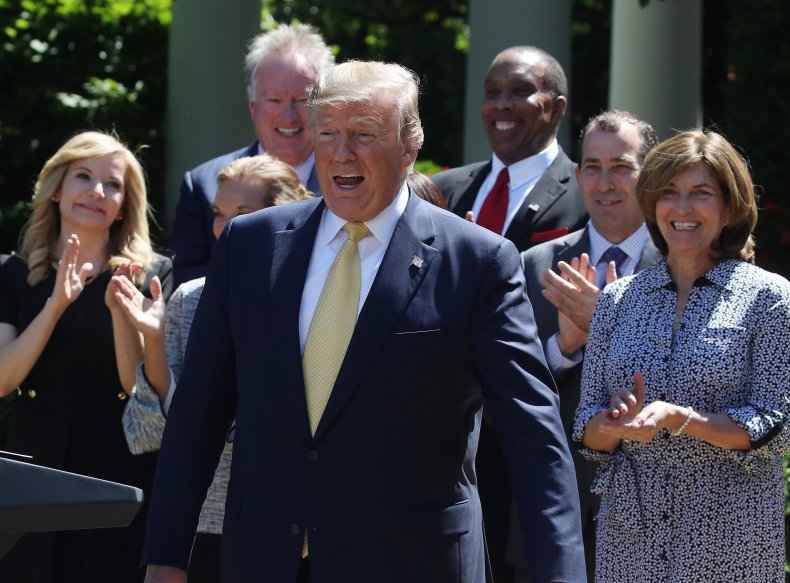 While Trump supporters lined up outside the Amway Center in Orlando, the city's paper and opponents were rebuking the president. The editorial blasting Trump's honesty, his "middle-school" taunts and the impact he has had on America's standing abroad drew traction shortly after it was published, with Twitter users bringing up a range of Trump's scandals and crises. Some mentioned the Mueller report and investigation into alleged meddling in the 2016 election.
While supporters lined up more than 24 hours ahead of the event and the president tweeted that 100,000 people had requested tickets to be at the 20,000-person venue, The Daily Beast noted that the city is liberal and has groups organizing to protest the president's 2020 announcement.
Undocumented immigrants who were fired from Trump properties said they would hold an event in Orlando on Tuesday to advocate immigration reform. Hispanic community leaders told local outlet News 13 that they would protest blocks from where the campaign announcement is taking place. More than 60 percent of Orange County, where the city is located, voted for Hillary Clinton in the 2016 election.
While Trump promoted the event, the campaign is seeking to steer press narratives away from recent damaging coverage. Trump's campaign was roiled by drama over the weekend when a leak of internal polling numbers showed that the president was far behind Joe Biden in important states, like Pennsylvania, Wisconsin and Florida.
Although Trump will officially declare he will run for re-election on Tuesday, he filed paperwork with the Federal Election Commission for his 2020 run just hours after he was inaugurated in 2017. Trump has held a multitude of campaign-style events while in office, and the Washington Post reported that he has has 550 campaign rallies since initially declaring his candidacy. He led candidates in fundraising for the first quarter of 2019, receiving more than $30 million, and his campaign had $40.8 million in its bank account at the end of March.