Anyone Who Cares About the Climate Must Vote for Joe Biden | Opinion
We've heard it a million times: This is the most important election of our lifetimes. A global pandemic, burning planet, ongoing plague of systemic racism, a sitting president who is incapable and unwilling to lead on these issues. We are in crisis. Yet over time, the climate crisis poses the greatest threat to our country and our world.
In recent weeks, I've had the opportunity to talk extensively and openly with Joe Biden about climate policy, environmental justice, clean energy jobs and the need for global American leadership. He is committed to acting with the urgency this moment demands, as well as listening to and learning from local leaders and affected families across the country, especially communities of color, who bear the brunt of our climate crisis. His "Build Back Better" plan demonstrates his commitment to working with frontline communities to create an inclusive and sustainable green economy.
Anyone who cares about the climate and clean energy jobs has to vote for Joe Biden. Climate-related natural disasters are occurring with shocking frequency, our carbon pollution is reaching a point of no return, and we continue to fall further and further behind China and Europe in growing a clean energy economy.
Most voters, including many Republican voters, understand the science and think the government should be doing more. But many Republican elected officials refuse to protect the health and future of the planet. They care more about padding the pocketbooks of their Big Oil and fossil fuel donors. That's why President Donald Trump and his allies, including Senate Majority Leader Mitch McConnell and Senator Lindsey Graham, have rejected climate policy and spent the past three and a half years enabling rollbacks of our vital public health protections.
But any economic justification for sticking with a fossil fuel–based economy is crumbling. Since the pandemic, nearly half of Wells Fargo's bad loans have come from oil and gas. An economy powered by oil, gas and fossil fuels is no longer sustainable in any sense of the word, and Joe knows this. His climate plan is a jobs plan. His vision for our country's economic future isn't based on archaic, corrupt powers, but rather on what's best for all Americans.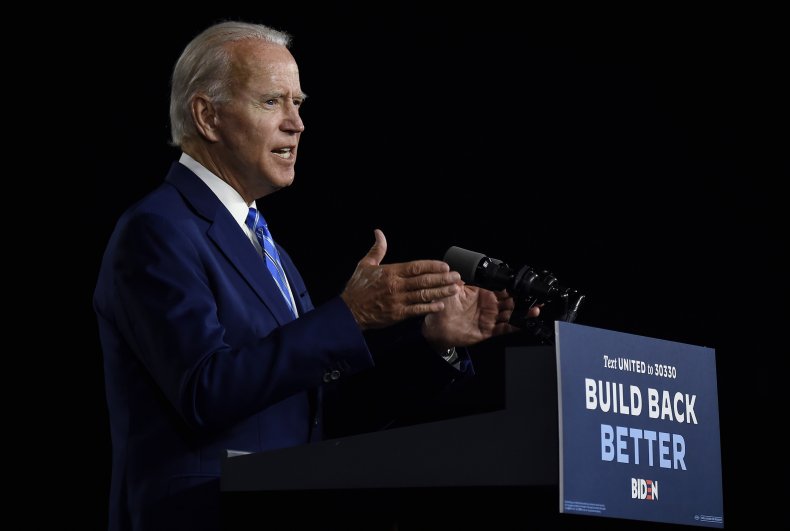 Joe gets it. The former vice president understands that unchecked bad actors have intentionally and continuously poisoned the air and water across this nation—especially in lower-income communities and communities of color. Joe sees environmental justice as personal because it is. What is more personal than the air your children breathe and the asthma they get because of the neighborhood you can afford to live in? What is more personal than the water you drink that has been tainted by corporate polluters? These problems are real and demand a response from a leader who cares about people.
We need a transformational election. We need a revolutionary green economy, not just to protect our planet, but to rebuild our crumbling infrastructure, create millions of well-paying jobs and combat systemic inequality. The former vice president understands this. He's been an ally to working Americans for decades, advocating for their rights and wages at every table where he sits.
This is going to be a turnout election. If you tell me who turns out on November 3, I will tell you who wins. Every cycle, the climate community continues to grow and prove its electoral power. In 2020, candidates allied with environmental, racial and economic justice advocates need to inspire climate voters, and climate voters need to support their champions.
This election will transform the trajectory of our nation and our planet. The next president will lead our response to the pandemic, the economy and the climate crisis. There is a massive gulf between the two candidates for president. And no question about who is better equipped to lead us out of the desert. That is why I am doing everything possible to elect Joe Biden and why I'm asking you to do the exact same thing.
Tom Steyer is co-chair of the Biden campaign's Climate Engagement Advisory Council.
The views expressed in this article are the author's own.