AOC Accuses Ted Cruz of 'Almost' Having Her 'Murdered' After He Agrees With Her on Robinhood
Representative Alexandria Ocasio-Cortez on Thursday accused Senator Ted Cruz of "almost" having her "murdered" after he agreed with her criticism of the stock trading app Robinhood.
"I am happy to work with Republicans on this issue where there's common ground, but you almost had me murdered 3 weeks ago so you can sit this one out," the New York congresswoman wrote in a tweet replying to Cruz. "Happy to work w/ almost any other GOP that aren't trying to get me killed. In the meantime if you want to help, you can resign."
Ocasio-Cortez's tweet came in response to Cruz saying that he "fully agree[s]" with her criticism of Robinhood after the app halted trading for several stocks, including GameStop, that have surged in price thanks to a group of Reddit users on the R/WallStreetBets thread. The group of traders drove up GameStop's stock price in a challenge to hedge fund investors that had bet against the company, in hopes that its stock would fall in price, by short selling.
"This is unacceptable. We now need to know more about @RobinhoodApp's decision to block retail investors from purchasing stock while hedge funds are freely able to trade the stock as they see fit. As a member of the Financial Services Cmte, I'd support a hearing if necessary," Ocasio-Cortez wrote in her initial tweet, which prompted the response from Cruz.
In response, Cruz told Newsweek via email, "There's a lot of partisan anger and rage among Democrats, and it's not healthy for our country and it's certainly not conducive to healing or unity. But everyone has to decide how they want to interact with others."
Ocasio-Cortez's comments reference the January 6 riot at the U.S. Capitol, when supporters of former President Donald Trump invaded the building to protest certification of President Joe Biden's victory.
Many accused Trump's rhetoric of inciting the violence, while others pointed to a few Republican senators, such as Cruz, Josh Hawley and Tommy Tuberville, who voted to object to congressional certification of the Electoral College votes.
"You haven't even apologized for the serious physical + mental harm you contributed to from Capitol Police & custodial workers to your own fellow members of Congress. In the meantime, you can get off my timeline & stop clout-chasing. Thanks," Ocasio-Cortez wrote in a subsequent tweet. "Happy to work with other GOP on this."
This is not the first time the New York congresswoman has criticized Cruz. She called for his resignation right after the Texas senator issued a statement on Twitter calling the riot "a despicable act of terrorism and a shocking assault on our democratic system."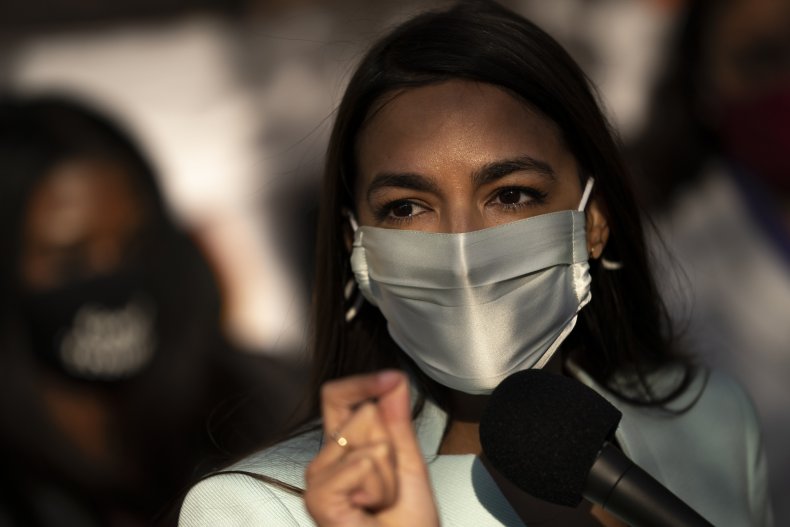 In response, Ocasio-Cortez wrote, "Sen. Cruz, you must accept responsibility for how your craven, self-serving actions contributed to the deaths of four people yesterday. And how you fundraised off this riot. Both you and Senator Hawley must resign. If you do not, the Senate should move for your expulsion."
Newsweek reached out to Ocasio-Cortez for comment but did not receive a response in time for publication.
This story was updated at 4:29 p.m. with a statement from Senator Ted Cruz.