AOC Has Raised Nearly $9m More Than Her GOP Opponent in House Race
Rep. Alexandria Ocasio-Cortez (D-NY) has raised close to $9 million more than her Republican rival as she bids to retain her seat in the House.
The New York Democrat's campaign has garnered support of around $17.3 million, while her Republican rival, John Cummings, has raised $9.6 million.
Cummings, a former NYCPD officer who is now a teacher, continues to trail financially in the race for the city's 14th Congressional District despite having raised around $1.5 million more than Ocasio-Cortez in the last quarter, bringing in roughly $5.5 to $4 million, The New York Times reports.
Their combined haul marks one on of the highest grossing House races in the nation.
According to figures collated by Open Secrets, Ocasio-Cortez has spent near $13.6 million, with around $4 million cash on hand. Cummings in contrast has spent near to $8.5 million, with around $1 million cash on hand.
Commenting on the funds raised and their use, Lauren Hitt, a spokeswoman for Ocasio-Cortez, told The New York Times, "We ensure that our fund-raising yields real investments into the community beyond transactional politicking."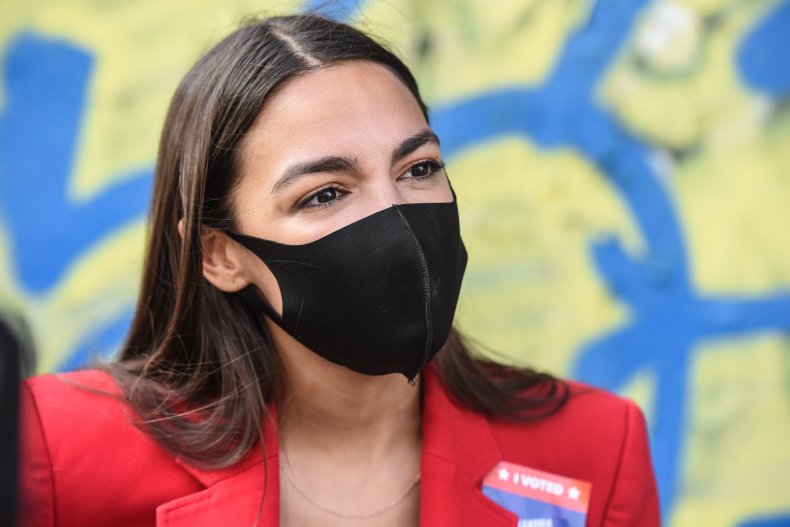 Ocasio-Cortez has labeled the campaign against her "irrational and unstrategic."
"One perk about a GOP motivated by hatred is that it's irrational and unstrategic," she said on Twitter.
"All these millions Republicans are hate-pouring into my race (just for shady DC consultants to scoop up & burn) is less money channeled for them in tight swing races."
Ocasio-Cortez won 56.7 percent of the vote last time out for her seat and is tipped to win again.
Chapin D. Fay, Cummings' campaign manager suggested he knew an upset was unlikely, according to the The New York Times, but said he had known it would be possible to raise significant funds against Ocasio-Cortez.
"I just sensed that national fund-raising against someone like A.O.C. would be successful.
"I can't take credit for knowing it was going to be this successful, but we knew he would be able to put a few bucks together to run a race," he said.
He said that some people "dislike her" in regards to Ocasio-Cortez.
"They dislike her, they dislike what the hard left stands for and they appreciate what I'm doing.
"If we close strong, I think we can pull this race off," he said.
Further commenting on Cumming's fundraising in a Tweet on Saturday, he said: "John Cummings has raised over $9 million dollars completely on his own. He has 250,000 donors from all 50 states. The average donation is less than $40."
In comments to Newsweek, Fay suggested the Ocasio-Cortez campaign is "worried" about Cummings.
"Clearly his [Cummings'] background as an NYPD Officer and high school civics teacher and message to defund AOC is resonating compared her call to defund police as violent crime spirals out of control in New York City," he said. "We have spent millions on television and digital and sent 700,000 pieces of mail to voters in the district over the past three months. Last week, the Congresswoman was in the field with a survey and this week she's up with a nasty and false negative ad, obviously they're worried about something."
Cummings, speaking to CBS, said he thinks he has stronger chances than he is tipped for.
"I think our chances are much better than everybody thinks," he said. "This district is heavily Democrat, it's not heavily socialist."
Newsweek has contacted the Ocasio-Cortez campaign for comment.
This article has been updated to include further comment from Chapin D. Fay.