Alexandria Ocasio-Cortez Challenger Says AOC Stands for 'All Out Crazy,' Claims He Speaks Better Spanish
A New Jersey Republican and conservative radio producer who plans to run against freshman Democratic Congresswoman Alexandria Ocasio-Cortez interpreted her initials AOC as "All Out Crazy" and claimed he speaks better Spanish than her.
The Republican, Rich Valdes, is an associate producer of the Mark Levin Show, a conservative talk radio series, and has worked for New Jersey Governor Chris Christie. Valdes, who plans to move to Ocasio-Cortez's district in New York to challenge her in the 2020 election, hit her with the nickname at a Queens Village Republican Club event Thursday evening.
"AOC–All Out Crazy–wants to establish a new Soviet Republic," Valdes said to the crowd of about 100 people, according to The New York Post. "I believe in capitalism over socialism. Her misguided policies don't represent the district."
"Capitalism vs. socialism!" Valdes tweeted, along with the Post story.
Valdes also defended criticisms that could come his way of him being a carpetbagger, a political candidate who seeks office in a place where he or she does not have local connections.
"People see me and they say 'wow' we see you more than we see her!" he said. "That's interesting for a carpetbagger."
Valdes then claimed: "I know I speak better Spanish than her."
Ocasio-Cortez is the daughter of a Puerto Rican mother and a father born in the Bronx to a Puerto Rican family. The 29-year-old congresswoman, herself born in the Bronx, has tweeted in Spanish before.
"Where's the arroz con gandules option," Ocasio-Cortez tweeted in November 2017, referring to Puerto Rican rice with pigeon peas in response to a FiveThirtyEight graphic on the most disproportionately consumed Thanksgiving side dishes across regions of the U.S.
Last November, she trolled Fox News with Spanish-language lyrics from the Aventura song "Obsession."
Valdes admitted that Ocasio-Cortez is "great at fundraising but not at constituent services."
"Ask around, most constituents don't think climate change is a number one issue," he said.
Ocasio-Cortez had not publicly responded to Valdes's criticism of her as of late afternoon Friday.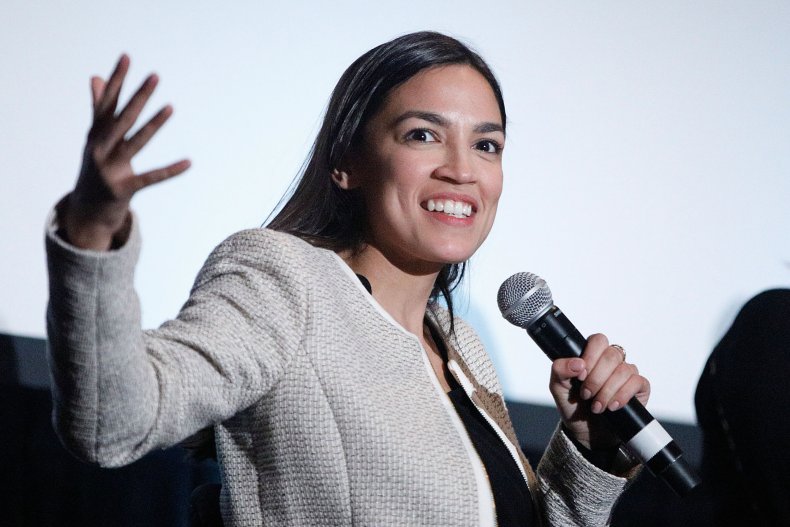 A Gallup poll released in March showed that more Americans, 41 percent, had an unfavorable view of Ocasio-Cortez than those who had a favorable view of her, 31 percent. Ocasio-Cortez's unfavorably rating increased from 26 percent in September, and her favorability rating rose from 24 percent, causing her net favorability to drop from -2 percentage points to -10 percentage points.
Ocasio-Cortez responded to the negative poll results by claiming that she has net favorable ratings from women, people who are not white, and people ages 18 to 34 years old, and partly blaming Fox News.
"The reason people know more is bc Fox News has turned into 'AOC TMZ' (no offense to TMZ)," Ocasio-Cortez tweeted at the time, "So awareness is growing w/ GOPers."